Raiders need cornerback Gareon Conley to play up to potential
Updated June 12, 2018 - 11:23 pm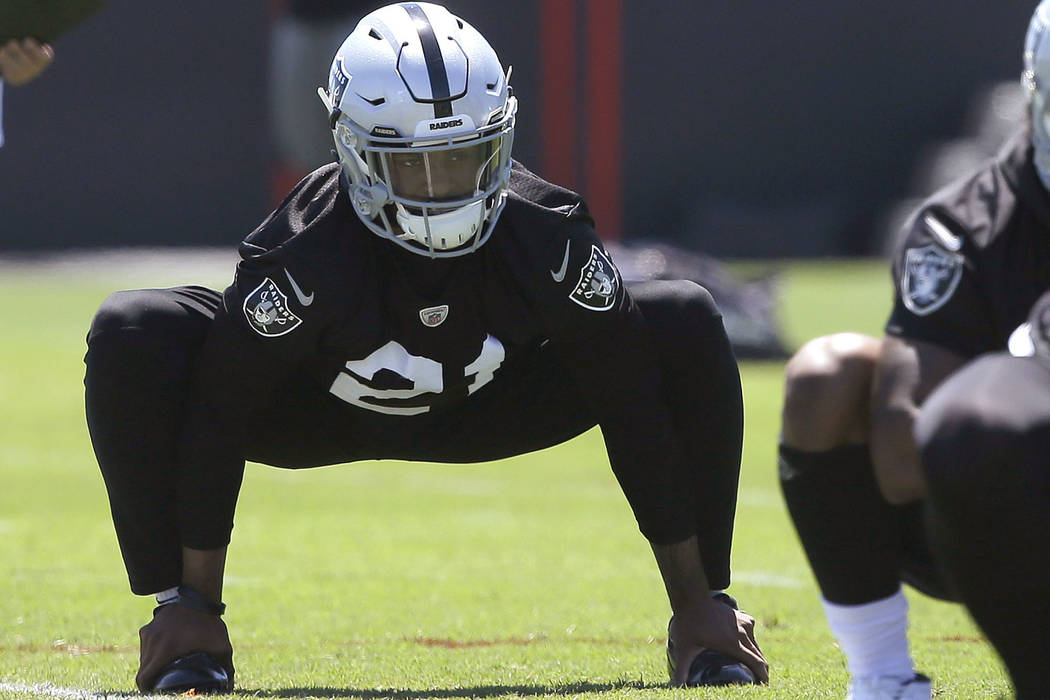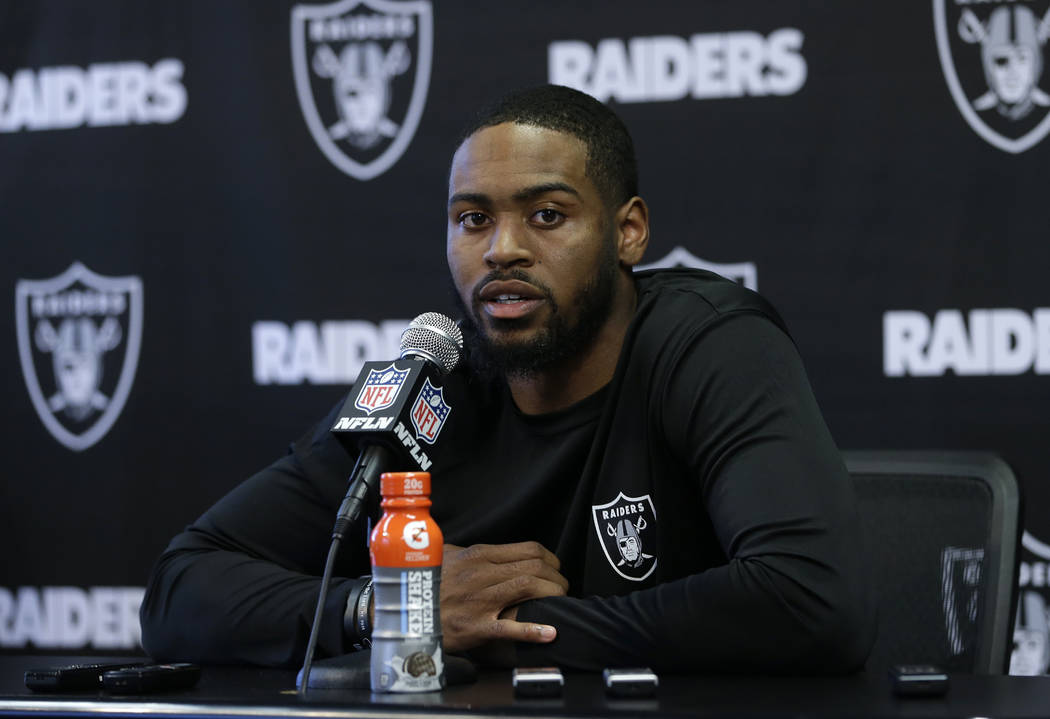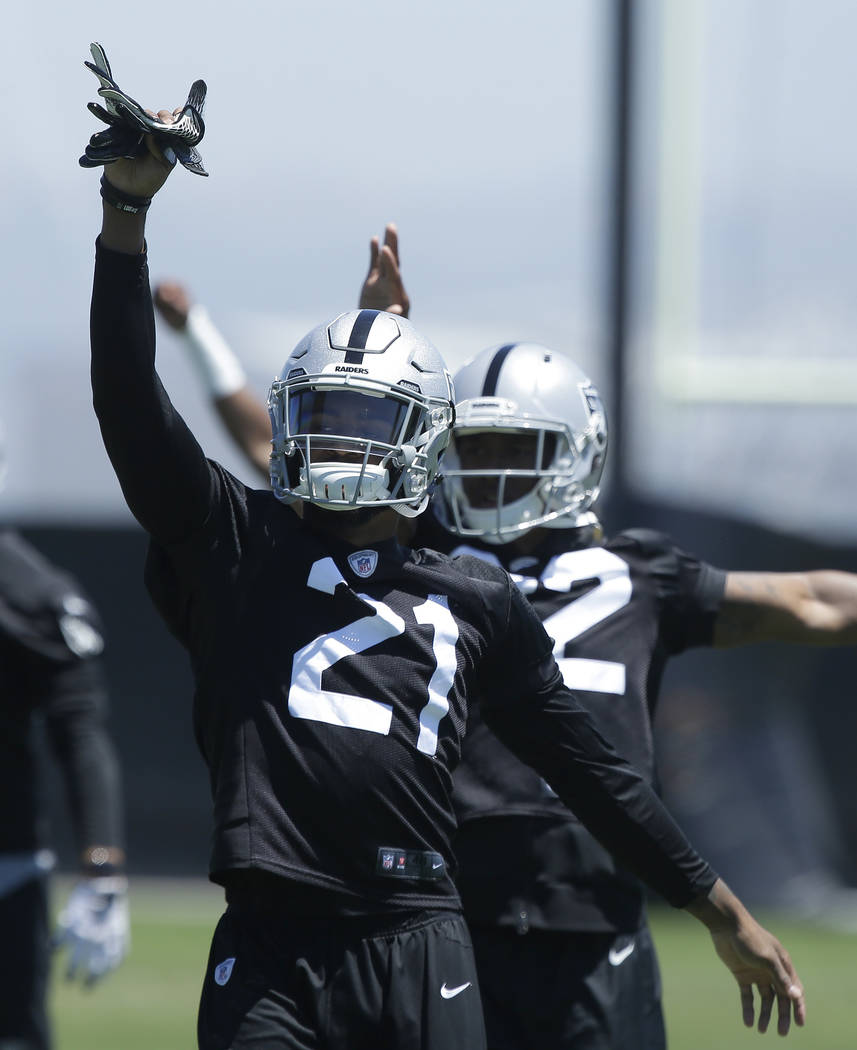 ALAMEDA, Calif. — He has been trapped in the hype machine for some time, limited in his own powers to perform intended actions, meaning shutting down his side of a football field while causing havoc for the opposing team.
But now, Gareon Conley needs to prove all that publicity was a warranted account of his true abilities.
You can imagine how much the Raiders need it.
They're putting a ton of faith in the hope that a player selected No. 24 overall in the 2017 NFL draft remains healthy and can finally exhibit those skills that deemed him a first-round pick.
It's no secret: They really need this guy to be good.
The words and actions of coaches and management and anyone with a final say on things— which, in the case of the Raiders, means Jon Gruden — have made it incredibly clear that Conley is the team's No. 1 and best hope at cornerback entering the season.
That, and how they have maneuvered things at his position intimates that Conley is the glue around which a critical spot will be built, now and perhaps even when the franchise relocates to Las Vegas for the 2020 season.
"His confidence has grown tremendously," said Gruden, who on Tuesday oversaw the beginning of his first mandatory minicamp since returning as coach. "It has been a dark world that he has been in, this young man. He had an injury he needed to rehab from, a change of coaches, a new system to learn.
"It has been slow and steady, but, man, is he a good player. When he's feeling good, you see why he was a (first-round) pick."
There were just a few glimpses last season given how much time Conley missed, but sure as the clear blue skies that welcomed the Raiders to this three-day camp before their summer break arrives, the length and athleticism and instincts that made him a star at Ohio State flashed from time to time.
He saw action in two games as a rookie, missing the final 13 with a shin injury and finishing with 92 snaps. The team thought Conley might get better with rest and a decreased amount of reps, but he never did.
The pain lingered, and Conley eventually underwent surgery.
"It was really difficult, because I've never been hurt before, but I feel like I'm back and had a long time to recover," he said. "Physically, it feels like my rookie year, but mentally, I learned a lot. In that way, it's my second year.
"I learned people are there for you, but at the end of the day, you have to be there for yourself. You're the only one who can prepare yourself to come back from it."
Cornerback might be a position with some numbers for the Raiders, but depth doesn't always translate to ability or long-term results.
The team saved needed salary cap money by releasing David Amerson and Sean Smith (who is now serving a one-year prison term for felony assault) after last season, and while they wanted TJ Carrie to return, he landed a sizable free-agent contract (four years for $31 million with $10 million guaranteed) from the Browns.
So in came former Colts cornerback Rashaan Melvin, expected to start opposite Conley, on a one-year deal.
Then came Shareece Wright and Daryl Worley and Leon Hall, all with various NFL experience and also on one-year deals.
It tells you the team had more pressing needs elsewhere in which to spend, and that the kid who barely saw the field last season but has all the talent in the world is being counted on heavily to translate those glimpses into a seasonlong run of weekly production.
It tells you that beyond Conley, there's a whole lot of stop-gapping going on.
The Raiders are going to play a ton of press coverage — much as Conley did with the Buckeyes in college — under new defensive coordinator Paul Guenther, a disciple of the Mike Zimmer blitzing tree and someone who needs to improve a unit that had the fewest interceptions in the NFL last season (five) while ranking third worst in passer rating against (101.8).
Conley can't solve all those issues, but he needs to be better than just good.
"I'm not worried about (proving anything)," he said. "Of course I take it into account — like I have a chip on my shoulder — but I'm worried about myself."
It's no secret: They really need his performance to equal the hype.
More Raiders: Follow Raiders coverage at reviewjournal.com/Raiders and @NFLinVegas on Twitter.
Contact columnist Ed Graney at egraney@reviewjournal.com or 702-383-4618. He can be heard on "The Press Box," ESPN Radio 100.9 FM and 1100 AM, from 11 a.m. to 2 p.m. Monday through Friday. Follow @edgraney on Twitter.