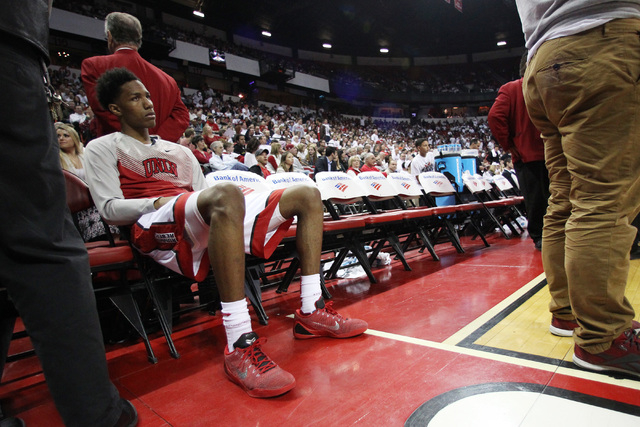 I suppose UNLV's basketball team could draw on the ancient theory that if it begins with doing what is necessary and then what is possible, it might suddenly be doing what most believe impossible.
UNR is necessary.
San Diego State is possible.
Four wins in four days …
Impossible means not able to occur, exist or be done. Mountain West basketball this season has neither been good enough from top to bottom or in possession of a dominating team to suggest anything is inconceivable as the conference tournament opens today at the Thomas & Mack Center.
This thing is wide open.
Which isn't to say the Rebels don't have a challenge the distance of Las Vegas to Reno in order to claim a title and automatic NCAA Tournament berth.
UNLV deserves every bit of its 17-14 record and placement as a No. 7 seed in a play-in game against No. 10 UNR at 2:30 p.m., with the winner advancing to the main bracket and a quarterfinal matchup against San Diego State on Thursday night.
The Rebels played themselves into such a state and, despite a popular opinion by many locally, inexperience isn't the only reason.
Consider: Utah State debuted nine players this season, returned just a combined six Division I starts and only 13 percent of its minutes from last year, was picked 10th in conference and finished tied for fourth.
You can be young and overachieve.
You can be inexperienced and finish in the top tier of a bad conference.
And you're not that young and inexperienced 31 games later.
"It's just about trying to get to the next day," Rebels coach Dave Rice said. "If a guy has to play 40 minutes or a guy has to play high 30s, that's just what we have to do. It doesn't matter about saving guys now. We have to do whatever it takes to get to Thursday."
Whether the Rebels can draw on all the ups and downs and twists and turns that produced their season to date and prove good enough to be cutting down nets Saturday is a serious long shot, but it's not as though the madness of March hasn't included some incredibly unforeseen conference tournament champions.
Rice might want to educate his Rebels on 2008, when what was a weak Southeastern Conference provided an implausible run by Georgia.
The Bulldogs were a lousy 13-16 overall and 4-12 in conference, but beat Mississippi in overtime to open the tournament. Then a tornado ripped holes in the Georgia Dome roof, the event was moved to the campus of Georgia Tech and games were postponed a day.
No. Seriously.
It meant the Bulldogs had to beat Kentucky in a morning quarterfinal, which they did in overtime, and then eliminate top-seeded Mississippi State that evening. They did that, too.
A day later, they defeated Arkansas in the championship. They were nicknamed "Dream Dawgs."
Providence in 1994 at the Big East Tournament. Georgia Tech in '93 at the ACC. Southern California in 2009 at the then-Pac-10. North Carolina State in '83 and '87 at the ACC.
Some had to win four games, others three.
All were decided underdogs.
What it means: It's true countless teams that were given little-to-no chance of winning their league tournament have discovered the right momentum over the course of several days and created such magic.
UNLV has that opportunity, but it's also a bear of a mountain to climb.
The Rebels will try to beat the odds with seven scholarship players now that Pat McCaw has recovered from his concussion, meaning even if they are able to defeat UNR today (a team it split games with during conference play), handling a rested and pressing San Diego State on Thursday becomes even more of a challenge than usual.
Colorado State, the team most believe is best built to win this tournament, would likely await in a semifinal on Friday. If they can somehow maneuver through all those land mines, the Rebels could see top seed Boise State in the final.
Put it this way: If the seeds play out and UNLV continues to win after today, it would need to sweep three teams in which it went 0-5 against in conference play.
"The regular season has been wild," UNLV senior point guard Cody Doolin said. "I think it's wide open for a lot of teams. Obviously, San Diego State and Boise State have had great seasons, so somebody is going to have to play really well to beat them. We're looking forward to the opportunity to keep our season alive.
"Reno has played us two pretty tough games so far, so our focus is on them, first and foremost. The idea is kind of cliche, but playing one game at a time is important. You can't look past any team. We're just looking at Reno."
A victory would mean one win in one day.
A lifetime from four in four, but not impossible.
It has been done. It can be done.
For the Rebels, it begins with doing what is necessary.
For now, possible is on hold.
Las Vegas Review-Journal sports columnist Ed Graney can be reached at egraney@reviewjournal.com or 702-383-4618. He can be heard from 11 a.m. to 2 p.m. Monday through Friday on "Gridlock," ESPN 1100 and 100.9 FM. Follow him on Twitter: @edgraney.