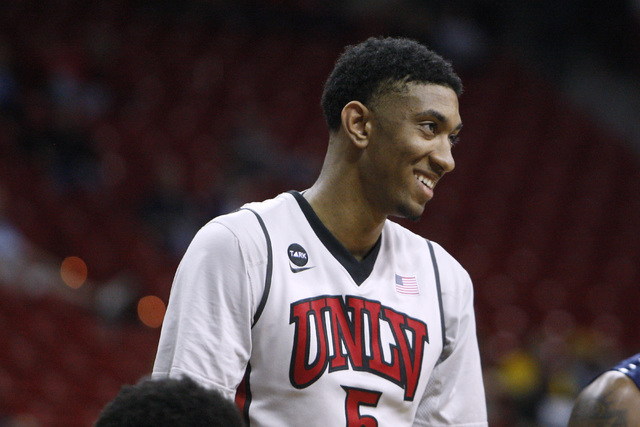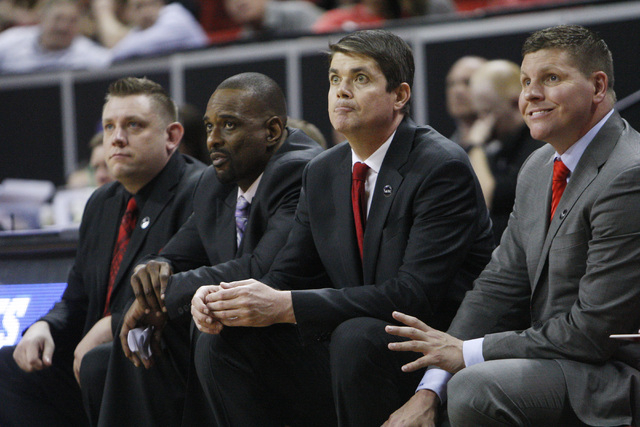 If it's true that when talent is near-equal (yes) and advancing in a college basketball tournament becomes more about individual matchups (definitely), UNLV might have a good opportunity tonight to win its second game in two days.
Tired legs are more apt to adjust when the pace is more grinding than swift, when a game is played more in the half court than open space.
The Rebels waltzed into the main bracket of the Mountain West tournament Wednesday by eliminating UNR 67-46 before an announced gathering of 7,458 at the Thomas & Mack Center, where the play-in game offered at times the atmosphere of an empty flower shop.
The arena should be far more electric at 6 p.m. today, when UNLV hopes to keep its quest of winning four games in four days alive by encountering a rested No. 2 seed in San Diego State in the quarterfinals.
The rivals met twice this season.
The Aztecs won by six and two points.
"San Diego State should be very worried," UNLV sophomore Chris Wood said. "We're going to be ready. Our legs are going to be fine. We will be well-rested, and we're just going to play."
Said freshman guard Jordan Cornish: "Like (Wood) said, they should be worried."
It was about this time when UNLV coach Dave Rice appeared ready to jump across the table and shove the microphone far away from his players.
He then quickly offered a more impartial view.
"We're equally worried because San Diego State is a fantastic team," Rice said. "Obviously, Coach (Steve) Fisher is worried. I'm worried. We're all worried because it's that time of year that if you get beaten, you go home in terms of the conference tournament."
Wood was exceptional Wednesday, scoring a game-high 28 on 9-of-13 shooting. He scored 21 after halftime, when UNR rallied from nine down but never got closer than three. Wood pretty much put the Rebels on his long, thin, athletic frame and carried them past the Wolf Pack.
Tonight is a much different challenge, and it's critical Wood continues to play well. In two games against the Aztecs this season, he averaged just six points and almost 10 rebounds.
San Diego State was ultra physical with him, and he didn't respond all that well. But the Rebels also had every chance to win both games, leading by 11 in the second half in San Diego and being tied with 2:12 remaining in Las Vegas last week.
They were right there each time.
They always seem to be right there against the Aztecs.
Consider: In the past five meetings, only once has either UNLV or San Diego State reached 70 points. The Aztecs have won all five games by an average score of 61-54. There are few open shots and even fewer easy baskets.
It's a grind, all right.
"I think it's a hard matchup just because San Diego State is so good, because they're so physical, they have so many different weapons," Rice said. "No one in this tournament is an easy matchup. Everyone came here with the hopes of winning. It's tournament time. Leave it all out there. Certainly, there is an advantage for San Diego State having not played today. But there's also an advantage to having just played a game. Those things neutralize each other.
"It will be a tough matchup. Having said that, we will be ready to play."
The Rebels that beat UNR weren't the same Rebels that lost twice to San Diego State. Sure, quality of opponent has a lot to do with that, but it's also true UNLV guards were about as active at digging for balls and forcing turnovers against the Wolf Pack as they have been in some time.
UNR had 20 turnovers, including 14 in the first half.
UNLV was smart enough to look for Wood down the stretch, exposing a matchup UNR couldn't handle. The Rebels hit just enough 3-pointers (6 of 19) to build and later stretch the lead. They had 12 steals and 16 assists on 23 baskets.
Those are all positive signs.
Now, about those legs.
It might not be as bad as some believe.
Of seven scholarship players that saw action for UNLV, only two (Patrick McCaw and Goodluck Okonoboh) played at least 34 minutes.
Four played 29 or fewer.
It might be as bad as some believe.
For two games this season, San Diego State, which opened as a 4.5-point favorite for tonight, played 10 bodies against the Rebels and eventually wore them down.
"San Diego State is a really good team," Wood said. "We're going to watch film. We're going to know their offense. We're going to know what they're running. They're going to know what we're running. It's going to be a dogfight, just like every game is."
Third time's a charm?
I suppose it depends on if UNLV's legs are up to the task.
And, of course, who's worried most.
Las Vegas Review-Journal sports columnist Ed Graney can be reached at egraney@reviewjournal.com or 702-383-4618. He can be heard from 11 a.m. to 2 p.m. Monday through Friday on "Gridlock," ESPN 1100 and 100.9 FM. Follow him on Twitter: @edgraney.