Rebels need defense to step up and make plays
October 24, 2016 - 12:59 am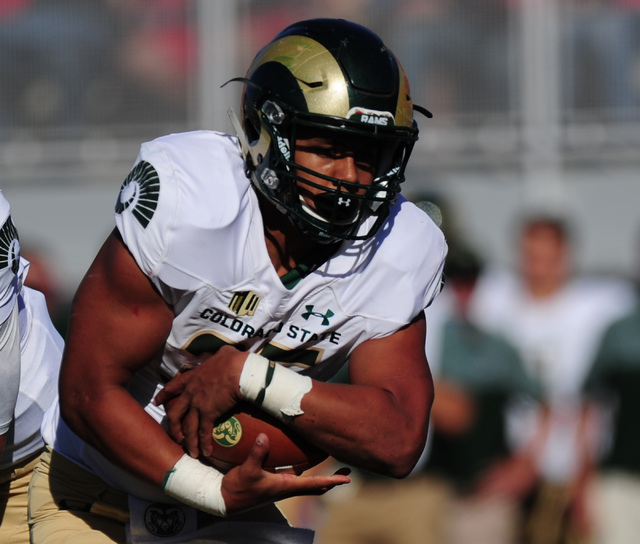 Tony Sanchez is correct in saying that one goes hand in hand with the other, that if a football team's offense struggles to maintain possession and not allow its defense time to rest, finding success on the scoreboard becomes more and more difficult as a game wears on.
This is also true: UNLV on Saturday afternoon started seven seniors and two juniors on defense, so the constant narrative we hear about the Rebels being young and inexperienced while rebuilding certainly doesn't apply to that side of the ball.
But this does: More times than not, nobody steps up and makes a critical play when one is needed.
It's hardly a new concept with UNLV.
This stuff on defense dates years.
Don't let the final score of 42-23 fool you. The Rebels were handled — embarrassingly so for long stretches — by an average Colorado State side before 18,362 at Sam Boyd Stadium, where former UNLV great Randall Cunningham was honored for his upcoming enshrinement into the College Football Hall of Fame.
When the media spoke with Cunningham at halftime, Colorado State led 35-0.
The game was over, largely in part to the fact UNLV's defense again couldn't get the opposing team off the field.
Do you know why the forced fumble from linebacker Tau Lotulelei late in the fourth quarter at Hawaii last weekend, the biggest play in a game UNLV won 41-38, was so surprising?
It's such a rare occurrence, a UNLV defensive player turning momentum when needed most.
The offense struggled mightily behind redshirt freshman quarterback Dalton Sneed in the first 30 minutes Saturday, and it's not breaking news to say UNLV absolutely needs true freshman Armani Rogers to be as good as the coaching staff believes he is when next year arrives.
You can hide some warts within any scheme, but shoddy and inconsistent quarterback play isn't one.
But as much as UNLV couldn't move the ball against the Rams, this, too, was indefensible: Colorado State entered ranked 108th nationally in third-down conversion. The Rams had been successful 34 percent of the time.
In the first half Saturday, they were 8 of 10.
Of the eight, four came from 5 yards or longer.
On one of those chances missed, Colorado State converted on fourth-and-2.
At some point, someone for the Rebels has to make a play and get the defense off the field.
But nobody did, and UNLV is now on pace to allow averages of more than 30 points and 400 yards for the ninth straight season.
I have no idea how any UNLV team comes out this flat and uninspired. It hasn't won enough in forever to give even the slightest hint of being indifferent to the challenge.
How does UNLV, so bad for so long and famished for any semblance of success, lack energy when returning home off a victory?
Colorado State is a shell of its better teams in the past, but even when the Rams are just another flawed Mountain West side, as they are this season, they're always more physical than the Rebels. They're always tougher.
That was the case again Saturday, and when you combine it with the fact that UNLV sleepwalked through those opening 30 minutes, such a halftime deficit was not only expected but also warranted.
UNLV deserved every bit of 35-0.
"It's stunning, regardless of momentum off (the Hawaii win)," said Sanchez, UNLV's second-year coach. "It could have been Week 1, it could have been Week 10, we could have been coming off a loss, off a win. It was 35 points in the first half. It's not stunning because we had momentum. It was stunning because we should never give up that many points in a half.
"The biggest thing is I don't panic. A lot of times, you get in these situations, trying to rebuild something, and you want to have success so bad, but you panic. There is a mess of some programs right now because everyone wants to point fingers. Just own it. We all own it together. We got our butts kicked today."
It means that for UNLV to become bowl-eligible, it must win three of its final four games, and believing an upset is possible at Boise State on Nov. 18 is beyond silly given Saturday's lack of effort and the fact that the Broncos are just a whole lot better in every area.
That leaves home games against Wyoming (which won at Colorado State by 21) and UNR and at San Jose State on Saturday, which means the opportunity for six wins still exists in a league that is dreadful past its top two teams.
Even with the loss to Colorado State. Even with how bad this was in spots.
"It's not any bigger than one game," Sanchez said. "That's what it is."
For 30 minutes, which is all that really mattered Saturday, it was more than that.
It was embarrassing.
Someone, at some point, needed to make a play for UNLV and get Colorado State off the field.
Nobody did.
Seven seniors and two juniors among 11 defensive starters.
Nothing young and inexperienced about that.
The narrative doesn't fly this time.
Ed Graney can be reached at egraney@reviewjournal.com or 702-383-4618. He can be a heard on "Seat and Ed" on Fox Sports 1340 from 2 p.m. to 4 p.m. Monday through Friday. Follow @edgraney on Twitter.