Rebels' offensive line plugs gaps until help arrives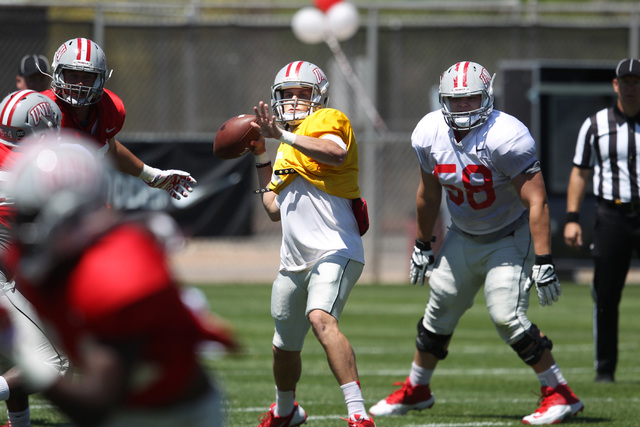 John Garrison played center for Nebraska's football team, starting the 2001 Bowl Championship Series title game against Miami. He was later an assistant coach for the Cornhuskers, tutoring a line last season that helped open holes for the nation's 16th-ranked run game.
He now instructs the offensive line at UNLV.
Which as a player would be like a high school student wanting to major in business and being accepted to the University of Pennsylvania, like a kid who dreamed of being a violinist wandering into a lesson taught by Itzhak Perlman.
Like a skateboarding whiz at the park learning tricks from Tony Hawk.
"When I heard where (Garrison) had played and coached, that was huge for me," junior Will Kreitler said. "You think, 'Those are the guys who put players in the NFL every year.' It's the pipeline for offensive linemen. The coaching has been great. They're teaching a lot of guys, myself included, to break some bad habits and learn this new system and the technique they want."
UNLV concluded spring drills Saturday under first-year coach Tony Sanchez with a showcase scrimmage at the school's soccer complex, where a few things were obvious: Few, if any, Mountain West schools will have better wide receivers than the Rebels and, while there are talented players at various spots, Sanchez needs a whole lot more of them to compete at the level he desires.
The Rebels need more speed at running back, more help for a defense that could discover itself in peril often against a brutal 2015 schedule. More of a lot of things.
But he must first recruit to and build an offensive line that lost three starters from last season, one that if it can mature and improve enough to allow senior quarterback Blake Decker (or whoever is receiving snaps) time to find those skilled wideouts such as Devonte Boyd and Kendal Keys this fall, the Rebels will make their share of plays downfield.
Kreitler is a terrific start in the most critical of spots.
He is a transfer who also was the center for Decker at Scottsdale (Ariz.) Community College, who now replaces the departed Robert Waterman and his 51 consecutive starts. UNLV also lost starters Brett Boyko and Andrew Oberg.
It's time for that build-from-scratch mentality again when it comes to the big kids up front.
Kreitler had the best spring of any UNLV lineman and knows well the ability of Decker when the quarterback isn't running for cover every play.
"I played one season at (Scottsdale) with him and we went 10-1, won a championship and a bowl game," Kreitler said. "I saw him account for 11 touchdowns in one game. If we can protect Blake, he can be as good as any quarterback UNLV has seen. I've seen this kid light it up when he has time. I think he can do the same thing here."
The line is a definite work in progress that should soon bear some needed depth. In February, the Rebels received oral commitments from Bishop Gorman High offensive linemen Jaron Caldwell and Julio Garcia, who played for Sanchez with the Gaels.
UNLV's earliest commitment before that had come in June.
Like, well, in program history.
Like in ever.
"Our (offensive line) is getting better," Sanchez said. "We need more depth there. We need to be more competitive there. At the end of the day, we're going against ourselves right now, so in the fall, we'll see what the truth is there. (Kreitler) stood out. He was by far the most physical. We need everyone to play with that kind of passion and aggression."
Sanchez knows what needs to be done, and it begins with recruiting today, tomorrow, next week and month and year, as long as it takes. His new team gave every ounce of effort and bead of sweat for him over 15 spring practices, but there's just not enough good players yet.
Which means that when it comes to an offensive line lacking quality numbers, creativity often defines much of a scheme. Max protection. Screens. Getting the ball out as quickly as possible.
Anything to keep the quarterback standing.
"We threw a lot at the (offensive line) this spring, pretty much the entire playbook, and then saw what stuck," Garrison said. "We didn't know what we had, so we needed to find out what we are comfortable running with our kids.
"Passion. I want them to play with passion and do whatever it takes to win. We practice our fundamentals and angles during the week, but at the end of the day, when the ball is snapped on Saturday or Friday night or whenever, I want us to play with passion and win."
Will Kreitler is a good start.
Kid is an animal.
More are needed.
Las Vegas Review-Journal sports columnist Ed Graney can be reached at egraney@reviewjournal.com or 702-383-4618. He can be heard from 11 a.m. to 2 p.m. Monday through Friday on "Gridlock," ESPN 1100 and 100.9 FM. Follow him on Twitter: @edgraney.