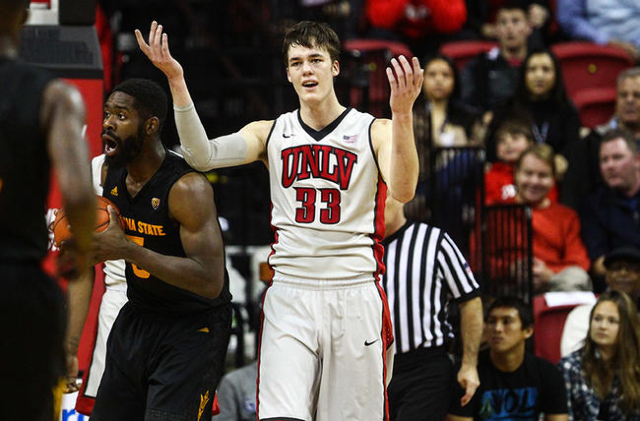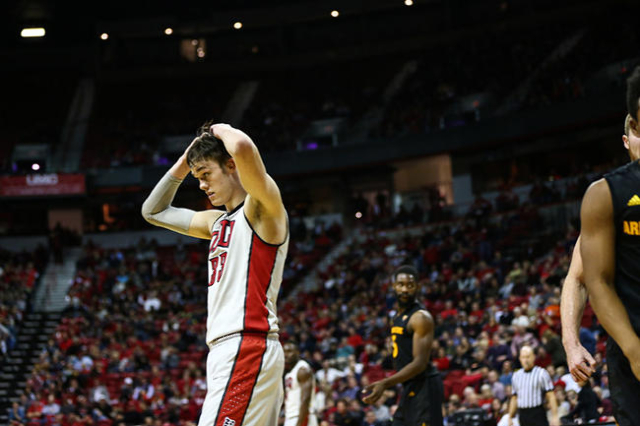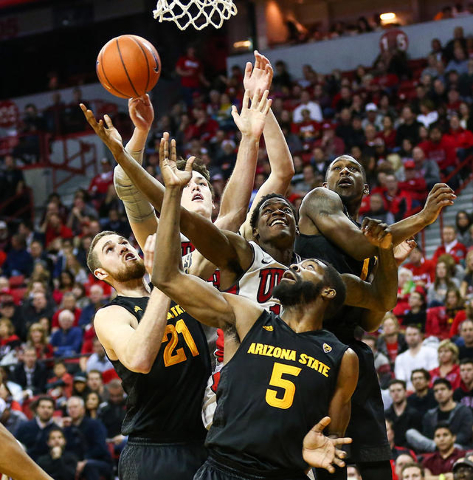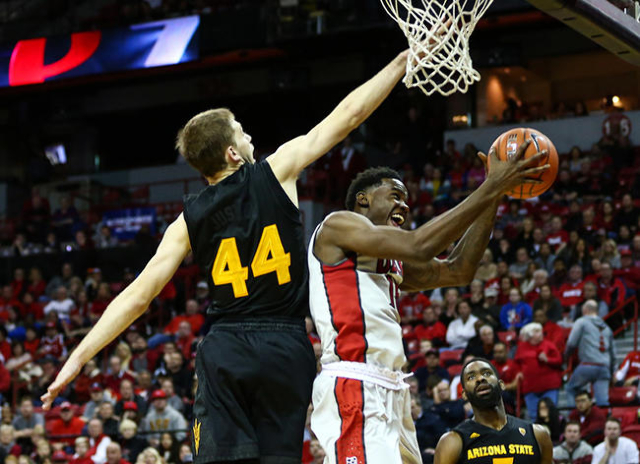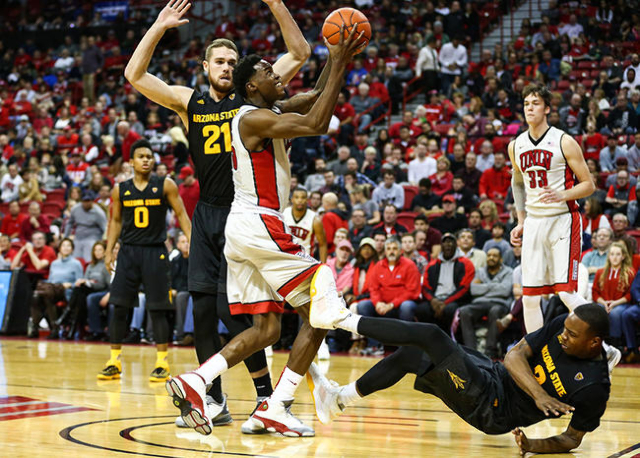 I suppose the best thing that could have happened for UNLV's basketball team Wednesday night would have been for no one to discover those AAA batteries and duct tape needed to fix the shot clocks at Thomas & Mack Center because when you spend nearly $50 million on renovations, it must be tough making sure all the lights work.
I suppose the best thing would have been for the electricity to completely shut down at halftime and have the Rebels send Arizona State home with their deepest apologies and maybe a few leftover T-shirts from the National Finals Rodeo.
The clown show that was the first 10 minutes of a game announcer calling out seconds in segments of five was followed by a similarly laughable performance by the Rebels over the final 20 minutes.
The result was a forgettable 66-56 loss to ASU before an announced gathering of 13,014, most of whom scrambled from the arena with several minutes remaining as if some delinquent had pulled the fire alarm.
Dick Calvert, a pro's pro with the microphone, did his job of alerting players where the shot clock stood until the lights went on with 9:45 left in the half; Marc Ratner, who earlier in the day was justly elected to the International Boxing Hall of Fame, exhibited his versatile skills as scoreboard operator in holding up the 20-second card before Calvert began his countdown.
They were pretty much the only people involved with UNLV who had a good night.
It isn't a fluke any more, and it isn't just an issue. It's an epidemic, how bad the Rebels are on the defensive boards. ASU played without its leading scorer and rebounder in Savon Goodman when the former UNLV player was left home for personal reasons. Lord knows how many offensive rebounds the Sun Devils would have grabbed had he made the trip.
As it is, they turned 16 into 16 second-chance points and owned 43 total rebounds to 30 for UNLV. Tra Holder is listed at 6-foot-1, but that's a generous height assigned by sports information folks. He still managed a career-high nine rebounds. Gerry Blakes is a guard listed at 6-5, which he isn't. He had 11 boards, one short of his career high.
The Rebels have now allowed 60 offensive rebounds and 64 second-chance points in their last four games, losing twice in that span.
"It's a toughness thing," Rebels coach Dave Rice said. "You have to get in there and get the ball. Five guys have to get in there and rebound. Every play is different, but it has to be the most important thing we do, and we didn't do a good enough job at it.
"My biggest concern is making sure we stay together. We understand it's a very, very difficult loss. What will our response be? We have to learn from it and get back to practice. We can't get it back. I don't think it was about effort. It was a toughness thing, a grit thing. The only thing that matters when that ball is loose is to go get it and secure it. It's an incredibly agonizing lesson to have to learn."
The offense wasn't much better. Rice has downplayed those predictable scoring droughts UNLV tends to offer against most everyone, but it's hard to gloss over how inefficient his team was in the second half.
It did everything correct — pace, motion, screening, sharing — to earn a 12-point halftime advantage.
It did none of that over the final 17 minutes.
The Rebels stopped moving, stopped sharing the ball, stopped making shots, and the next screen they set will be the first since walking off the court at intermission. They couldn't guard ball screens at one end and didn't set any at the other. ASU spread the floor and attacked at will off the dribble for baskets while UNLV again took bad shots at the most critical times and more often than not preferred going one-on-three than trying to make a player for another.
The Rebels also spent most of the night fouling, and before you suggest how bad an outing the officiating crew offered, remember not one guy wearing a whistle missed 21 second-half shots or failed to put a body on an opposing player and grab a rebound.
You can't score 19 points in the second half, blow a 14-point lead with under 18 minutes left, lose by 10 at home to a team that lost to Sacramento State and that was competing without its best player and even whisper about officials.
This was being outplayed, outcoached, out-toughed, out-gritted, out-everything.
"We definitely need to regroup and talk about this and how we can improve from a disappointing loss," UNLV junior forward Ben Carter said. "At the end of the day, it won't be our (coaches) as the five guys on the floor playing together. It's on us. The coaches put us in a position to succeed, but if we don't keep our focus and consistently work hard, we're not going to be successful. If we defend and rebound, we win this game."
They did neither.
But on the bright side, Calvert and Ratner each had a hell of a good night.
Ed Graney can be reached at egraney@reviewjournal.com or 702-383-4618. He can be a heard on "Seat and Ed" on Fox Sports 1340 from 2 p.m. to 4 p.m. Monday through Friday. On Twitter: @edgraney
Check our GameDay page for full coverage of the UNLV-Arizona State game.