Ricardo Ferrino is the crazy goalie who best defines Lights FC
Updated July 20, 2018 - 6:32 pm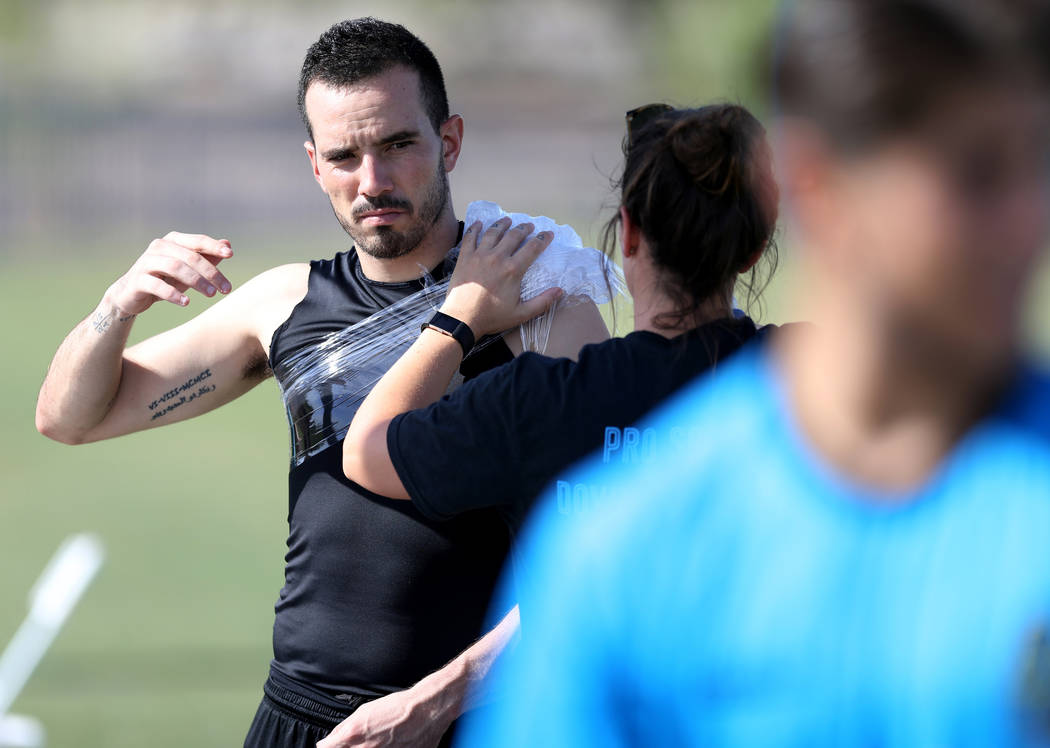 Torreon is a city in the Mexican state of Coahuila, an area originally used for ranching that eventually became an important center for the processing of cotton.
There is a chance — I'm not sure how much of one — that a youth soccer coach still resides in the municipality who is responsible for one of the great pregame lineup decisions not known to mankind or much of anyone else, but at least a few folks important to this particular tale.
God bless you, Juan Rodriguez.
He, more than anyone else, gave us the riddle, wrapped in a mystery, inside yet another unhinged decision on the pitch known as Ricardo Ferrino.
Breaking news from the Review-Journal came Friday when it was learned the Lights FC have expressed interest in Olympic sprinter Usain Bolt, who wants to begin a soccer career and would seem to have the necessary speed for such a venture.
Perhaps the Jamaican could even start his journey as a goalie in Las Vegas, given the 26-year-old Ferrino spends so much time not playing his assigned spot.
Ferrino is absolutely crazy enough to believe he could beat Bolt in a race down the field in the middle of a match, a scene that isn't as far-fetched as you might think if you have seen Risky Ricardo play.
Ferrino was 8 and a forward when Rodriguez told him to begin a game on the bench. But the team's goalie was absent that day, so Ferrino asked if he could play the position.
The coach agreed, sent him out and, for the love of Jorge Campos, a sweeper-keeper of considerable flair and gamble was born.
The Lights on Sunday continue their stay-out-of-the-furnace-that-is-a-Vegas-summer road trip at Portland, the third of four straight away games.
It has been an inaugural season of injuries across the roster and llamas on the field, all leading to a 5-5-8 record and 13th place in the Western Conference of the United Soccer League.
But the reason this has worked at Cashman Field and a consistent niche base of loyal fans has embraced the team is because of someone such as Ferrino, who more than anyone else represents the type of player owner Brett Lashbrook and technical director Jose Luis Sanchez Sola sought.
Translation: One who is skilled, enjoys playing and, if a few orange slices short of a youth soccer league snack, all the better.
"He has been exactly what we wanted," Lashbrook said. "We want entertainment. If that means (Ferrino) coming out and being aggressive and leaving us exposed some in the back end, we're fine with it."
He's a cowboy, too
Ferrino grew up idolizing the flamboyant Campos, the great Mexican goalie who constantly played outside the penalty area, his athleticism and speed when rushing off his line legendary skills that made him one of the best in his generation.
Playing it straight also won't work for the Lights. The soccer isn't elite enough. They know it. They understand the product and market. Things have to be a little wacky, beyond even those domesticated camelids and a Soccer Rocker mascot.
So they have a goalie who ranks ninth in the 33-team USL with 50 saves in 16 starts, who left town the morning after a home game, flew to Mexico, got married and then met the team back in Las Vegas for a bus ride to Utah.
Who has been suspended for a game because of yellow card accumulation, hadn't been in America before this except for some matches in San Antonio, has grown fond of Carl's Jr. hamburgers and never lost his passion for herding cattle, which he did as a boy.
Ferrino talks of boots and big belt buckles and being a caballero.
I could actually see this guy riding a bull.
"At the end of the day, we play a game and are supposed to have fun," Ferrino said via translator this week. "If a game allows me to come out and attack, I will always take my chances. I'm grateful to be in this place and for the opportunity. My dream is to be a better player and person each day.
"In some ways, America doesn't get me, but America also has Ricardo Ferrino showing it a new style of goal keeping."
There might be something better than Ferrino going all third person in Spanish about what the country doesn't understand and how he's teaching it, but probably not.
More Lights:Follow Las Vegas Lights FC coverage at reviewjournal.com/lights and @RJ_Sports on Twitter
Contact columnist Ed Graney at egraney@reviewjournal.com or 702-383-4618. He can be heard on "The Press Box," ESPN Radio 100.9 FM and 1100 AM, from 11 a.m. to 2 p.m. Monday through Friday. Follow @edgraney on Twitter.