Rowdy rivalry draws in UNLV's Sanchez
October 2, 2015 - 7:31 pm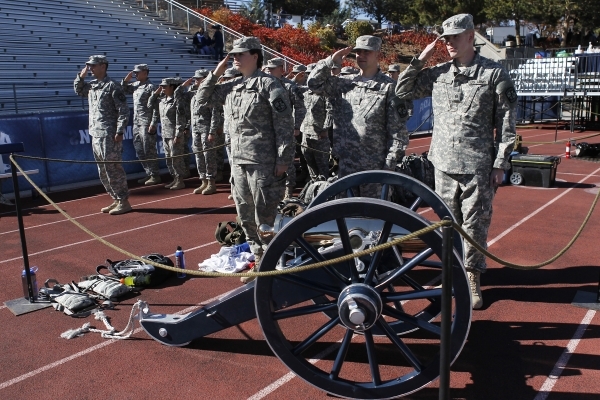 RENO — Did you hear the one about when Tony Sanchez as football coach at Bishop Gorman High was afraid of an opposing local team?
No, there isn't a punchline.
Sanchez was preparing for his first season leading the Gaels in 2009, and one score from the previous year kept gnawing at him, kept settling into his thoughts, kept him up nights and working overtime during the day.
Palo Verde 50, Bishop Gorman 14.
"We were scared to death," Sanchez said. "I'm serious. We must have watched six months of film before the season started. Man, that was the most intense coaching job we ever did. They ran the double-wing. We had never seen it. We called everyone who ever played them or had seen it. We learned everything we could about those guys."
The study sessions paid off, and Gorman would defeat Palo Verde 38-28 in a regional semifinal. In fact, the Gaels haven't lost to a team within the state since that drubbing by the Panthers in 2008.
It's pretty difficult to build any sort of rivalry when you're kicking everyone's tails year after year.
Sanchez played at New Mexico State and knew the rivalry that was meeting Texas-El Paso and New Mexico. He knew for a blink — which means until he started beating the Panthers annually — the heated feelings between Gorman and Palo Verde.
But today, inside what should be a rowdy and near-capacity Mackay Stadium, Sanchez will come face to face with the sometimes nasty, always intense competition between UNLV and UNR.
Between north and south and blue and red.
Sanchez as a first-year coach for the Rebels might not have been intimately involved with the game until now, but he came to understand over the years how serious those within the state took it.
He has Chris Ault to thank for that.
We all do, really.
No one in the rivalry's history believed the game was more important than the former UNR coach, who in 1989 convinced the University of Nevada Board of Regents that the schools should meet annually. Ault once recruited players from the Cal High team Sanchez coached, and it became pretty obvious where the former stood on things regarding the Rebels.
"I told our players this week that I know how they feel about us," Sanchez said. "I know how intense this rivalry can get. I'm from Las Vegas. We know the history of the game. We have guys who have experienced winning this game, and guys who know what it's like to lose it, so bringing both together puts a pretty good perspective on it. We want this game."
Inside an on-campus locker room at UNLV sits a large wooden plank made to fit a certain Fremont Cannon, awarded to the game's winner each year. The plank is empty, and nearby hangs a sign with a picture of the cannon that reads: "If you want to change things, you have to do things differently."
Two years ago, after UNLV's 27-22 victory in Reno, the Rebels brought the cannon home and painted it bright red, the first time it had worn that color since 2004. It's the only one Rebels quarterback Blake Decker, who transferred to UNLV last year, has seen the cannon represent.
"I've never seen it painted blue, so it's going to hurt a little seeing that on the field (today)," Decker said. "Hopefully, we can change that and bring it home with us."
They didn't play for any trophy when Sanchez was a wide receiver at New Mexico State and the Aggies were engaging UTEP and New Mexico. Maybe, he joked, they played for some chili. Then came those dominating six years at Gorman, where his teams made folly of local opponents and the only games that could really inspire the Gaels came against other nationally ranked teams.
UNR has owned this series for a decade, but in Sanchez and an 80-8 thrashing of Idaho State last week has risen a level of confidence within the Rebels, who open Mountain West play today in a Western Division that has hardly shown itself to be anything special as nonconference results arrive weekly.
The league is as down as it has ever been, which means while winning the rivalry game would be a memorable and important step for UNLV, beginning conference 1-0 is more significant over the course of a season.
"Our No. 1 goal is to win our division in the Mountain West and play for a conference championship," Sanchez said. "But we want nothing more than to work hard and get a victory and roll that (cannon) through campus on Monday. We want the cannon back, and we're going to give a heck of an effort. When I got this job, literally everyone told me, 'Get the cannon back, Coach. Get the cannon back.' It was said over and over and over. No doubt, the rivalry aspect is exciting."
It sure beats spending six months being afraid of Palo Verde.
Ed Graney can be reached at egraney@reviewjournal.com or 702-383-4618. He can be a heard on "Seat and Ed" on Fox Sports 1340 from 2 p.m. to 4 p.m. Monday through Friday. Follow him: @edgraney
Check our GameDay page for all the news leading up to the UNLV-UNR game.