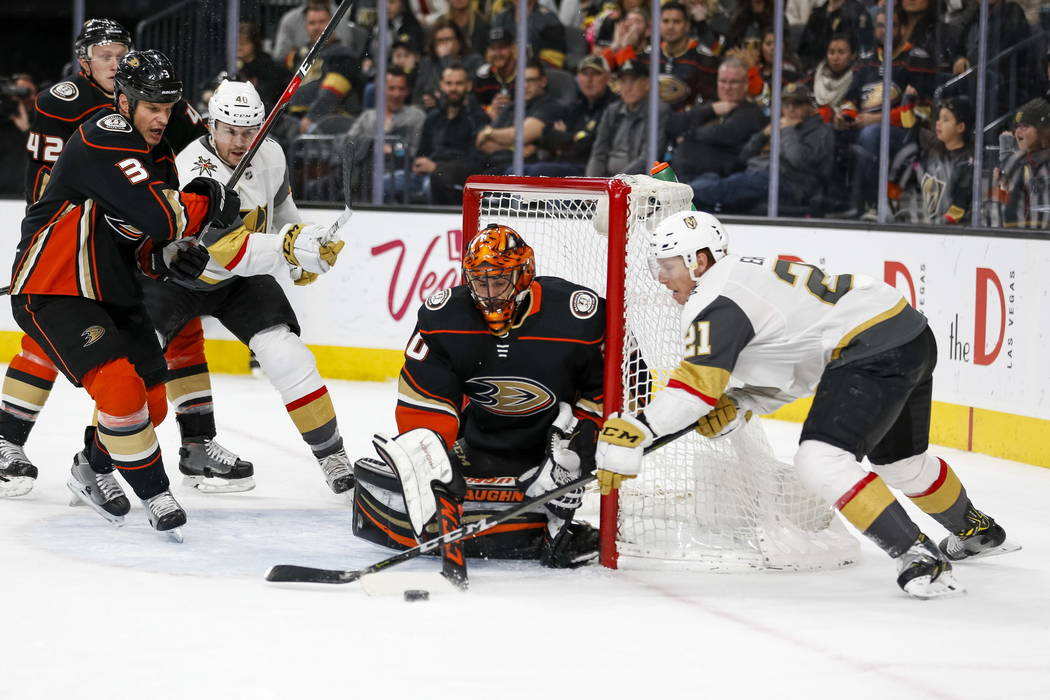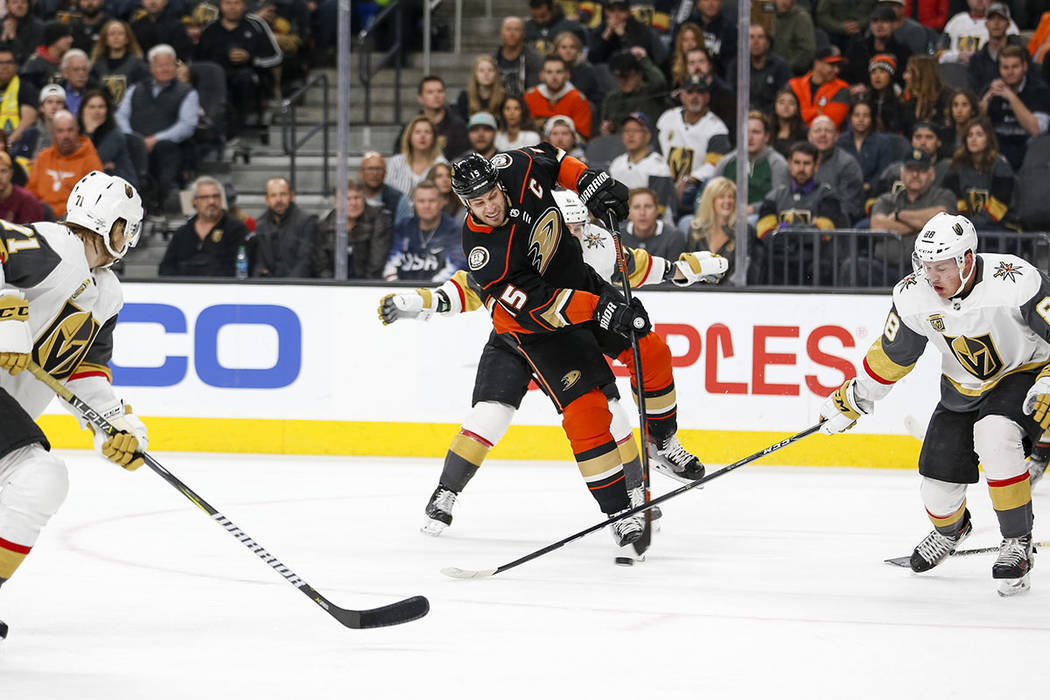 Think about it: There's a good chance, with a year of experience and roster development, with guys more familiar about what is expected of them from a coaching and organizational side of things, the Golden Knights could be even better next season and yet not have near the stellar record as now.
Odds would actually favor it.
When it comes to the Pacific Division, even more so.
A major reason the Knights lead the NHL in points with 82 has been a laughable domination against Pacific foes, a roll that was paused Monday night with a 2-0 loss to Anaheim before 18,267 at T-Mobile Arena.
I don't want to totally blame the defeat on the fact Vegas chose to feature mascot Chance as the first bobblehead in team history over who it should have been — a guy named Marc-Andre Fleury — but it was a pretty even defensive battle where something had to sway the final margin.
Mostly, though, it was this: Anaheim played its game and its style and its way and it was more than enough.
The Ducks were tougher. Better. They even played two goalies in the shutout.
"We got to the front of the net, but not enough," Knights forward Alex Tuch said. "They played a good game. They fought hard. We just weren't supporting each other like we can. We'd have one guy in front, but we needed two or three. Anytime you lose, it's frustrating."
Vegas is now 14-2-1 within the division, 10 points clear of second-place San Jose in a season where everything has gone opposite as to what most believed would occur.
The Ducks were picked to win a sixth straight division title, Edmonton was thought a team capable of stopping such a streak and the Knights were viewed as a better-than-normal expansion side that with a fortunate bounce or two of the puck, might avoid the cellar and finish seventh.
And then games began and the hockey universe was turned upside down by a team that causes opposing coaches fits nightly in how to counter the Vegas lines and, well, who is even on the Vegas lines.
It makes you wonder how fast true rivalries will develop for the Knights, and whether their success against other Pacific teams will, say, hasten such an evolution.
After all, doesn't it become easier to hate guys who are always beating you?
"I think it's starting to brew with some teams," Knights defenseman Nate Schmidt said. "Standings always play a part in it. Proximity also. Essentially, it sometimes comes down to just cities not liking each other.
"Anaheim is a really good team. I've said from the beginning, they're going to make (the playoffs) and be there in the end. When you play against a team that made the Western Conference finals last year, that's always a good test. They've been there, right? They've played in a lot of big games. That's who you want to line yourself up against and see where you stand."
This is what the Knights saw Monday: The Ducks when, at full strength, are going to hit anyone and anything within sight, clogging things up and slowing things down and blowing up whatever they can in the neutral zone.
This is the Anaheim side — now with 71 points and very much in a game-by-game fight to remain in a playoff spot — that we expected to see all season before injuries derailed such a start to things.
Anaheim was banged up in its first two games (losses) to Vegas and the Knights were missing key bodies Monday.
Everyone goes through it. No one is crying for anyone.
But the Ducks can definitely become a notable rival of the Knights, as could the Kings or Coyotes or, as Vegas owner Bill Foley and his Team of the Rockies mantra desires, even the Avalanche of the Central Division.
Most rivalries develop over time. Having lost its first three against the Knights, Anaheim on Monday played as is it intends to expedite the process.
"This time of year, you get teams in a playoff mode and fighting for their lives and (Anaheim) is right there," said Knights defenseman Brayden McNabb. "It's a big team. Any division game is huge. When I came to (the Kings in 2014), they had their rivals so you just learned to hate those teams.
"I don't know if we have a rival yet. We believe in ourselves, so that's all that really matters."
Calgary, another Pacific Division opponent, visits Wednesday.
There is no bobblehead giveaway scheduled.
Maybe the roll begins anew.
Contact columnist Ed Graney at egraney@reviewjournal.com or 702-383-4618. He can be heard on "The Press Box," ESPN Radio 100.9 FM and 1100 AM, from 11 a.m. to 2 p.m. Monday through Friday. Follow @edgraney on Twitter.