Sam being judged on the field
September 2, 2014 - 4:31 pm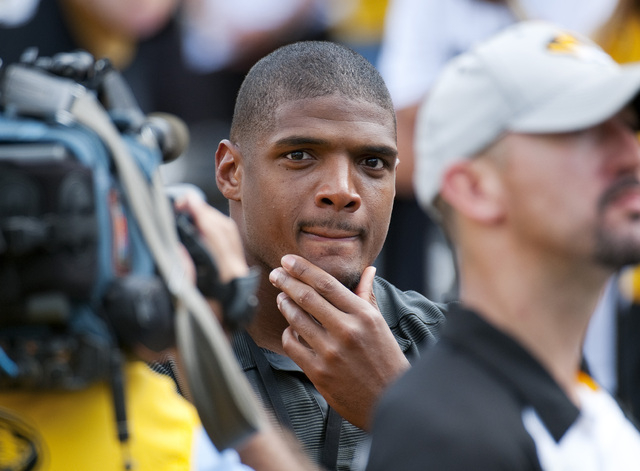 I'm not sure what a legal hit is in the NFL anymore, not sure how a league whose product produces billions of dollars (with a B) off fantasy matchups can be so self-righteous about which states legalize sports betting, not sure what to expect from King Roger the Keystone Cop when it comes to handing out punishment for infractions ranging from drunken driving to the use of performance enhancing drugs to knocking out one's fiancee and dragging her by the hair out of an elevator.
The hypocrisy that defines so much of Roger Goodell's favorite toy can be seen in countless issues across the NFL, but not this one: When it comes to evaluating talent and teams keeping those players they feel can best deliver victories, things are about as impartial as you would hope.
Nothing overrides the incalculable quest for winning, and it shouldn't.
Which isn't good news today for the NFL future of Michael Sam.
He was cut by St. Louis on Sunday and then passed through waivers unclaimed, meaning the league's first openly gay player became a free agent and able to sign with any team on its active roster or its 10-man practice squad.
It appears the Cowboys — who can use help at every defensive position and then some — are going to first see if Sam is worth a spot.
Dallas plays a 3-4 defense, not the best for Sam's skill set, a player too slow to stand up and play outside linebacker.
But the Cowboys also allowed 6,645 yards last season, third most in NFL history. If you can rush the passer and are breathing, you get a look.
So it shouldn't come as a shock that Dallas has reached out to Sam, who is scheduled to undergo a physical Wednesday and likely then sign with the team's practice squad. Sam is also from Galveston, about 300 miles from Dallas, and we all know how much owner Jerry Jones loves a good press conference.
It means that while Sam's dream isn't dead, there is a reason it stalled in St. Louis and could again in Dallas.
It's just not certain he's good enough.
Sam showed signs during the preseason of being able to pressure the quarterback, but also owned the misfortune of being drafted by a team that is loaded at defensive end. He also couldn't offer any help on special teams, traditionally a must for someone taken with the 249th pick and trying to make a roster.
It's sort of a twisted reality and yet, at day's end, probably how fans would prefer their teams make these decisions: That no matter how terrible and seemingly unforgivable a transgression is that might lead to a player being suspended, his job will be there upon return if he continues to produce.
Example: Ray Rice will depart NFL jail after two regular-season games for a hideous case of domestic violence caught on tape and return directly to the backfield of the Ravens, welcomed and celebrated by coaches and teammates and most who cheer for Baltimore.
Meanwhile, Sam remains a long shot to deliver any long-term results.
However it falls, it shouldn't in any way detract from the importance of Sam's story and the message it has sent, the next step in helping us all better understand that which separates. I believe Sam wants to be identified as a talented football player far more than for his sexuality, but his journey is always going to be defined by the latest test of tolerance when it comes to sports and homosexuality.
There are scant similarities in the tales of Sam and NBA veteran Jason Collins, who in April of last year became the first active athlete in a major American team sport to announce he is gay. Collins had enjoyed a long career at his game's highest level before coming out in an eloquent first-person account in Sports Illustrated, and then played 22 games with the Nets last season.
Sam hasn't and might never play a down of NFL football during the regular season.
But they will each ultimately be judged by their ability and neither – Collins because he is so long into his career with aging skills and Sam because he is limited by scheme – are at the point where the attention that comes with having a gay player in the locker room is probably a truth most teams don't want to experience.
It would be different if either were great.
That's just more reality.
Collins might be done and Sam might might never get started. One has always been a journeyman and the other's journey could prove painfully short.
Michael Sam is a good football player but not great yet by NFL standards, not to the point most teams believe taking on his entire story is worth it.
Perhaps that doesn't allow us to achieve the level of open-mindedness such moments might create, but for an NFL awash in hypocritical decisions and statements and policies, it does allow for some semblance of clear thinking.
You can either cut it or you can't when the lights come on.
Sam will reportedly next get to prove his worth during practices in Dallas.
It's the only thing that will determine his NFL future — what happens when the ball is snapped.
As it should be.
Las Vegas Review-Journal sports columnist Ed Graney can be reached at egraney@reviewjournal.com or 702-383-4618. He can be heard from 11 a.m. to 2 p.m. Monday through Friday on "Gridlock," ESPN 1100 and 98.9 FM. Follow him on Twitter: @edgraney.