Shooting guru finds Steph Curry, Klay Thompson flawed but beautiful shooters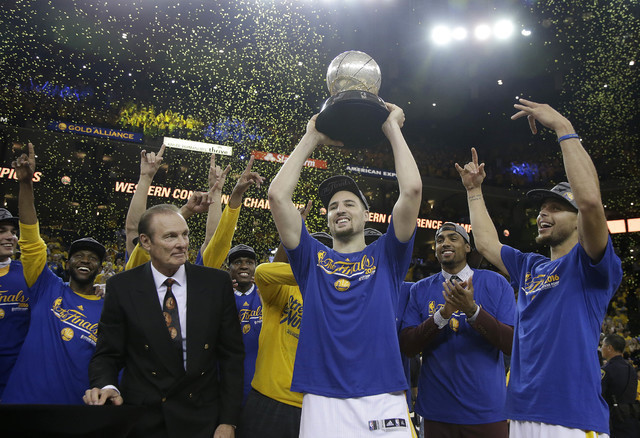 Dave Guinane is like most teachers in that he can identify star pupils, those who are not only naturally gifted, but whose approach and method and execution are flawless when compared to peers.
He knows when he sees mastery of a subject.
He's the shot doctor.
"Michael Jordan was perfect," Guinane said. "His elbow was under the ball, he was able to elevate so high on the way to the peak and at the peak of release, he flicked it instead of pushing it, it came effortlessly off his finger. His form was classic. Kobe Bryant was very close in that way also. You can have 30 to 35 different things go wrong during a shot that takes one second, but those two were as close to textbook as you could get.
"But if you talk about an imperfect shot, you can say Steph Curry is the best shooter of all time. Now, you wouldn't walk into a gym and teach others what he does, because they couldn't do it, but for him, you leave him alone. He doesn't miss. He's unbelievable. You watch him and it's beautiful. I've never seen anyone like him."
Guinane is to the jump shot in basketball what Gordon Ramsay is to teaching the art of preparing Beef Wellington, a tutor whose expertise is equaled by few. Guinane has taught shooting since 1993 and has since given more than 40,000 lessons on a skill that comes easy to many and yet can bewilder even some who make tens of millions of dollars a year playing the game at its highest level.
Guinane is based in Michigan. He has seen enough of Andre Drummond at the free-throw line for a lifetime of headaches.
But even someone as respected as Guinane, who has preached things such as proper knowledge and technique and muscle memory for decades, is amazed at what we are witnessing with the Golden State Warriors, where Curry and Klay Thompson have splashed themselves into some extremely exclusive air.
With apologies to the likes of Nick Anderson and Dennis Scott back in the day in Orlando, and Gail Goodrich and Jerry West way, way, way back in the day for the Lakers, Curry and Thompson are the greatest shooting backcourt in history.
And when it comes to difficulty of shots made, it's not even close.
LeBron James and the Cavaliers will be at full strength when an NBA Finals rematch of last year begins Thursday in Oracle Arena in Oakland, California, but even the presence of Kevin Love and Kyrie Irving this time around might not be enough to satisfy Cleveland's hunger for a title.
Not if Curry and Thompson continue making the implausible seem ordinary.
Guinane is a member of the popular camp that says Thompson's shot is the prettier of the two, of which everything is straight and in line and high and technically sound. On a scale of one to 10, solely in terms of form, he rates Thompson's jumper an 8 and Curry's a 7.
That's a hell of a 7.
Guinane also understands the absurdity in trying to identify flaws in a jumper that produced a record 402 3-pointers for Curry this season, a preposterous number made even crazier by the fact he shot 45 percent from distance. Curry is one of the most accurate volume shooters of all time. The numbers are staggering.
You can explain consistency through repetition. The way Guinane sees it, if you aim a mortar to hit 400 yards away and fire it over and over without moving it an inch, it will continue hitting at 400 yards. It's the same with a jump shot, only minus the collateral damage.
The better the athlete, the better chance a broken shot can be fixed through a repetitive motion, which is why someone such as San Antonio Spurs star Kawhi Leonard can brick his way through college with a terribly ugly jumper and now rank among the NBA's best 3-point shooters.
What becomes more difficult to explain about the brilliance of shooters such as Curry and Thompson (who ranked second in the league this season with 276 3s) is both the range and difficulty from which they drill those faraway jumpers.
No matter what level you played — high school, college, professionally, weekend pickup games at the Y — anyone who has been in a competitive basketball environment realizes how tough many of the shots the Splash Brothers not only attempt but actually make.
"Steph is a little guy, but his handles and footwork are beyond great, and he can create space like nobody," said Guinane, owner and president of The Basketball Workshop, which operates out of the Joe Dumars Fieldhouse in Shelby Township, about 30 miles north of Detroit. "That allows him to shoot over all the 7-footers trying to defend him. Klay just has a wonderful textbook shot which allows him to catch and shoot it so quickly. Once you understand form and repetition, it becomes a lot easier.
"Now, in terms of range of difficultly, both are incredible. Falling down, falling back, 30 to 35 feet away … it's unlimited what they can do."
Which is another way of saying once you get past all the angles and geometry and science and technique of a jump shot, some things just can't explained.
Even by the best of teachers.
Even by the shot doctor.
It's just best to sit and watch and marvel at all the splashing.
Ed Graney can be reached at egraney@reviewjournal.com or 702-383-4618. He can be a heard on "Seat and Ed" on Fox Sports 1340 from 2 p.m. to 4 p.m. Monday through Friday. On Twitter: @edgraney
RELATED
Golden State Warriors open as 2-1 favorite for NBA Finals