Spoonhour built critical bridge in UNLV history
February 2, 2012 - 2:01 am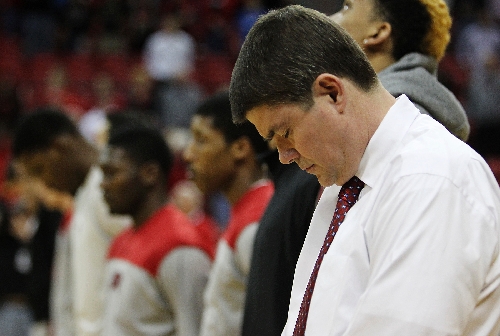 The history of a college basketball program is not unlike the roads and highways and bridges that join towns from one part of the country to the next. Each link serves its own essential purpose, and often many of the more significant ones are overlooked as time passes.
That never should be the case when thinking of UNLV and Charlie Spoonhour.
He never should be a forgotten man in these parts.
The Rebels took the court against visiting Colorado State on Wednesday night boasting their highest national ranking — 11 — since 1993, a team capable of winning a Mountain West Conference championship and earning a high NCAA Tournament seed and, when at its best, playing deep into March.
A team, in large part, indebted to Spoonhour.
To an essential link along the road of an already memorable season.
He lost his battle Wednesday with a lung disease that has no known cause or cure, dying at the age of 72 at his home in North Carolina. Idiopathic pulmonary fibrosis is a scarring of the lungs. How ironic. You would fail miserably discovering anyone who could cite a mere blemish when it came to Spoonhour's character.
He was Lon Kruger before Lon Kruger here, and that can't be emphasized enough, not with how impressively the Rebels have positioned themselves this season. If it's true Kruger drove the Rebels back into the calm waters of annual NCAA berths, Spoonhour first directed the program out of high winds and choppy seas and far away from the stain of NCAA sanctions.
He was the one who cleaned up the mess and polished the floors Kruger and now Dave Rice walk on.
Think about it. Close friends had to convince Kruger to take the UNLV job, and by no means would he have done so had the program not been in the stable shape Spoonhour left it.
It's not certain another would have built what Kruger did and definitely not certain Rice ever would have returned to his alma mater and inherited the roster of talent he now coaches.
Spoonhour went 54-31 in two-plus seasons at UNLV, stepping away because of health issues before the Rebels played in a third straight National Invitation Tournament during his tenure. They're not attention-grabbing numbers. They're not from what legacies are born. He was a good coach whose teams often played great defense.
But his contributions at UNLV transcended wins and losses and any postseason trips, and his reputation was spotless throughout the basketball world. He was a friend of, well, seemingly everyone.
"He was 100 percent genuine," said Rice, who served as an assistant under Spoonhour. "The thing I took from him most — besides learning a lot about basketball — was that you can be a good guy and still be very successful in this business. That's what he was. He was a very special person in my life. I have a very heavy heart for what he meant to me.
"He made a difference in the lives of everyone he touched."
And everyone noticed. His friendships in basketball stretched over counties and cities and states and conferences. He brought respect and dignity to a profession often chided for its lack of integrity.
When his disease worsened and Spoonhour needed a lung transplant last year, West Virginia coach Bob Huggins telephoned Duke coach Mike Krzyzewski, and Spoonhour soon was at the top of a donor list at Duke Medical Center. That kind of respect and connections.
A moment of silence was held before Wednesday's Rebels game at the Thomas & Mack Center, and Rice stood with his head down and hands clasped. His was a somber reaction that permeated across campus all day, and no doubt those at Missouri State and Saint Louis, other head coaching stops for Spoonhour.
Few around a basketball program know a head coach better than a sports information director who works with a team daily. The SID knows a coach's warts, his moods, his strengths, his weaknesses, his demeanor when the cameras are on as compared to off. He knows who is fake and who isn't.
"Coach Spoon was one of a kind, the nicest man I've ever worked with," said Andy Grossman, assistant athletic director for media relations. "You would have never thought he was a basketball coach. What made him unique was that he was the same person in a public setting as he was in a one-on-one situation. People gravitated to him. There was nobody like him.
"Things were pretty crazy here when he was hired. Without him here to bridge that gap, who knows what happens?"
It's not certain Lon Kruger comes, and it is not certain Dave Rice inherits this sort of team, and it is not certain UNLV basketball is back knocking on the door of a Top 10 ranking.
Charlie Spoonhour was one of those essential links that connects roads and highways and bridges and a basketball program's history.
Save the forgotten man label for someone else.
Las Vegas Review-Journal sports columnist Ed Graney can be reached at egraney@reviewjournal.com or 702-383-4618. He can be heard from 3 to 5 p.m. Tuesday and Thursday on "Monsters of the Midday," Fox Sports Radio 920 AM. Follow him on Twitter: @edgraney.