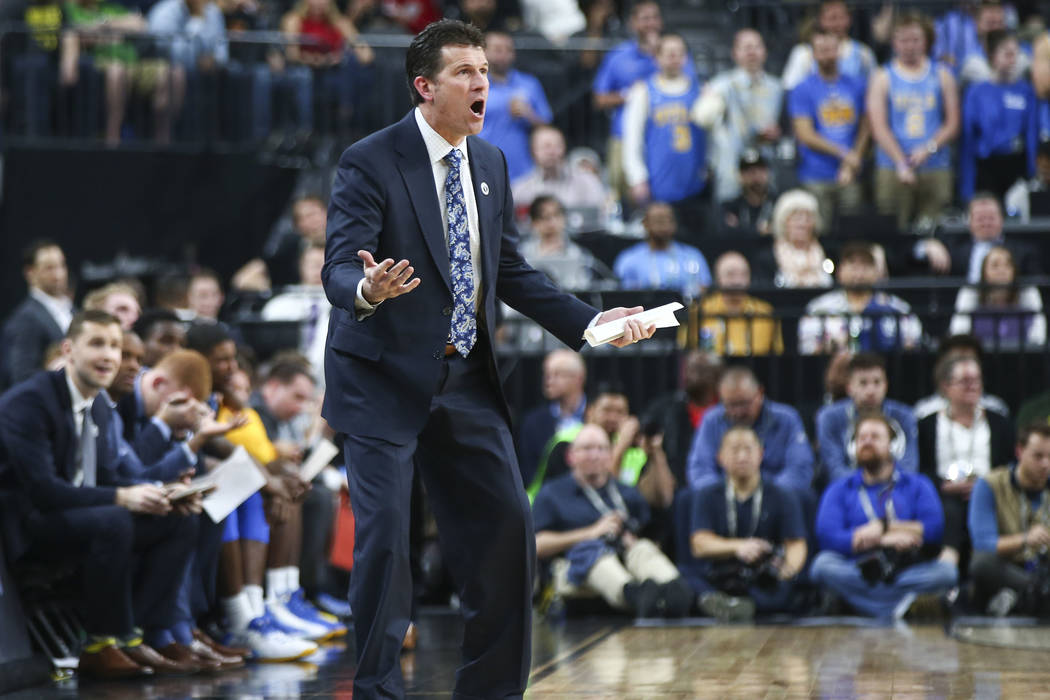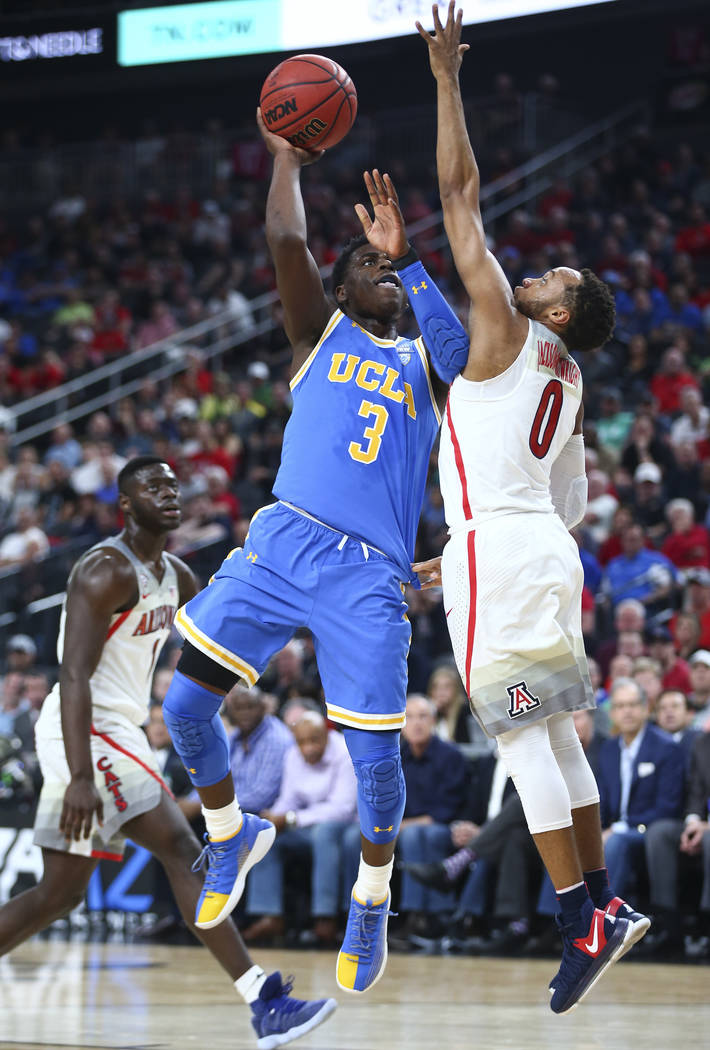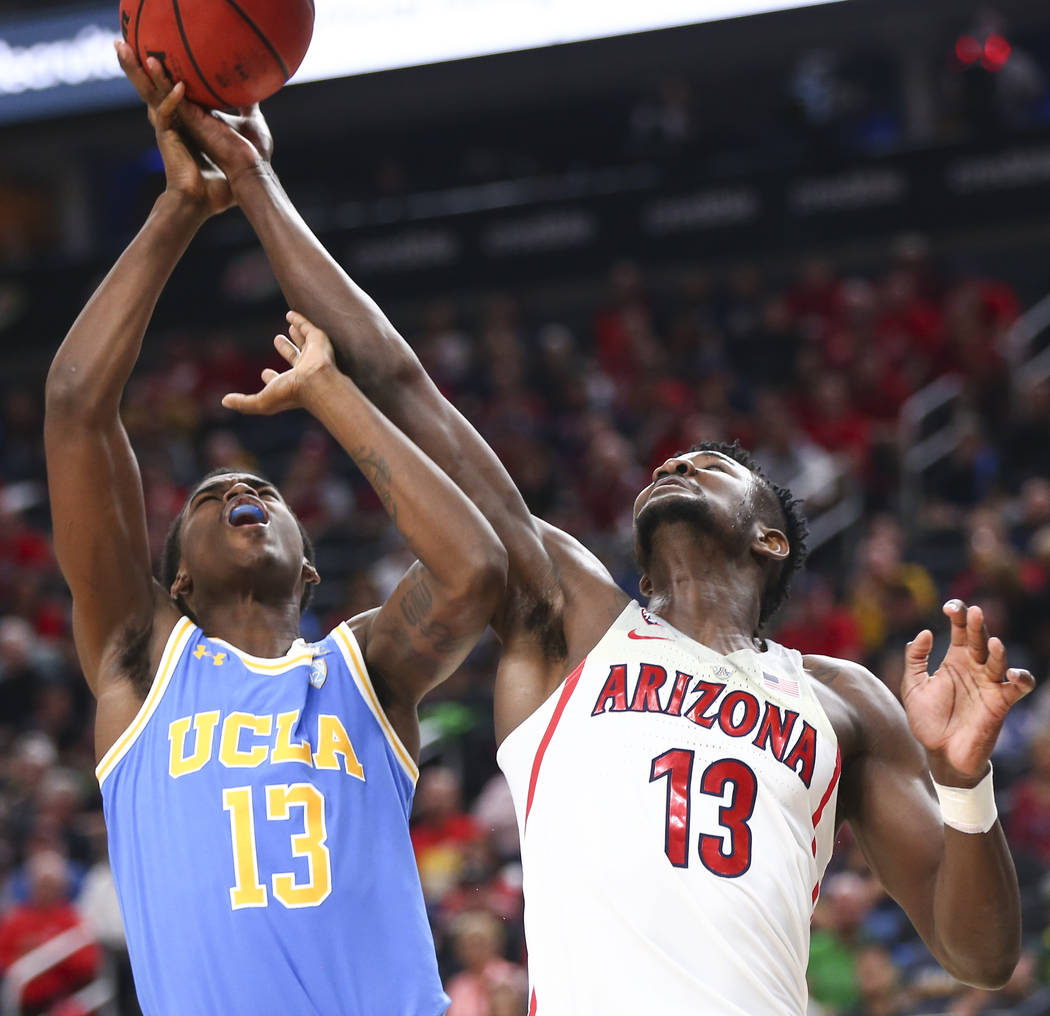 When he strolled Mountain West sidelines in that bright red jacket, be it those years his New Mexico team would win a conference tournament title and he would celebrate by wearing a net around his neck or those when they fell short of such a Kodak moment, Steve Alford matched coaching aptitude with most anyone.
He was always among the league's best.
When he addressed the media in a postgame news conference Friday night at T-Mobile Arena, no red jacket, no net hanging from anything, he just might have taken yet another step toward his best and most difficult job delivering a team to the doorstep of an NCAA Tournament.
It's where UCLA believes it should be, off the bubble and into a 68-team bracket that will be announced Sunday, and while whatever came before the Pac-12 semifinals will play a large role whether the Bruins are chosen or not, a final glance for the selection committee was certainly impactful.
Or at least should have been.
UCLA fell to Arizona 78-67 in overtime, but the team that took the Wildcats to an extra five minutes can absolutely win games when the madness commences next week, one that when its offense finds any sort of consistent flow is among the more difficult attacks nationally to combat.
Arizona outscored UCLA 11-0 in overtime, and yet if you had watched the previous 40 minutes, such a shutout would have been thought more a long shot than UNLV changing its mind on the whole College Basketball Invitational opportunity.
(We're not holding our breath on that, by the way.)
"We feel good about (the NCAAs)," Alford said. "We finished third in this league. I think we've done enough to pass the eye test, and I think our body of work proves it.
"But we're like everybody else — when you don't win the league tournament, you're at the mercy of seeing if you can get an at-large (berth), so we'll have to wait and see. … We'll get back to Westwood, strap it up and find out what our fate is on Sunday."
I'm not sure where an RPI in the low 30s and three quadrant 1 wins and one sub-100 RPI loss will eventually land UCLA, how it might be judged against other bubble hopefuls such as Louisville and Syracuse and Arizona State and Notre Dame and Oklahoma State.
But know this: Part of what has made this one of Alford's best coaching jobs is the journey UCLA traveled to get here, because while having three players arrested in China for shoplifting days before the season opener might not be the biggest of nightmares for a team — come on, now, college basketball has had some doozies this season — it's definitely among the leaders.
While it ultimately helped eradicate any present and future members of the Ball Family (LiAngelo now and LaMelo later) playing at UCLA — LaVar and Co. are Lithuania's problem for now, so pray for all those in or near Baltic states — it led to UCLA's roster shrinking.
Jalen Hill and Cody Riley were also part of the Louis Vuitton (and two lesser stores) Caper.
The Bruins were down three bodies before one jumper was shot.
But this sort of offense — can shoot the 3 from all five spots, has an elite rebounder in Thomas Welsh, is led by one of the nation's best guards in Aaron Holiday — can win more than its share of games.
UCLA is 21-11, and as of late Friday, most bracketoligists had them as an 11 seed in the NCAAs.
I'm not sure many 6s want to guard all of that on short notice.
"When you get to the tournament, you play against teams you haven't seen before," Arizona coach Sean Miller said. "I could certainly see (UCLA) marching past that first weekend of the (tournament). When you have a guard like Holiday, a lot of good things can happen for you. They are so hard to defend."
It's not the same UCLA that was drubbed by Cincinnati and blew a 15-point lead in losing at Michigan.
It's not even the same UCLA that lost road games to Utah and Colorado a few weeks back.
Whether it's a UCLA that will hear its named called Sunday is still unknown, but whether its coach has done a better job with a specific team probably isn't.
Steve Alford might not wear red jackets or nets anymore, but he can coach.
Some still amazingly believe he should be on the hot seat at UCLA.
Some are also delusional.
Contact columnist Ed Graney at egraney@reviewjournal.com or 702-383-4618. He can be heard on "The Press Box," ESPN Radio 100.9 FM and 1100 AM, from 11 a.m. to 2 p.m. Monday through Friday. Follow @edgraney on Twitter.