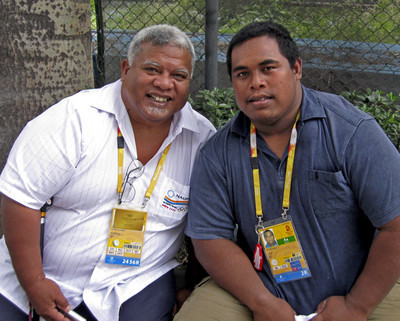 BEIJING — Electricity is meted out six hours at a time, and it fluctuates weekly which side of the island will first go dark once the sun sets.
In the States, we hear advertisements about not leaving home without an American Express card.
In Nauru, you had better not leave without a torch.
It takes only 20 minutes to circle in a car, but for as tiny as the Pacific Island nation located midway between Australia and Hawaii might be, it's even more destitute.
Money is scarce. A booming export industry for rich phosphate soil was destroyed by mining, and those who became famously rich blew their fortunes on lavish items they couldn't use and often didn't need.
The natives were once so wealthy they reportedly used dollar notes as toilet paper. Now they're lucky to have candles to find a restroom.
"We are struggling," Vinson Detenamo said. "It is not good. But we will recover. A moment like this, with everyone watching on screens back home, is important."
The Olympics can do that. They can momentarily lift the spirits of a country drowning in debt.
Lift, is right.
Meet the one-man delegation from the planet's smallest self-governing nation: Vinson's son Itte Detenamo on Tuesday officially delivered Nauru to these Games by competing in the super heavyweight weightlifting class.
His two best lifts over six attempts totaled 385 kilograms (847 pounds), about the size of the gorilla China has become in the pursuit of gold medals. Itte is listed at 5 feet 9 inches and 331 pounds, a frame you would normally see plugging gaps from a nose tackle spot.
Detenamo's total left him fourth in his group, out of medal contention but still a symbol of hope to the 10,000 or so who inhabit Nauru, still an image of faith amid all the poverty on a tiny speck of a country known for producing large men who lift mountains.
Here is what happened: Marcus Stephen is president of Nauru, but also ranks as its greatest weightlifter. He competed in three Olympics and created an international buzz that caused renowned Australian coach Paul Coffa in the mid-1990s to eye those Pacific islands whose people offered the correct physical makeup (powerful legs and immense upper body strength) best suited to his sport. Coffa watched children walking around raising poles over their heads or climbing coconut trees and knew what he had.
Vinson Detenamo also knew and immediately steered his son toward a life of bars and plates. Itte was 10 then, and on Tuesday he competed in his second Olympics at age 21, a direct result of the year-round instruction he receives at Coffa's institute in New Caledonia, a French territory in the Pacific about six hours by plane from Nauru.
"I'm satisfied, but could have done better," said Itte, who missed his last attempt, a clean-and jerk of 464.2 pounds. "We are a small nation. You can't get lost there. I am happy to be from there. I am lucky."
He carried his country's flag into the opening ceremonies because, well, who else would? In front of him was the Swedish contingent — "Very big," Itte said — and behind him that of Mongolia — "Not so big."
His goal now is London in 2012, and his father thinks Itte will mature enough physically to again represent the small island nation in financial distress. But these are also a spiritual people whose food supply rests on the number of fish caught daily and an island bird they trap in the darkness of night with nets attached to the end of long sticks.
They are Christian people who believe success in sports has as much to do with what beats inside a man as his visible power.
"Look at how the Germans lift," said Vinson, president of the Nauru Olympic Committee. "They lift from within, from their toes all the way through their heart. Physically, (Itte) is very strong. But it's the emotion, the spirit that draws out one's true strength. You need the gentleman in the sky to be part of your training, to guide you and push you and protect you.
"There is a lot of (pressure) on his shoulders, and I think he did very well here. I am happy with his performance. But the Olympics are a bigger audience, bigger opponents, bigger platform, bigger everything. He will get better. Our nation will, too. We will climb out of this current state."
And until then?
"We light torches."
Ed Graney can be reached at 383-4618 or egraney@reviewjournal.com.