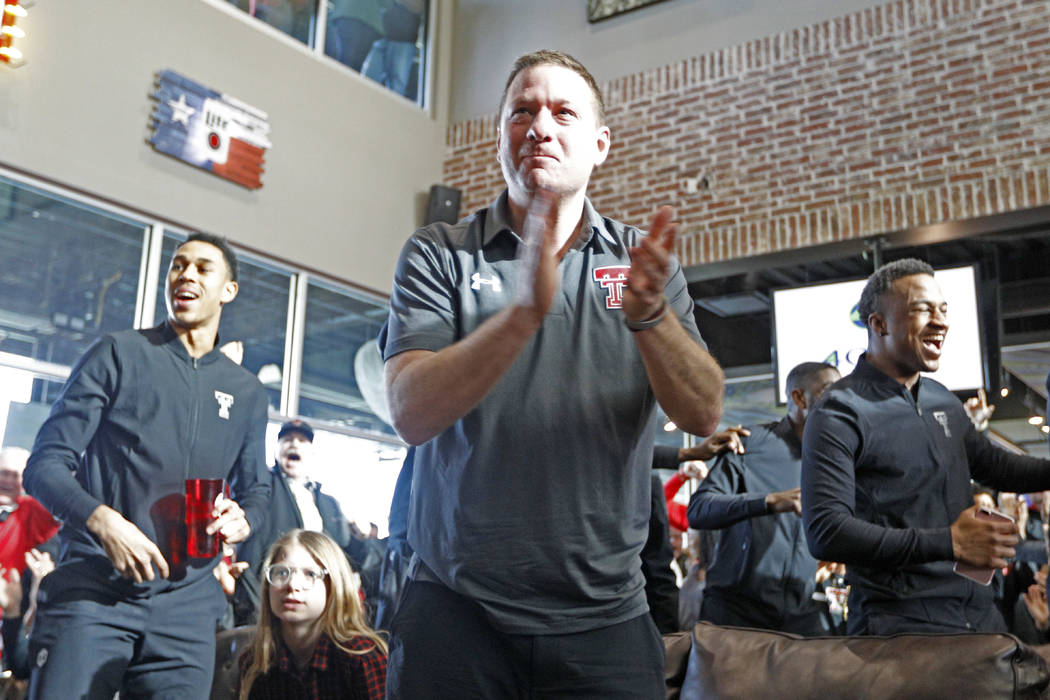 A great story: It was a few days after Chris Beard agreed to take over UNLV basketball — meaning a little more than two weeks before Texas Tech officials swooped in on their private jet to deliver a beloved son back to all that tumbleweed drifting across those West Texas plains — when a leading supporter of the Rebels program happened past the head coach's office.
"The shades were drawn and it was a like a bunker in there," said the supporter. "It smelled like those guys hadn't left since arriving. It was the sort of smell you get at the gym.
"Beard had an army of people in there. They had all these large white pieces of paper hanging all over the walls with names of kids they were going to recruit. The assistant coaches never even looked up. They never even lifted their heads.
"Beard was a madman. He was all in."
He's also now the coach of a No. 3 seed in the NCAA Tournament.
The made-for-television saga that was Chris Beard Leaving Las Vegas didn't do much for the immediate state of the Rebels, but it certainly has allowed Texas Tech to move swiftly forward among the better programs nationally.
March Madness is again upon us and the Red Raiders are smack in the thick of it, seeded third in the East Region and preparing for a first-round game against Stephen F. Austin on Thursday in Dallas.
The history of those 19 days one April have often been recalled for the confusion and national spectacle they became, highlighted by the now-defunct and harebrained rule that at the time gave the Board of Regents power over approving UNLV hires such as men's basketball coach.
We will never know had UNLV been able to immediately introduce Beard as its coach — and allowed him to speak publicly about the job, officially contact recruits, become more and more entrenched in the position — if he would have turned down Texas Tech and not returned to a program he spent 10 years as an assistant under Bob and then Pat Knight.
Here's guessing … absolutely no chance.
He was always going to choose the state of Texas and being closer to his three daughters, always going to side on the allure of Big 12 power and riches, always going to embrace Power 5 over Mountain West.
Doomed from start
It has since been proven that Tina Kunzer-Murphy, then UNLV's athletic director, made a great choice in Beard. She didn't control the regents or the stupid hiring rule. That part wasn't on her.
And yet what came before offering Beard the job — wrongly firing Dave Rice at midseason and first offering the position to a terrific coach in Mick Cronin of Cincinnati, but who assuredly used it as a leverage ploy and was never leaving his daughter or the Bearcats — more than muddled the process.
Fact: Comparing what Beard has done in Lubbock to the first few UNLV seasons under Marvin Menzies is beyond pointless and inequitable, unless there is some way the Rebels can figure out how to defend to at least 50 percent of the level the Red Raiders do.
Beard, who inherited an NCAA Tournament team where several key names returned, didn't experience a mass exodus of players at Texas Tech as Menzies did.
The Red Raiders at the time were poised for such a run as this current one.
The Rebels were a complete rebuild.
Menzies has won 31 games his first two seasons — the first year of 11 victories sits solely in the laps of those who allowed for such a convoluted search — to set a foundation.
Through no fault of his own, he's still in the pouring concrete stage.
Beard, meanwhile, has taken a much better product in one of the nation's best leagues to lift Texas Tech to its highest ranking (sixth) in history earlier this season, more wins (24) since the Red Raiders went 30-2 and made the Sweet 16 in 1996 and a co-Coach of the Year award in the Big 12.
Now, he transports them into an NCAA draw as a 3 seed, having recently agreed to a six-year contract extension for $19 million. He was always getting on that jet, always going home.
At least UNLV received $1 million from Beard as a buyout to his short-term deal, because we all know the Rebels don't do things like $19 million coaching contracts.
Which is an entirely different story about why some programs advance and others remain stuck.
Contact columnist Ed Graney at egraney@reviewjournal.com or 702-383-4618. He can be heard on "The Press Box," ESPN Radio 100.9 FM and 1100 AM, from 11 a.m. to 2 p.m. Monday through Friday. Follow
@edgraney on Twitter.