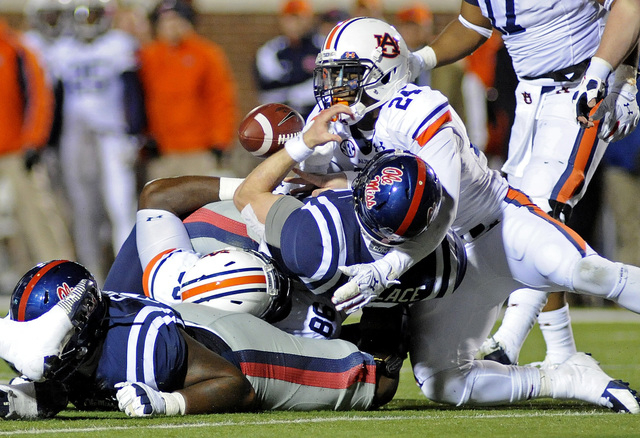 The college football playoff rankings were updated by a 12-member selection committee on Tuesday, and as should be the case weekly, some notable changes took place.
We will react to the rankings each week until a final Top 25 is made public Dec. 7.
The committee's Final Four as of today: Mississippi State, Florida State, Auburn and Oregon.
The first two out: No. 5 Alabama and No. 6 Texas Christian.
Thanks for checking in: Mississippi. The Rebels dropped from being in the playoff at No. 4 last week to way outside of it at No. 11 with a home loss to Auburn.
Should be worried: Michigan State. At No. 8, the Spartans were jumped by Kansas State, now at No. 7. It seems the committee has followed the nation's lead and isn't impressed at all by the Big Ten.
Should be scared to death: Baylor at No. 12, Nebraska at No. 13 and Ohio State at No. 14. All have one loss, are from power conferences and sit behind a two-loss Ole Miss team.
Should be watched closely: Arizona State. The Sun Devils are ranked ninth, host No. 10 Notre Dame this week and could eventually meet Oregon in the Pac-12 championship. Win out, and the guys from Tempe are playoff-bound.
Our top six today: Mississippi State, Auburn, Florida State, Oregon, TCU and Kansas State.
What concerns us: For the first time in the process, selection committee chairman Jeff Long sounded either like a buffoon or a Southeastern Conference apologist.
Same thing. Take your pick.
Long, the athletic director at Arkansas, pointed to watching film as a reason when asked why Alabama remained ranked ahead of TCU.
In essence, he used the eye test.
What pair of eyes watched the Crimson Tide look pedestrian in beating West Virginia on a neutral field and yet then saw TCU win in Morgantown on Saturday? Whose eyes can study the bodies of work of both Alabama and TCU and not conclude the Horned Frogs have been more impressive?
I'll tell you — someone who needs LASIK surgery.
Best reaction tweets on this week's rankings: From @MitchMossRadio: The bottom line is, and don't kid yourself by thinking otherwise, if OU was TCU this year they'd be ahead of Bama. Hell, they might be 4th.
From @jasonrmcintyre: What's sadly becoming clear: w/ 4 team playoff, NO incentive to play tough non-conf games. Long admits they can't grasp strength of schedule.
Las Vegas Review-Journal sports columnist Ed Graney can be reached at egraney@reviewjournal.com or 702-383-4618. He can be heard from 11 a.m. to 2 p.m. Monday through Friday on "Gridlock," ESPN 1100 and 98.9 FM. Follow him on Twitter: @edgraney.