The naked truth: This bull meant business
October 29, 2009 - 9:00 pm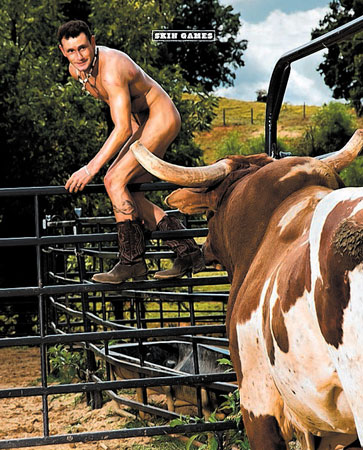 Huckleberry Thorn doesn't roll over or sit up and beg for treats. He doesn't fetch tennis balls from the pool. He's not all that big on rubber toys. He doesn't stand around for 15 minutes waiting for the lighting to be just right while posing for photos.
He gets antsy.
He's a freakin' bull.
Which can be bad for the closest naked cowboy.
Talk about a new way of appealing to the mainstream fan base. There is taking one for the team, and then there is what Shane Proctor subjected himself to recently for the good of professional bull riding.
Proctor will compete in the PBR World Finals at the Thomas & Mack Center beginning Friday, where he at least can take comfort in the fact all his rides will include protective clothing.
ESPN The Magazine devoted its Oct. 19 issue to athletes and their bodies. It describes the venture as a "celebration and an exploration of the athletic form." It consists of pages and pages of beautiful people with the types of physiques most of us dream of having, except for the sumo wrestler.
He can keep his body, although we are told in the piece that Byambajav Ulambayar at 6 feet 1 inch and 340 pounds can do the splits like a ballerina while touching his nose flat to the ground. I last did that in the womb.
There are pictures of pro tennis and basketball and baseball and football players, of surfers and triathletes and NASCAR stars, of hockey and soccer players, of female shot putters and hurdlers, of rock climbers and golfers and rowers and table tennis players and a jockey, of a boxing champion and Olympic swimmer and mixed martial arts competitor.
Some are wearing little.
Most are wearing even less.
Proctor during the shoot wore boots and held a cowboy hat over his, well, essentials.
Which wasn't that uncomfortable until ol' Huckleberry decided to charge.
"I dropped hat and ran up on the fence," Proctor said. "He was about to horn up on my business."
And I thought being hit with an errant throw the day I forgot to wear a cup in Little League was terrifying.
Proctor is 24 and lives with his wife and her family on a farm in Mooresville, N.C., but was born and raised a cowboy from Washington state. He didn't pause much when approached about the magazine spread and even won his first professional event a few weeks before the issue came out, which means he probably views this naked cowboy thing as good luck.
Bull riding was an extreme sport long before Tony Hawk began awing others with skateboard vert tricks, but it remains a challenge to draw those not closely connected to the rodeo world. So every once in a while, cowboys do crazy things to get their sport national attention.
Like getting naked and standing next to a bull with horns the size of Byambajav Ulambayar.
"We gave the bull some grain to eat and hoped he would stay calm until it was over, but this wasn't some family pet," Proctor said. "I had one eye on the bull at all times. This isn't some tame animal. The photographer was outside the pen and started asking if I could turn the bull this way or that, if I could get a little closer to him. I said, 'You come in here and get closer.'
"When the bull (charged), I was able to clear the fence by a couple steps. Man, if he had caught me with those horns, it would have been bad news. I dropped down into the other pen with nine more bulls, but they just backed up. It's not every day a cowboy with no clothes on gets in there with them."
They're not shy on the farm out in Mooresville, given the photo shoot took place around 1 p.m. and not 20 yards from a main road, where cars passed and neighbors likely wondered what in the world naked Shane was doing in the pen with that bull.
Proctor's wife, Jessi, was there. So were several members of her family. Her brother, J.B. Mauney, enters the PBR ranked No. 1 among 40 qualifiers. Proctor is No. 18.
You figure while the presence of so many might have been a bit unsettling for Proctor, having the support of his wife as Huckleberry's horns made their mad dash brought him reassurance.
It probably would have. If she wasn't laughing so hard.
"It was hysterical," Jessi said. "It was the funniest thing I've seen in my life. A bull rider with no clothes on in the pen running from the bull. … He's actually a really nice bull. I'll scratch his ears, and he'll fall asleep. But he just got annoyed standing around that long. Bulls have minds of their own. He wasn't about to take orders from a photographer.
"My whole family was cracking up and nearly falling over laughing. Shane jumped that fence pretty fast."
It is a humorous vision.
Except for the poor guy trying to protect his business.
Las Vegas Review-Journal sports columnist Ed Graney can be reached at egraney@reviewjournal.com or 702-383-4618. He also can be heard weeknights from 11 p.m. to 1 a.m. on "The Sports Scribes" on KDWN-AM (720) and www.kdwn.com.