The process of building an NHL franchise in Las Vegas has begun
October 8, 2016 - 11:03 pm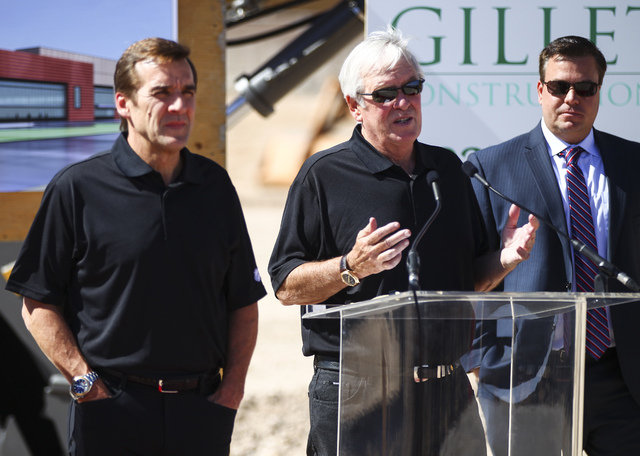 Checking things off: Everyone has his laptop and cellphone and iPad. All of them are out in the field and watching games and filing reports and accumulating data.
Which makes George McPhee a happy guy, even though his poker face seems an irreversible fixture.
Those in the Royal Guard standing watch outside Buckingham Palace break character more than McPhee.
The general manager of your way-too-overdue-for-a-nickname NHL team in Las Vegas is off and working and deadpanning his way to building a roster that will open play in October 2017, having hired 34 people in various roles in the past two months.
A majority of them are scouts, folks who will evaluate those players McPhee and his staff will consider taking at the entry draft in June. Before that, Las Vegas will make its selections in the expansion draft.
It's a process that already has begun, with McPhee and assistant general manager Kelly McCrimmon in lead positions.
"I don't think there has been any surprises," McPhee said. "We're delighted with how quickly it all got done. We can sort of step back now and take a breath. These are real quality people and scouts. I thought it went extremely well with Kelly and I vetting people. He knew a lot of guys on the way up, and I knew a lot of guys at this level.
"We got a real nice cross section of people. We don't have a bunch of clones. We have young up-and-comers, and we have veteran guys that wanted one more chance. I believe it's a tremendous staff."
McPhee spent 17 years as general manager of the Washington Capitals, longer than any other GM in franchise history. He has been a director of hockey operations for the Vancouver Canucks, a senior adviser with the New York Islanders and was the co-general manager for Canada's gold medal team at the 2016 World Championship.
But while he will begin painting his Las Vegas adventure from a spotless canvas, those characteristics and qualities McPhee searched for when running and helping to run other franchises haven't changed. That will include when he pursues the team's first coach, who probably won't be hired until the spring.
"We're going to look for the best human talent we can find and get the very best coach we can get," McPhee said. "I have a list (of names). Kelly has a list. We're going to sit down in the near future and compare them and talk strategy. It doesn't matter whether you're in Year 5 or 3 of a program or just starting. You want the best. That's the objective. We have some time when it comes to the coach."
He spoke Wednesday, shortly after a news conference to officially put shovels into dirt for the team's practice facility at Downtown Summerlin, where the 120,000-square-foot building will offer two sheets of ice and be home to far more on skates than just owner Bill Foley's team.
This is the calm before the storm, the appetizer before T-Mobile Arena next season hosts the main course of the town's first major league professional sports franchise.
It's also the most significant of times.
"I think (McPhee) is really focused," Foley said. "He's doing exactly what I want — build the hockey side of things. He's hiring great hockey people. I'm really pleased. This will be a successful team. George is everything I wanted as a general manager."
How the team performs in its first several seasons very well could depend on the work accomplished now between McPhee and McCrimmon when it comes to what happens on the ice and team president Kerry Bubolz off it.
Bubolz spent the past 13 seasons with the Cleveland Cavaliers in the NBA, but he has a hockey background and for the past several years pointed his eyes toward leading the business operations of an NHL franchise.
He grew up in Oklahoma and as a kid attended games of the Tulsa Oilers, but his love for the sport really took off in the 1990s, when he worked for the Cleveland Lumberjacks of the International Hockey League.
Now, he brings that sort of experience from nontraditional hockey markets to another.
"If someone doesn't have the right motor and energy and passion, they're probably not going to be very successful," Bubolz said. "Whether it's in the NBA or NHL or Major League Baseball, guys who do all the little things and have great energy are the successful ones. If they don't truly care about what they're doing, that's not going to be someone we would look to hire. You need the passion. The more you have, the better you're going to do in everything."
The Silver-Gold-Desert-But-Definitely-Not-Black Knights are off and working and following the lead of their Royal Guard general manager.
It's the most significant of times, because the appetizer often dictates how well that main course is going to taste.
Ed Graney can be reached at egraney@reviewjournal.com or 702-383-4618. He can be a heard on "Seat and Ed" on Fox Sports 1340 from 2 p.m. to 4 p.m. Monday through Friday. On Twitter: @edgraney