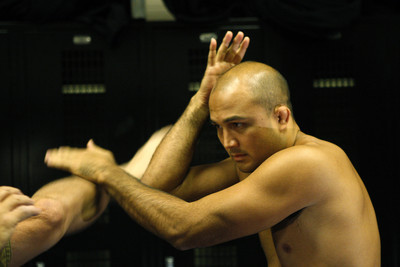 There is this truth about most NFL running backs once they turn 30. Statistical evidence shows their production dramatically falls as their bodies seemingly hit a brick wall the second they blow out the candles.
There is no such data about those who compete in mixed martial arts. Randy Couture is 45. Enough said.
BJ Penn, however, isn't taking any chances.
Finally, the most natural competitor to perform in the Ultimate Fighting Championship has approached training with a disciplined edge that rivals his innate skill. He has prepared for the most important fight of his life as he didn't for many that came before, which is to say seriously.
"I have been with (UFC) for nine years now," said Penn, who turned 30 in December. "You know, I am headed toward the end of my career. For once in my life, I have trained and lived the right way, how I should have since I began fighting. This fight means everything to me.
"I just want to kick his ass."
Georges St. Pierre is the one who has produced such a passion in Penn, and the two will settle things in a main event welterweight championship in UFC 94 tonight at the MGM Grand Garden.
They fought in 2006, when St. Pierre won a split decision and the 170 pounds Penn carried appeared to include more flesh than muscle. No getting around it — "The Prodigy" was pudgy.
"I'm sure some people are picturing me as the old 170 pounds, the one with the belly," Penn said. "That's fine. Maybe it's a good thing they think that way. This is the new version."
Most scientists believe it's a myth that there are those born naturally to excel in athletics, that it's a flawed assumption to think genetics can determine one's ability in sports and that once a natural athlete, always a natural athlete.
Penn might be one of the few who can challenge that contention. He is a Brazilian jiu-jitsu marvel who over time in the UFC has become a dangerous puncher. The sport's best wrestlers praise his technique, while its top punchers insist Penn could have been a gifted boxer had he chosen that route.
When he was 20, he could lift both feet behind his head without using his hands and is said to have once scratched behind his ears with his toes — again with no hands — while sitting and reading a book. He was the Hawaiian Gumby.
There is no one like him today at the lightweight division of 155 pounds. But he also has fought as high as 205. He has gone up and down over his career and never really been all that dedicated when doing so, amazing when you consider he and Couture are the only UFC fighters to have won titles in two weight classes.
Can you imagine if Penn always had been this fanatical about doing things the correct way? Imagine the resume then.
"No doubt, he was partying too much and not living the lifestyle of a professional fighter and cruising on his talent," UFC president Dana White said. "Then he realized, 'I'm 30. I have to start taking this seriously.' I know that he has.
"He is a freak of nature, incredibly talented. Now, he is at the right weight and the right mindset. He's fast. He's athletic. He's one of the best well-rounded fighters in the world. He's right where he should be."
What makes a man so gifted at his craft and yet so disobedient to its training requirements suddenly alter his level of commitment? Is it a newborn daughter? Is it age? Is it the desire to make history, to become the first in his sport to hold two titles simultaneously?
For Penn, it appears all that and more. The more part is St. Pierre. UFC is unlike boxing in a way that those involved in major fights are not captivated first with the promise of great riches should they win, mostly because boxers have far greater opportunity at realizing those riches.
While a Manny Pacquiao might look at his current fight as a way to make twice as many millions the next one, those trading punches and kicks in UFC see things in a far more basic nature. It is first, last, foremost, about the other guy. Pure. And. Simple.
"I'd say I was 70 to 75 (percent)," Penn said of his first fight with St. Pierre. "It was the whole thing, the way I was living my life. I was going out at night, just abusing my body, not training like I should. I trained just enough to get by. I thought Georges was just another guy. I really underestimated him. I thought he was just another guy out there.
"I'm here. I'm ready. Let's go."
It might not matter. He could lose again.
But pudgy, he isn't. This time, for perhaps the first time, The Prodigy is completely prepared.
Las Vegas Review-Journal sports columnist Ed Graney can be reached at 702-383-4618 or egraney@reviewjournal.com.
Today's UFC story: Aspiring stars vie for UFC title shotFIGHT NIGHT ST. PIERRE VS. PENN WHEN: Card begins at 4:45 p.m.; pay-per-view coverage at 7 WHERE: MGM Grand Garden TV: Cox pay per view LINE: St. Pierre -165