Things prove the same and different between Knights and Capitals
Updated December 5, 2018 - 10:54 am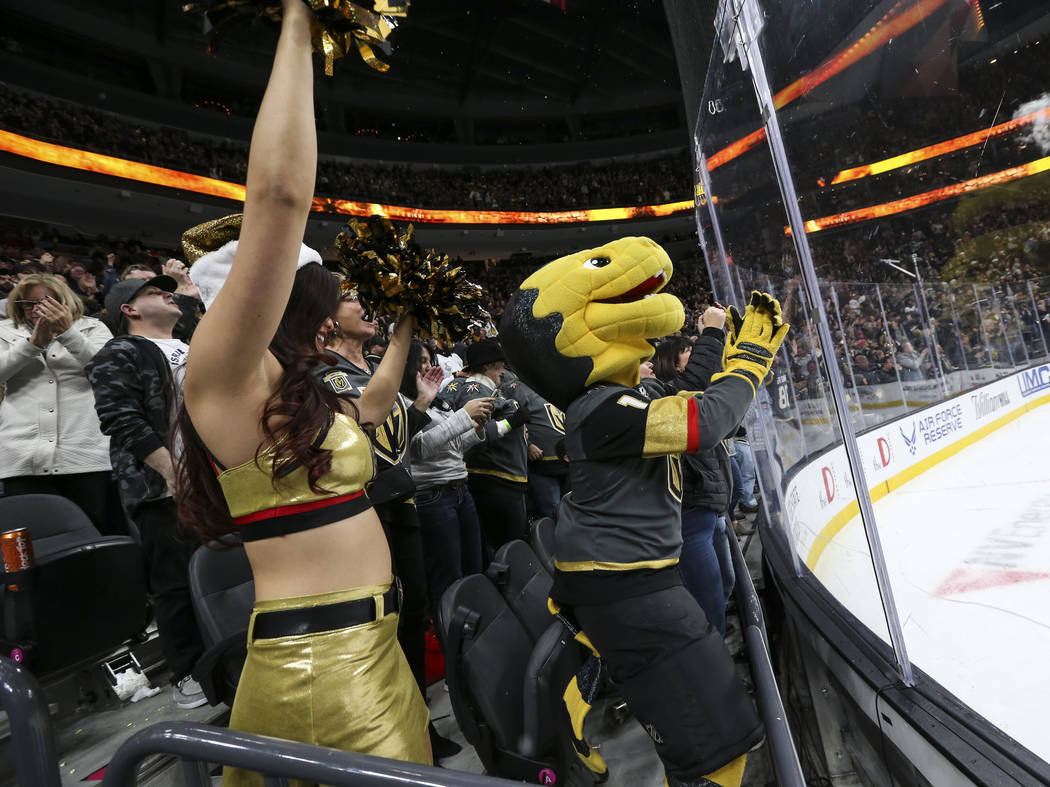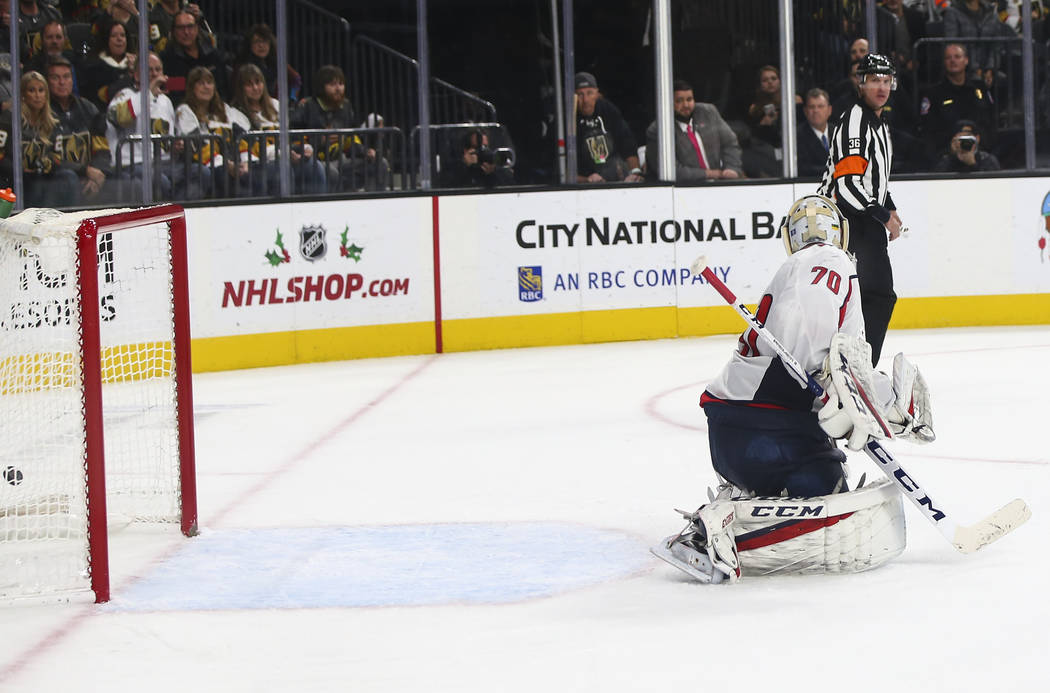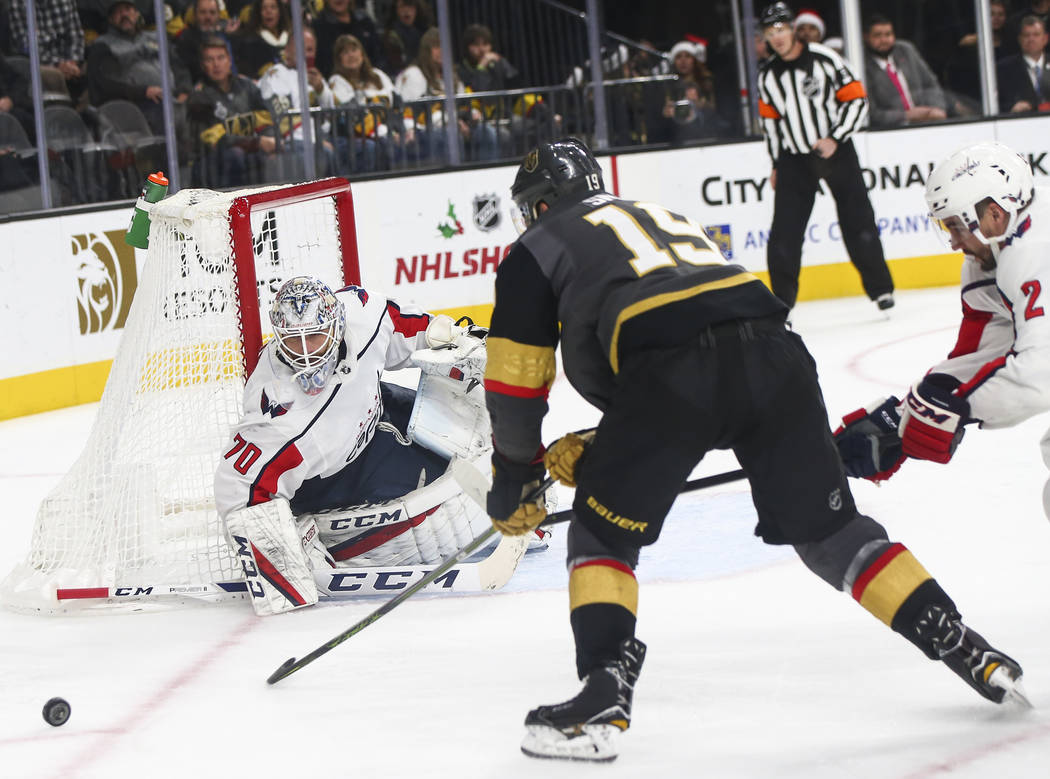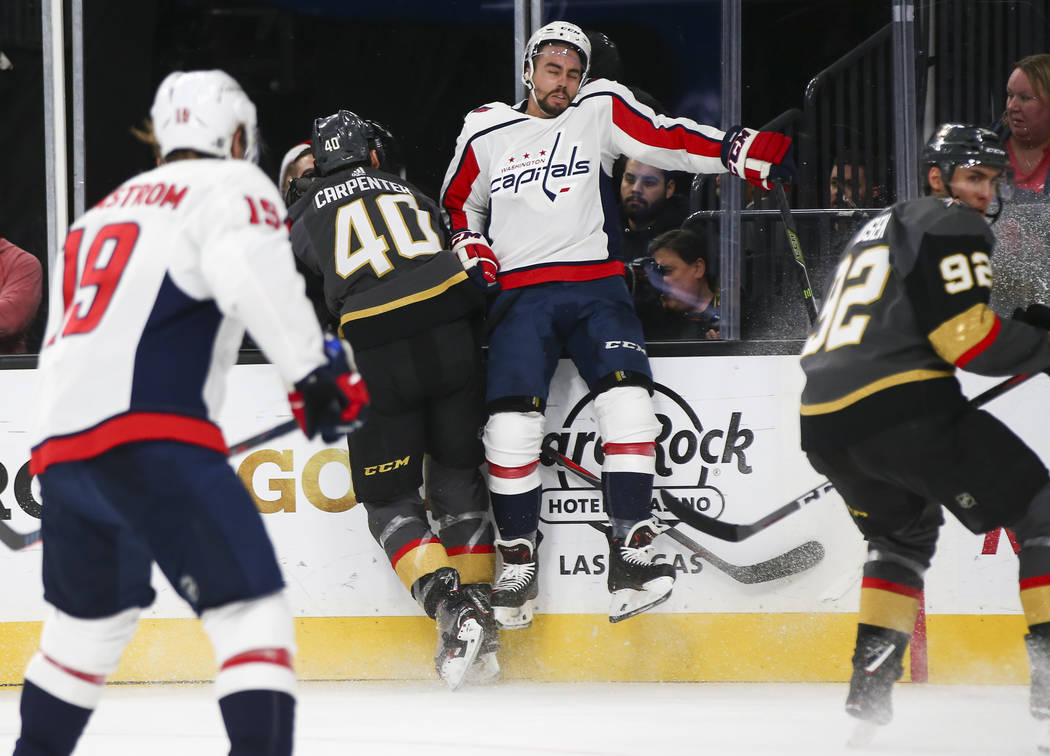 It was the same and it wasn't, meaning Alex Ovechkin was in the house but not lifting the Stanley Cup above his head while gliding around T-Mobile Arena in search of celebratory cocktails to come, meaning the Capitals and their star were engaging the Golden Knights, but not with any sort of championship at stake.
Pride, however, is a different matter.
The last time we saw these teams in this building, Washington was winning Game 5 of a best-of-seven final, proving itself the better side while ending the dream season of a Knights team that defied all odds in reaching such a moment as an expansion side.
This was instead a Tuesday night in early December, one of 82 games over the course of six months and yet carrying a bit more meaning for the Knights, who beat the Capitals 5-3 in the most dramatic of ways before a deafening 18,275.
Nate Schmidt, the former Capital who was left unprotected by Washington in the expansion draft, the defenseman suspended for the first 20 games, scored his first goal of 2018-19 via a power play at 18:36 of the third to make it 4-3.
He then added an empty-net score as the final seconds ticked away.
"These are the types of games you want to be part of," said Schmidt. "This is why you play hockey. Over so many games, you have to find ways to get yourself up and this was one of them. You could tell from the first shift with a couple of big hits. It was an intense, high speed, high octane game."
It was the same and it wasn't.
Meaning while everything wasn't on the line, things were highly emotional and Tom Wilson again found himself in the middle of it all.
Until, that is, he found himself being helped off the ice.
The Knights have dominated their division since beginning play last year, going 27-8-4 against such foes, including 7-2-1 this season. But things have been a tougher go when stepping outside those comfortable blue lines of the Pacific, a fact emphasized by losing to the Capitals in such a manner last June.
You're darn right Tuesday meant more to the Knights than just another game. It should have.
If you like pace and chirping and bone-rattling hits more powerful than anything except the music inside T-Mobile, you loved the most impressive win this season, by far the most entertaining and impassioned 60 minutes.
I'm just not so sure how much Wilson loved it.
He is the one whose mug shot likely hangs on the wall of the league's Department of Player Safety, a repeat offender who has served multiple suspensions and owns the sort of mucky reputation that comes with many of his hits.
Wilson is a dirty player unless he's on your team, and there are few across the league who wouldn't want him wearing their jersey. He's that good.
He went to the locker room at 15:42 of the second period, having been on the receiving end of a punishing hit from forward Ryan Reaves, who received a 5-minute major for interference and a game misconduct.
Such penalty was deserved. The hit by Reaves was late, much like one Wilson laid on forward Jonathan Marchessault in Game 1 of the Stanley Cup Final. Reaves and Wilson had earlier exchanged hits. They were being watched closely. It was just a matter of time.
PK is on fire
But while the sidebar that was an MMA match between the two pushed the crowd to an ear-splitting level — there is no question it was the loudest T-Mobile has been this season —the Knights won behind what is quickly becoming a terrific penalty kill.
It has been six games (and 19 penalties) since an opposing power play found net, and that included the Knights killing all of the 5-minute major Tuesday.
It was the same and it wasn't.
Ovechkin had a goal and Wilson was involved in some shenanigans and Reaves took matters into his own hands.
The Capitals are ahead of the Knights right now, ahead of most everyone.
But for a Tuesday night in early December, the Knights proved superior.
"(Beforehand), I was just thinking about treating it like another game and worry about getting the two points and improve in the standings more than trying to get them back," said goalie Marc-Andre Fleury. "I can't lie, though. This is a great feeling. It was almost storybook, just a few months too late."
It was the same and it wasn't.
Mostly, it was a hell of a hockey game.
Contact columnist Ed Graney at egraney@reviewjournal.com or 702-383-4618. He can be heard on "The Press Box," ESPN Radio 100.9 FM and 1100 AM, from 7 a.m. to 10 a.m. Monday through Friday. Follow @edgraney on Twitter.