Toughened Herring suited for bowl goal
October 29, 2013 - 9:24 pm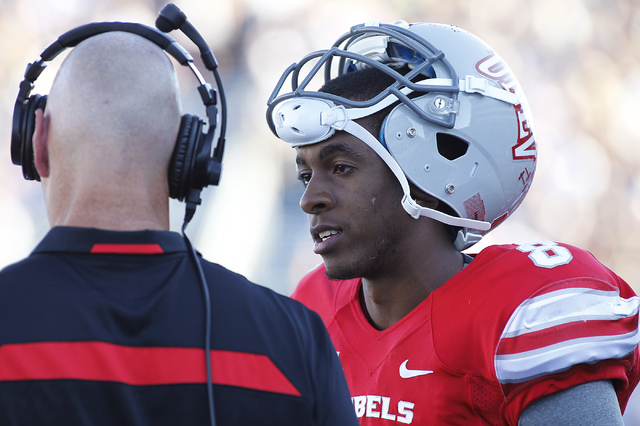 The crowd spread across the pavement near the Student Union and onto adjacent stairwells Monday, hundreds gathered to celebrate a rivalry victory in football and the promise of what still might transpire for UNLV in the coming weeks.
Students, boosters, media, a blue cannon awaiting a coat of red paint.
Neal Smatresk, university president, was front-and-center.
I suppose it's true, then. Everybody loves a winner.
But an additional victory is needed for the Rebels to become bowl eligible for the first time since the year Brad Pitt married Jennifer Aniston and "Gladiator" won the Oscar for best film. When you are talking as far back as 2000, supreme focus is essential to achieving a goal of playing in the post season.
Which is where Caleb Herring fits perfectly.
Leadership is beyond significant in these times, in the days after such an emotional win as the Rebels beating UNR on Saturday, in those hours leading up to the next game against San Jose State, in the weeks to follow.
It was just minutes after UNLV had secured its 27-22 win in Reno when the Rebels began a celebratory walk from the field at Mackay Stadium to their locker room and an awaiting Fremont Cannon, a path lined with bitter Wolf Pack fans chanting the sort of unmentionables for which PG-13 ratings were created.
Some players from UNLV hooted and hollered back. Some waved. Some laughed.
Herring never broke stride, never acknowledged the scene.
"It was just another step in the journey," he said. "It was an awesome one. Mission accomplished. We went up there to win, expected to win, executed well enough to win. But we have more goals. We need to get back to watching film and get to the next game.
"To have senior leadership on any team is important. It's my job, especially as the quarterback, to get us prepared and going again."
If he ultimately won the starting spot because sophomore Nick Sherry's mistakes were more often than not being turned into touchdowns by opposing defenses, Herring's production long ago ended any speculation as to who will direct UNLV's offense for the remainder of this season.
Since replacing Sherry in the Central Michigan game Sept. 14, Herring has completed 68 percent of his passes for 1,580 yards with 13 touchdowns and just one interception. His has been a remarkable rebirth at the game's most important position for a young man who was so far off the depth chart at quarterback a year ago, he was playing wide receiver.
"Having veteran players is a big deal," Rebels coach Bobby Hauck said. "Caleb has had some things in his (college career) that he has had to fight through, so if there is anybody tougher mentally, I don't know who they are. He's a mentally tough guy because he has had to be. And it's showing up now in his play."
Believe it: The final victory that would earn UNLV bowl eligibility will be the toughest to get this year. It has been a massive struggle for the Rebels finally to arrive at a post-season door after nine straight losing seasons.
It will be even harder to break the darn thing down.
For this, there might not be a better player to look at for guidance than Herring. His faith is as strong as his resolve to lead UNLV into a bowl game, be it in Albuquerque or Hawaii or Boise or, should all the stars align, here in Las Vegas.
"Where I am now, knowing there is so much more for us to do, I'm loving the ride," Herring said. "Winning in football can do a lot for the university and community. That hasn't been the case since I've been here. But the atmosphere is great right now."
It shouldn't take more than the Rebels watching a few minutes of film on San Jose State quarterback David Fales to quickly move on from the UNR victory and the Student Union paint-fest and realize the sort of explosive offense they will have to defend Saturday afternoon at Sam Boyd Stadium.
Fales has thrown for over 400 yards in two straight games and three on the season. He has 6,618 career passing yards and has thrown for 50 touchdowns as a Spartan. He's the real deal, the kind of guy who makes sure those seats reserved for NFL scouts in the press box are filled on a weekly basis.
Herring doesn't have to match Fales yard-for-yard for UNLV to win.
His is a more important task.
To remind his teammate that UNR was then and this is now.
To walk along the path of an angry fans base and have the focus not to notice.
Las Vegas Review-Journal sports columnist Ed Graney can be reached at egraney@reviewjournal.com or 702-383-4618. He can be heard from 11 a.m. to 2 p.m. Monday through Friday on "Gridlock," ESPN 1100 and 98.9 FM. Follow him on Twitter: @edgraney.