Trainers' talk needs plenty of translation
November 21, 2007 - 10:00 pm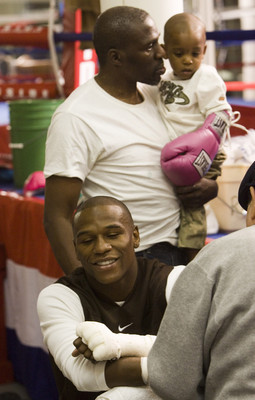 Oscar De La Hoya is probably still talking into the phone, unaware his voice became mute just minutes into a media teleconference call Tuesday that featured the trainers for Floyd Mayweather Jr. and Ricky Hatton.
"I have just been informed Oscar doesn't even know he's off the call," the moderator told an operator. "His party says he is still talking."
It's impossible to make this stuff up.
Be assured nothing of monumental significance was missed when De La Hoya suddenly became one of those Cingular wireless commercials for dropped calls, other than him possibly breaking some sort of world record for using the words "incredible" and "amazing" in one breath or boasting of a Golden Boy Promotions mega-fight with an undercard that actually includes names someone other than family members and close friends recognize.
You know it's getting close (18 days and counting) when HBO begins another 24/7 series and Roger Mayweather takes the use of profanities up a notch to one every three words instead of his customary five. Mayweather Jr. and Hatton meet in a WBC world welterweight title fight at the MGM Grand Garden Arena on Dec. 8, when Las Vegas will be flooded with cowboys for the National Finals Rodeo and Brits for no reason other than supporting Hatton by singing songs and tipping pints.
Time hasn't altered reality. The fighters are a combined 81-0 with 55 knockouts, and one is destined for the first blemish on a career resume. Hatton will be the one to receive it by losing a decision. He's the more likable fighter. He comes off more genuine. But his best tactic (attack with abandon) won't be good enough to beat Mayweather's defensive skills. It's an old but tirelessly confirmed truth.
But for now, it's all about posturing. Forget fighters. Their bravado is too predictable, their arrogance too stale. This is one of those times when trainers are the far more interesting subjects, proven by the first 24/7 episode and again with Tuesday's updates.
As it is with trainers, sometimes they become so animated and (in the case of Roger Mayweather) offensive in their remarks, it's important to decipher the true meaning of words for the sake of clarity.
Here then, are a few comments/translations from the camps of Hatton (trainers Billy Graham and Kerry Kayes) and Mayweather Jr. (Roger Mayweather and Leonard Ellerbe) not three weeks before the bell rings.
Kayes, on Hatton's weightlifting regimen:
"He lifted over 30 tons for his last total leg workout and his last sets were of 1,100 pounds on the press. That probably sounds hard to believe, but HBO filmed it and if the powers-that-be show it, a lot of you guys will be shocked at Ricky's strength."
Translation: The way we convert kilos to pounds over here in England, he really only leg-pressed 80 pounds. We're also convinced HBO won't show that portion of his workout and take time away from clips of Roger Mayweather, who is really the only reason to watch the show.
Roger Mayweather, on Hatton's chances: "Let him come. He's going to knock on the door. Somebody is going to answer him with a baseball bat aside of his (expletive) head."
Translation: "Baseball Tonight" is a popular show at Floyd's mansion after he's done riding scooters through the halls and organizing large stacks of cash.
Graham, on the U.S. media overwhelmingly picking Mayweather Jr. to win: "If I had written that, I think I would have been embarrassed with such a lack of knowledge of boxing."
Translation: Have you seen the British tabloids? You reporters in the States are softer than Hatton's belly when not training.
Roger Mayweather, on Hatton's reported superb conditioning: "What's eating cereal got to do with boxing? It ain't got (expletive) to do with it. He's eating better. So what? You can drink beer all day and still beat someone's ass. Skill wins fights. That's the only thing."
Translation: Even a breakfast of champions of Wheaties mixed with Guinness won't save Hatton.
Graham, on returning to Las Vegas for a third fight: "I'm very comfortable there. It's beginning to feel like a second home."
Translation: The closest thing Manchester has to Spearmint Rhino is a video store that rents "Calendar Girls."
Roger Mayweather, on, well, something: "Floyd has never had plastic surgery. I bet that (expletive) has. He's going to bring his face and we're going to bust that (expletive) up."
Translation: I'm better than anything you will see on Nip/Tuck.
It went on this way for 90 or so minutes and really only two things seemed clear: Nothing stated led you to believe Hatton has any better chance today than he did when the fight was made, and you wondered if anyone would tell De La Hoya to hang up.
Ed Graney's column is published Sunday, Wednesday, Thursday and Saturday. He can be reached at (702) 383-4618 or egraney@reviewjournal.com.
ED GRANEYMORE COLUMNS