Trump's words on national anthem only brought NFL closer than ever
September 24, 2017 - 10:20 pm
Updated September 24, 2017 - 11:59 pm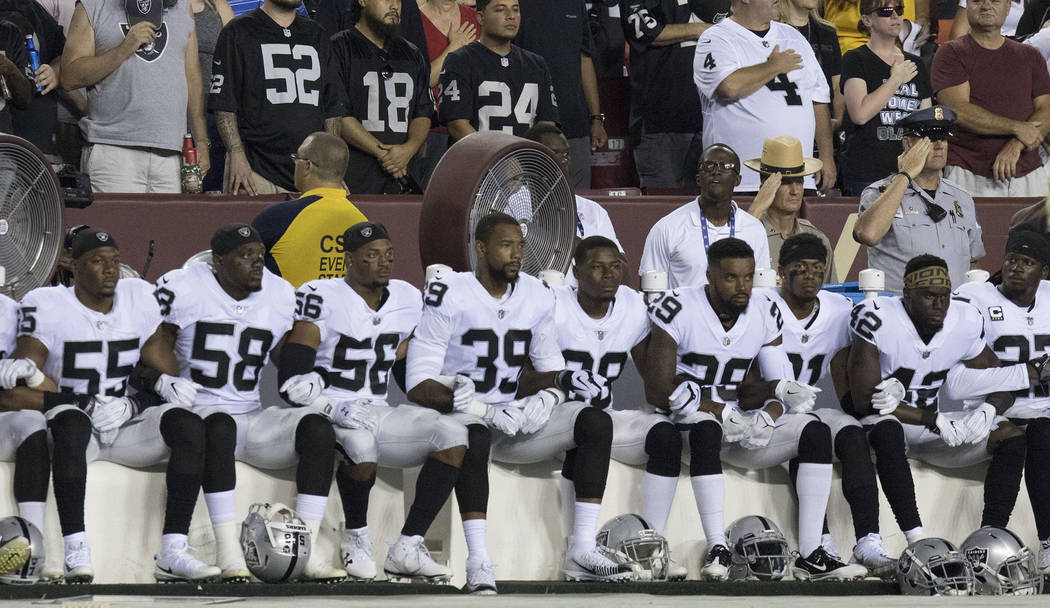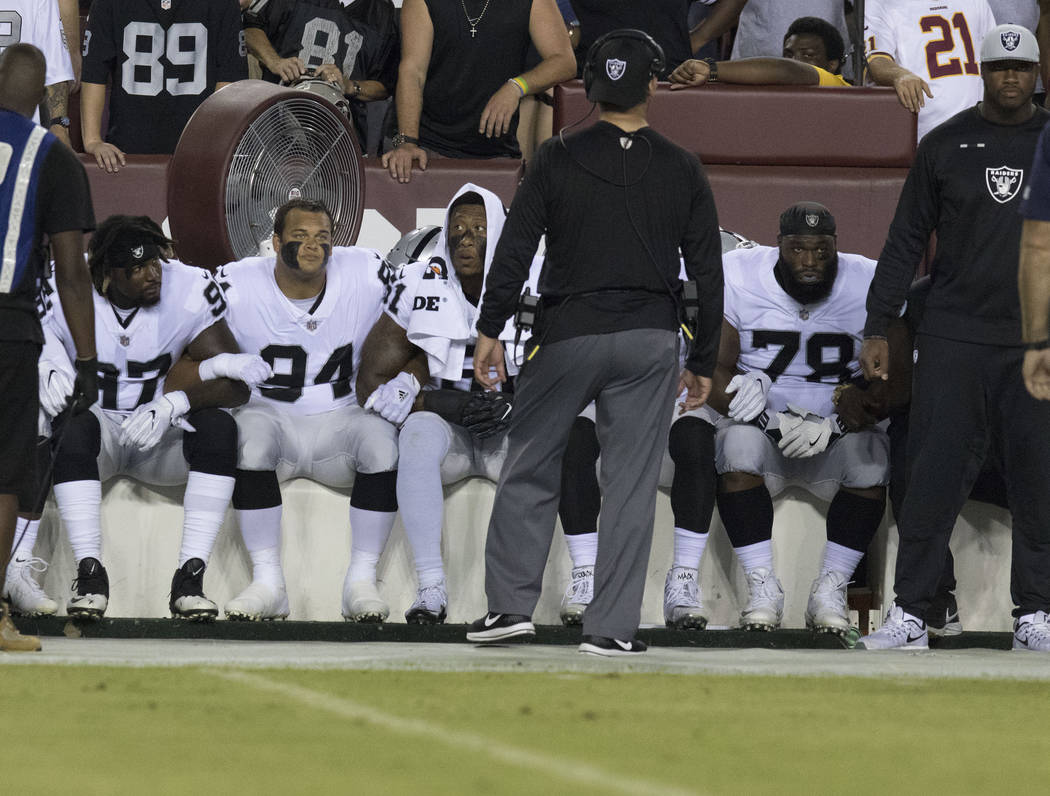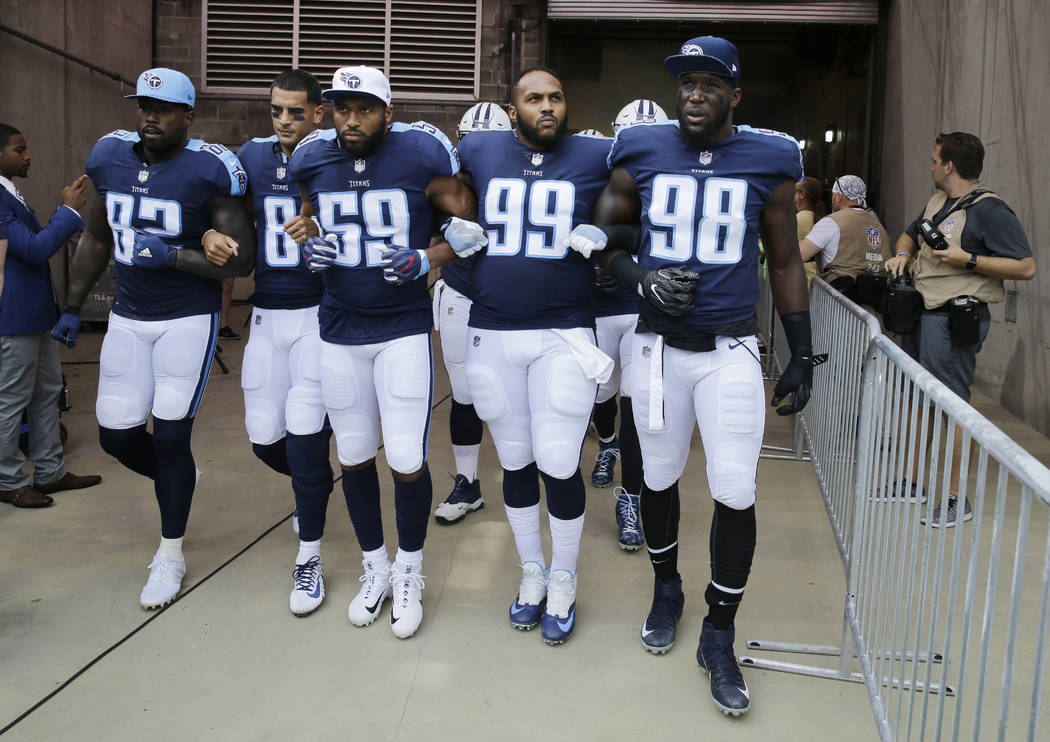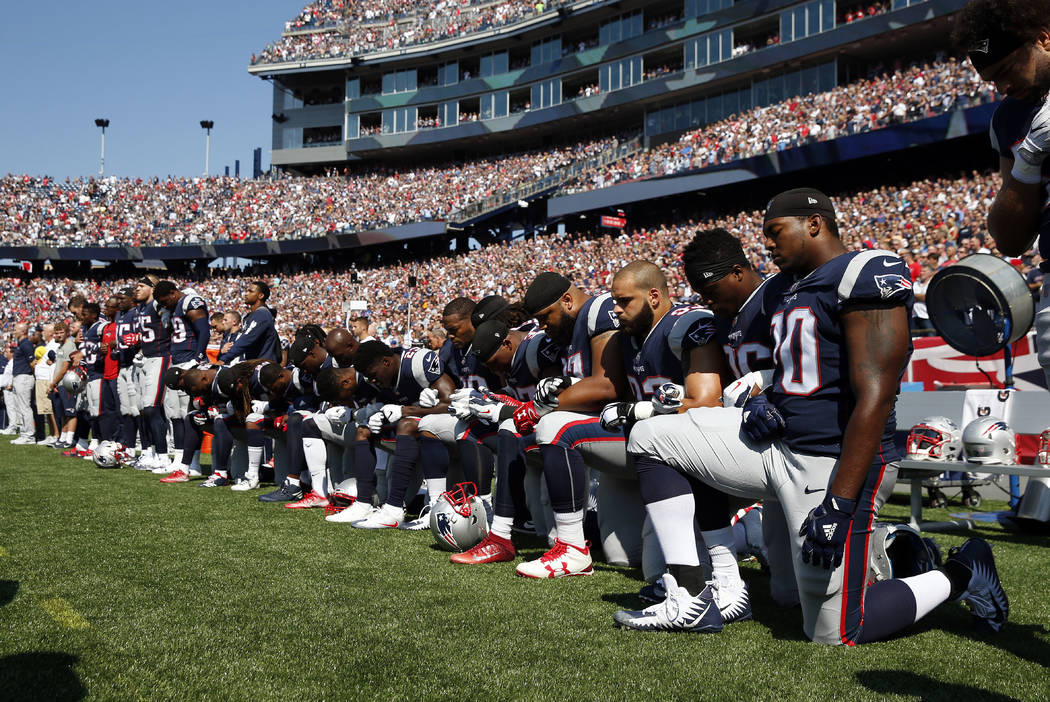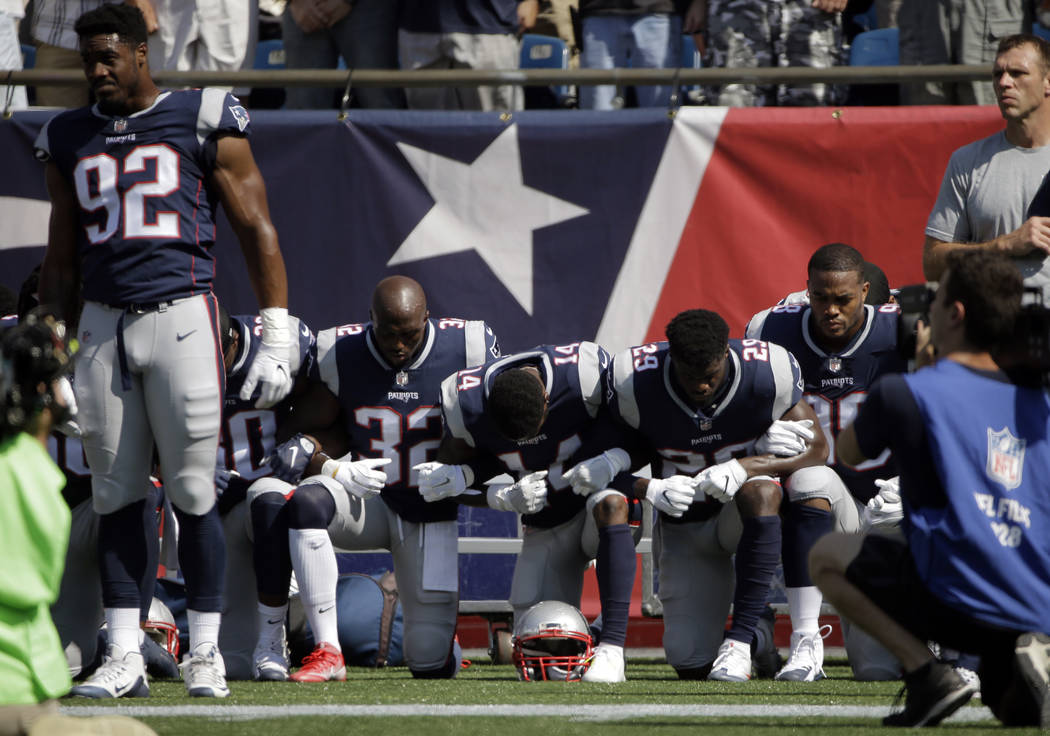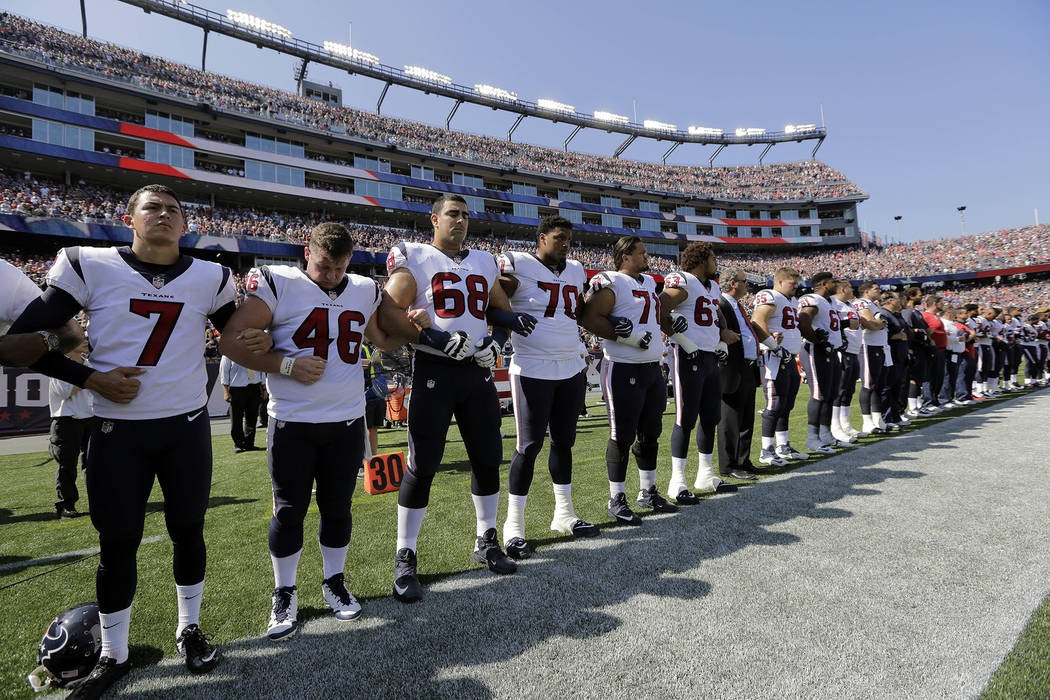 LANDOVER, Md. — When you walk up a dark hallway, past the pictures of the Battle of Baltimore, you come to a left turn, and it immediately passes into your field of vision.
It is both massive and magnificent in the most authentic of ways, protected behind an environmentally controlled glass chamber and every bit symbolic of those rights to express diverse ideas of patriotism and national identity.
Again, why is that such a bad thing?
Hours before the Raiders and Redskins met in a Sunday night game at FedExField, before Washington outclassed the suddenly error-prone visitors 27-10, folks both young and old, black and white, American and not, made their way through a second-floor exhibit at the National Museum of American History in Washington D.C.
Inside, a 200-year old, 30-by 34-foot flag is displayed, the ensign that inspired Francis Scott Key to write a song that eventually became our national anthem.
The museum sits on Constitution Boulevard.
Yeah. I know.
How appropriate.
Those words in the First Amendment about abridging the freedom of speech and the right to peaceably assemble advanced to a new level around the NFL this week, a response to President Trump criticizing players who kneel during the anthem.
"Wouldn't you love to see one of these NFL owners, when somebody disrespects our flag, to say, 'Get that son of a bitch off the field right now, out, he's fired?" Trump said to an Alabama crowd.
The NFL's swift answer Sunday was obvious from London to Los Angeles to the nation's capital and each home site in between: Them's fighting words.
If the intention of the president was to create some sort of division between owners and players on the point, he failed worse than "The Celebrity Apprentice." In fact, he caused the league to be as supportive of players expressing socio-political views as it ever has been, certainly more than any time since Colin Kaepernick first took a knee.
NFL solidarity 1, Trump 0.
"I wish I didn't have to do anything like this," Raiders tackle Donald Penn said. "But when you get called out by the president of your country, you have to do something. You have disasters going on in Florida and Puerto Rico … Houston is still rebuilding … and he's worried about our silent, peaceful protest?
"I didn't even want to (protest) this week and haven't in the past and won't again, but it was my turn. I have the utmost respect for our military and my flag. I hope they understand this has nothing to do with them."
Support the protests. Loathe them. Have an opinion of indifference. No matter where you stand — or sit or kneel — Sunday's reaction from the NFL proved more than ever the age of detached, nonpolitical sports stars is over.
I always have stood proudly for the anthem and placed my hand over my heart. Always will. I'm just not sure those criticizing NFL players or staying away from stadiums or booing most of those Raiders sitting or kneeling Sunday remember what the protest is really about.
Whether they are silently expressing their views about Trump — which seemed to be a majority opinion within the Raiders locker room — or what they deem social injustice against people of color, this never has been about an insolent view of the military.
And more often than not, those who serve understand that better than the rest of us.
Walking slowly from a certain second-floor exhibit Sunday at the National Museum of American History was a 30-year Army veteran from Hampton Roads, Virginia, an African-American man still on active duty and spending the day with his daughter and grandchildren traveling through history one memory at a time.
He preferred not to give his name, but he gladly offered an opinion about what was occurring throughout the NFL.
"I think there are mixed messages," he said. "There are far worse ways to express themselves as players. On one hand, we say athletes are role models and should be held to high standards. On the other, when they try and speak up for what they believe, people say they shouldn't. We seem to pick and choose when things like this are right.
"I know the importance of defending our freedom. I know the rights of the flag. I've served for 30 years. I can understand those who might think (kneeling) is disrespecting the military. But it's not like they're kneeling on the flag. They are protesting peacefully to bring awareness to a certain point of view, which is a big part of what the flag stands for."
Steps away, near the end of the exhibit hallway, emanating from the darkness, a rendition of "The Star Spangled Banner" was playing.
It was the Whitney Houston version.
The one from Super Bowl XXV.
Yeah. I know.
How appropriate.
Contact columnist Ed Graney at egraney@reviewjournal.com or 702-383-4618. He can be heard on "The Press Box," ESPN Radio 100.9 FM and 1100 AM from 11 a.m. to 2 p.m. Monday through Friday. Follow @edgraney on Twitter.
Related
Raiders see first loss of season, fall 27-10 to Redskins
Widespread protest from Raiders during Sunday Night Football anthem
Trump's criticisms incite more player protests at NFL games