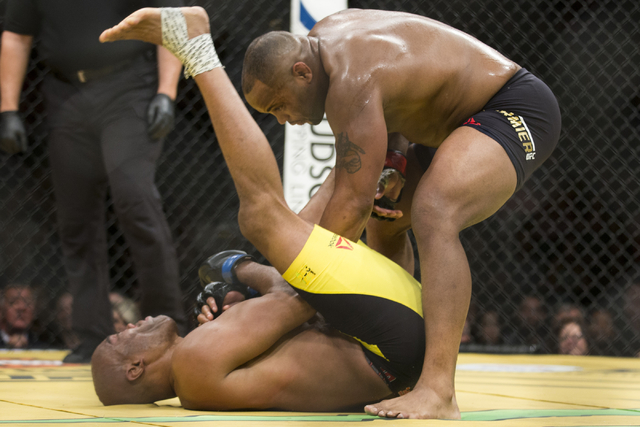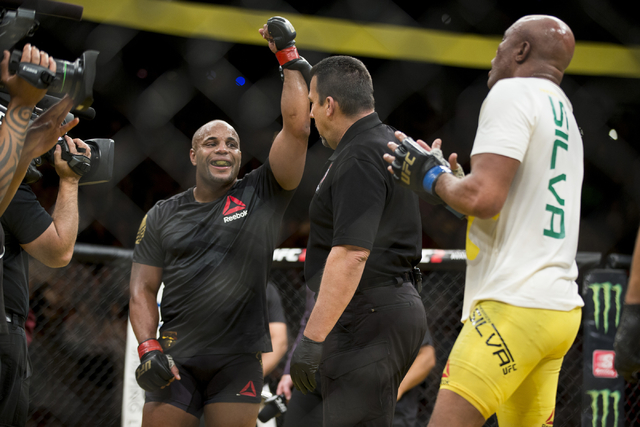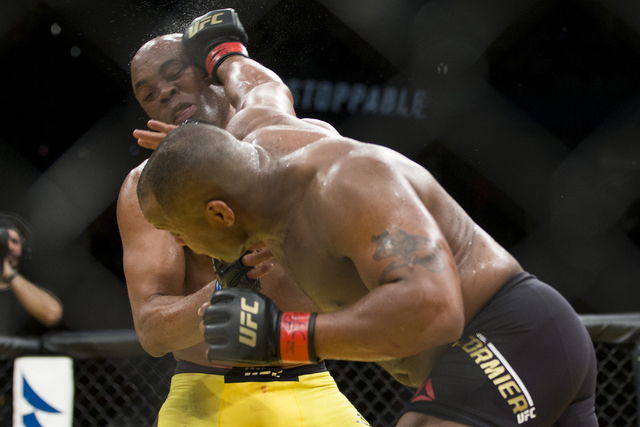 Here's hoping the boos were loud enough to be heard in Albuquerque.
I'm not sure what those in attendance at the 200th card of the UFC were expecting Saturday at T-Mobile Arena, but any bitterness that such an historic evening lacked the sort of fireworks those purchasing tickets desired should have been pointed toward New Mexico's largest city and not Daniel Cormier.
It was a time to celebrate the impactful and spectacular rise of childhood friends purchasing the fledgling company in 2001 for $2 million and turning it into one that could be officially sold in a matter of days for a reported $4 billion.
It could have been bigger and better inside the octagon, but that's hardly on the UFC.
The initial desire was to rematch Conor McGregor and Nate Diaz as a main event, but the former refused to take part in a promotional news conference with other main fighters on the 200 card and was rightly removed from it.
Then a drug test on Jon Jones came back positive Wednesday, and things really unraveled as the world's best fighter said he was heading home to Albuquerque.
By testing positive for performance-enhancing drugs, Jones single-handedly lessened the card's power considerably, leaving a distraught Cormier to reportedly lose half his $1 million purse and go from a five-round title fight for his light heavyweight belt to a three-round tussle with former champion Anderson Silva.
What it produced — a unanimous decision for Cormier — was more predictable than the B sample of Jones' test confirming the truth that he cheated. It was always going to be about Cormier taking Silva to the ground and wrestling his way to victory, but you would thought as boos rained down throughout the fight that the action should have played out in a different manner.
Why?
What did people think would happen, that less than 48 hours after learning what would have been one of the biggest fights of his career was off that Cormier would stand and exchange with someone as skilled and experienced as Silva?
"I prepared the last eight weeks for a different fighter," Cormier said. "Anderson Silva is one of the best fighters ever in the UFC, so it was very difficult to prepare for him in two days. Not many guys would have done this. I didn't have to, but I needed to."
Truth be told, it should have remained on the ground longer than it did, but referee John McCarthy twice stood the fighters up when he had no business doing so. Cormier was active enough on the ground that McCarthy shouldn't have allowed the crowd's booing to influence him in the second and third rounds.
But he did, mostly because McCarthy apparently likes to be as much of the show as those he's officiating.
It was a night of good fights early and into the pay-per-view portion with a terrific performance by former heavyweight champion Cain Velasquez beating Travis Browne and a strong five rounds from now interim featherweight champion Jose Aldo in taking out Frankie Edgar.
But then Cormier and Silva began and some steam seeped out of T-Mobile.
Brock Lesnar tried his best to bring it back.
When we last saw him in an historic moment for the UFC, the number was 100 and he was talking about getting on top of his wife and drinking a Coors Light.
Which wouldn't have been such a big deal had the mat he was standing on not been sponsored by Budweiser.
"Bud Light don't pay me nothing," Brock Lesnar brashly proclaimed that July night in 2009.
He returned Saturday for the first time since 2011 and having survived a bout of diverticulitis that made Popeye a lot less menacing than we knew him to be. But no matter how long this latest stint lasts with the company, Lesnar found himself a winner yet again on a huge card.
He did his absolute best not to get hit in engaging fellow heavyweight Mark Hunt while scoring a unanimous decision from the ground.
"It took me awhile to get acclimated," Lesnar said. "Words can't describe … thank you, everybody, so much. One day at a time. I'm so happy to be here. I do want to say a shout-out to all the men in uniform that protect and serve. We have to stand together, people."
Some believed that 200 might end with former women's bantamweight champion Ronda Rousey entering the octagon and publicly challenging the winner of the main event.
That was Amanda Nunes, who beat up and easily dismissed champion Miesha Tate in the first round.
It didn't happen. There weren't any fireworks with a Rousey appearance calling out anyone.
In the big picture, it was an historic evening.
In the moment, not as much.
Wonder if anyone from Albuquerque watched.
If so, let's hope he heard the boos.
Ed Graney can be reached at egraney@reviewjournal.com or 702-383-4618. He can be a heard on "Seat and Ed" on Fox Sports 1340 from 2 to 4 p.m. Monday through Friday. On Twitter: @edgraney