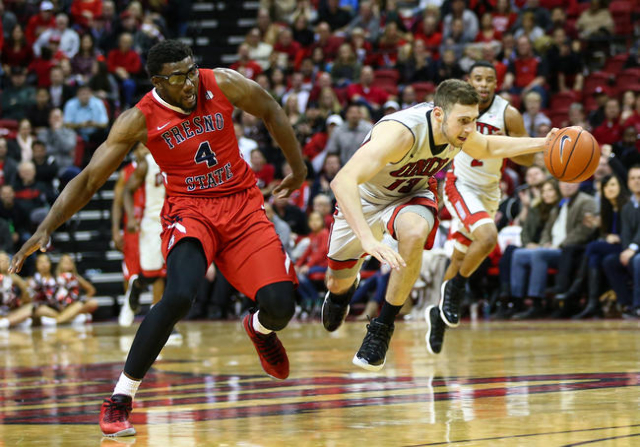 When the number of Mountain West games is 18 and your program hasn't won a regular-season league championship in forever, any mark on the left side of a win-loss column is cherished inside a locker room.
And any loss such as the one UNLV suffered Wednesday night should be dissected and remembered and replayed over and over again to make a point.
This was a mark on the right side, and it was about as ugly as you can imagine.
Disappointing isn't a strong enough term to describe how the Rebels played in falling to Fresno State 69-66 before an announced gathering of 12,220 at the Thomas & Mack Center in the conference opener for both teams.
Sloppy. Mindless. Careless.
Stop us any time now.
Never mind. It's all true.
Fact: UNLV might have the league's most talented roster and it might eventually prove to be the best of 11 average-to-ridiculously-bad conference teams and it might even grab the lone NCAA Tournament berth that likely awaits this league, but the Rebels are in no way good enough to play this way and beat anyone: They had 21 turnovers, which Fresno State turned into 33 points.
Read that sentence again.
Oh, yeah. Add this part: Twenty-one turnovers into 33 points at home against a team who to this point had not beaten an opponent with an RPI of 141 or better.
That's right. Fresno State's best win before Wednesday came against mighty Cal State Bakersfield.
UNLV's sloppiness afforded the Bulldogs an opportunity at pulling off the upset.
Whistles kept the Rebels in it.
The mandate to officials this year is to enforce rough play — or even the incredibly soft kind — more than ever. To reduce the physicality of the game. To clean things up, even on plays that appear pretty darn tidy.
It's a good bet the crew that worked Wednesday's game made enough calls for the entire season.
UNLV shot 6-of-22 from the field in the second half.
It shot 18-of-25 from the free-throw line over those 20 minutes.
The Rebels attempted 35 free throws to 26 for Fresno State.
UNLV shot 33 percent for the game, including 8-of-25 from 3.
Fresno State is no South Dakota.
And still, UNLV had a chance to win a game it didn't deserve. And again, the two things that continue to haunt the Rebels reared their ugly head.
The first came when UNLV freshman Stephen Zimmerman Jr. failed to box out Torren Jones on a missed free-throw, and Jones scored for a 67-66 lead with 20 seconds left. The little things. The play you have to make to win.
Then, following a timeout by UNLV coach Dave Rice, the Rebels incredibly (or perhaps not) did this: Patrick McCaw, the team's best player who competed all evening as if stuck in a thick Bay Area fog, drove into the lane on a night when every touch was called a foul and instead found Jerome Seagears in the corner.
He shot an open 3 and missed, Fresno State rebounded, made two free throws and that was that.
Really ugly.
Really sloppy.
Really bad decision-making on the game's most important play.
I'm not sure Rice drew up anything for a 3-point attempt down one with the final seconds ticking away, but even if he did, McCaw needed to force the officials to make a decision. He scored just two points on 1-of-3 shooting. It was hard just watching him play. UNLV can't win the conference with this version of McCaw. Impossible. He has to be better.
Incredibly, the Rebels looked as though they might steal with a win.
That's what it would have been. Theft.
Along the way, teams that win a conference almost always have games where unexpected players make the biggest difference, where a name you might not otherwise have figured would play a major role in the outcome does just that.
Jalen Poyser was that player for UNLV on Wednesday, a freshman guard who with the Rebels trailing 60-58, scored eight straight points. He made consecutive 3-pointers and then drove baseline for a reverse layup. He appeared to have lifted UNLV on his back and carried them to victory.
But then the final minute played out and the Rebels again couldn't grab the one rebound they needed most and didn't make the smartest of basketball plays down one.
You can't lose this game when two on the road against Colorado State and Wyoming await next week. You can't drop a home conference opener when things already appear dire for the Mountain West when it comes to potential NCAA Tournament bids.
But the Rebels did. All of it.
Sloppy. Ugly. Mindless. Careless. Frustrating.
"A devastating, difficult loss," Rice said.
The boos began with 13:04 remaining and UNLV down eight.
What took so long?
Ed Graney can be reached at egraney@reviewjournal.com or 702-383-4618. He can be a heard on "Seat and Ed" on Fox Sports 1340 from 2 p.m. to 4 p.m. Monday through Friday. On Twitter: @edgraney
Check our GameDay page for full coverage of the UNLV-Fresno State game.