UNLV men's soccer saviors getting their money's worth
November 13, 2014 - 8:25 am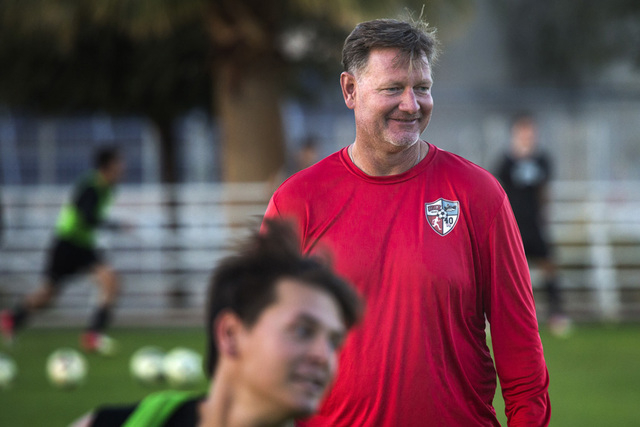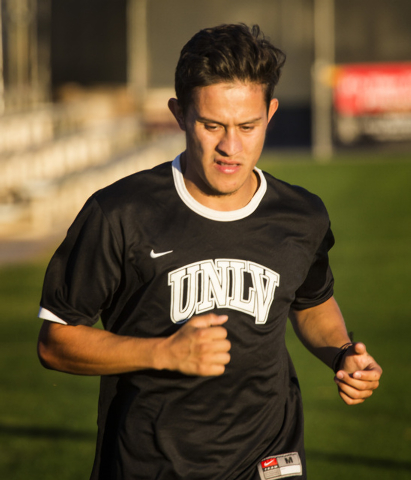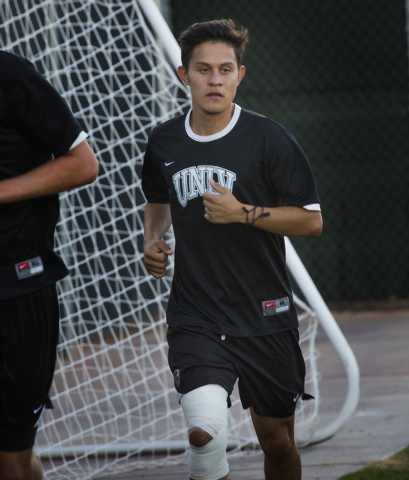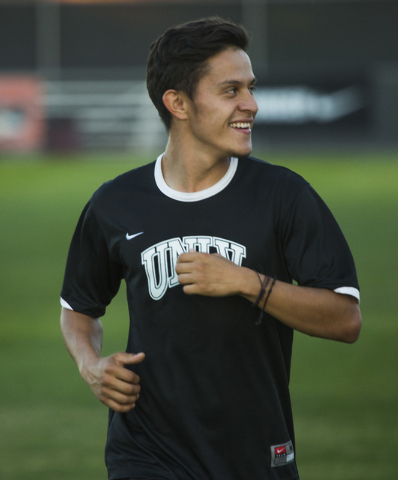 The grave had been dug and the coffin prepared, but Rich Ryerson held one final hope that might preserve life.
There probably wasn't enough money in the budget for a headstone.
"We were absolutely on the cutting board," Ryerson said. "I just always figured we would get it worked out. I don't think I ever really felt that men's soccer at UNLV was finished for good. I might have been ignorant, but I believed we would find the money and resources to keep it alive.
"Man, it really came together. What a story."
It is one of faith and perseverance, of extraordinary gifts and unceasing toil. That the Rebels open play in the Western Athletic Conference tournament Friday as the league's regular-season champion and No. 1 seed is more continuation of a remarkable journey than any conclusion to it.
UNLV wasn't alone in 2010 when massive budget cuts arrived at the doorsteps of universities across the country, where the cold-hearted slashing eventually trickled down to those nonrevenue sports within athletic departments.
Doesn't it always?
A little history: The name Ryerson is as connected to UNLV soccer as a net is to the goal. Rich is one of four brothers who played for the Rebels, and he starred for them during one of the program's most successful tenures, leading UNLV to three NCAA Tournament appearances. That run included a No. 4 national ranking in 1985, a Rebels team now represented in the school's athletics Hall of Fame.
He was an assistant at UNLV in 2010 when then-head coach Mario Sanchez saw the impending fiscal nightmare written across the pitch and departed for Louisville.
Ryerson was named head coach at his alma mater in April.
By summer, 13 of his 23 players were gone.
Everyone knew of the impending doom and gloom. Opposing recruiters killed UNLV in living rooms on the state of a cash-strapped program facing the gallows, and the roster predictably shrunk because of it.
"We had 10 guys left, a few months to build a team and not sure we would survive," Ryerson said. "It was really hard. But thankfully, there were those in the community who saw great value in our program and understood that giving kids the opportunity for an education was far greater than any budget cuts."
Specifically, two families. UNLV men's soccer exists today because of the tireless efforts of Ryerson and his staff and two massive donations — $850,000 from the Englestad Foundation in 2011 and $1 million from the Hannah family in 2013, the latter a gift made possible by the help of former Rebels coach Barry Barto.
Operating budgets aren't the sexiest of details for which to donate money — it's not like when they put your name on a stadium — but they are the engine that allows a program to compete.
When writing such checks, the Englestads and Hannahs laid a foundation by which 18 of UNLV's 26 players this season are first-generation college students. The families not only saved soccer at UNLV but also changed lives in the process.
What it has eventually led to is a 13-4-1 team that just won UNLV's first conference championship in 27 years, a side that features 15 in-state players and a group of seniors who believed in Ryerson and his vision when others ran from the once cash-starved program like hikers would from falling rock.
Ryerson, 49, can't talk enough about them, those who stuck it out and are now realizing the benefits of loyalty.
The Rebels open WAC tournament play at Seattle University against the winner of today's match between San Jose State and Missouri-Kansas City, a schedule that will conclude with Sunday's championship and an NCAA Tournament berth to the winner.
It would mean the world to Ryerson if he could celebrate such a moment with his team, specifically those seniors who define most what a long, difficult, sometimes unforgiving journey it has been.
He watched them on the field last Sunday at Grand Canyon, watched the likes of Salvador Bernal and Kyle Mellies and Ryan Harding and Connor Coletti and Julian Portugal and Sebastian Hernandez and Ricky Acero basking in a 2-1 victory and all it meant.
Championships are earned, and when you consider the point from which UNLV men's soccer began its ascent to winning a regular-season title, few snapshots could be considered more special, more memorable, more telling for a team that on Wednesday earned WAC Coach of the Year (Ryerson), Offensive Player of the Year (Bernal) and Defensive Player of the Year (Mellies) honors.
"Those seniors took a big risk staying with us," Ryerson said. "They have always been proud to wear the letters UNLV on their jerseys. They love their school and this program. We didn't really know what might happen four years ago. We were on the cusp of ending a 40-year tradition of varsity soccer at UNLV.
"The emotions are hard to describe right now. You know, we talk about having a steadfast purpose in everything we do. This journey, in many ways, has been like that. We have done a lot more with less than most people.
"I'm really proud of that."
What a story, indeed.
Las Vegas Review-Journal sports columnist Ed Graney can be reached at egraney@reviewjournal.com or 702-383-4618. He can be heard from 11 a.m. to 2 p.m. Monday through Friday on "Gridlock," ESPN 1100 and 98.9 FM. Follow him on Twitter: @edgraney.