UNLV, New Mexico in unfamiliar neighborhood
February 20, 2015 - 4:16 pm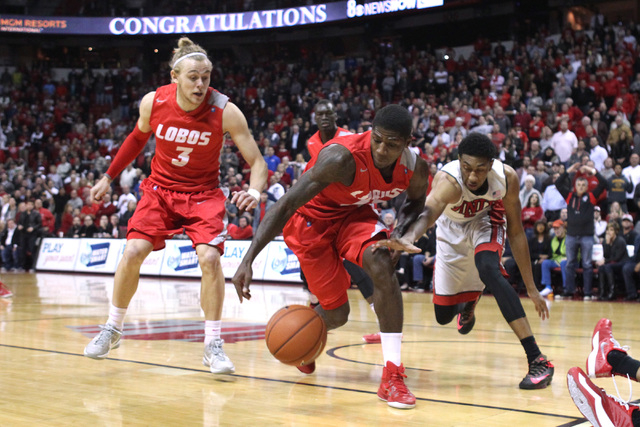 ALBUQUERQUE, N.M.
Maybe we just didn't look closely enough. Maybe we didn't search for the warts with a sharp enough eye.
Maybe the easiest path to travel was one of assumption.
That things would remain the same.
That the top of the Mountain West basketball neighborhood this season would include homes for New Mexico and UNLV, which had been the case the previous three years.
We couldn't have been further from the truth.
There is no maybe about it.
Dave Rice says he never wants his Rebels to settle for playing the role of spoiler in a conference race, which might be a good thing this season. I'm not sure they're capable of spoiling a carton of milk left out overnight, much less another's pursuit of a championship.
The same could be said for New Mexico, loser of five straight as it prepares to host UNLV today at 3 p.m. inside WisePies Arena, known as The Pit to anyone with an ounce of reverence for college basketball's most hallowed structures.
San Diego State, the other part of a trifecta that has landed near or at the top of conference standings the last three years, has continued to do its part and sits alone in first place. The Aztecs are bound for another NCAA Tournament.
The Lobos and Rebels will need some serious March magic to make the field.
This much is certain: Both won't be dancing. Odds are, neither will be.
They find themselves in foreign terrain: trying desperately to avoid finishing out of the top six in the league, which would doom them to a play-in game for the conference tournament that begins March 11 at the Thomas & Mack Center.
When your opening game of the tournament falls on a Wednesday, it's not a good thing.
"I'm trying to send the message to our guys to stay positive and get back to doing the little things, to stay within the culture we have built here," New Mexico coach Craig Neal said. "We're struggling. Our guys are a little down. It's understandable. I think they understand how special it is to be part of this place. Inside the culture of any great program, there has to be trust. There is a little confidence lost right now, a little second-guessing by young kids. It's my job to help them with all that."
The Lobos and Rebels are similar in many ways, each having lost key parts of their rotations from last season and each asking new faces to make immediate impacts. They're inexperienced in some spots and, frankly, just not that talented in others. You don't just wake up with a Ratings Percentage Index of 107 (UNLV) or 145 (New Mexico).
You earn such deficiency.
Each has also dealt with injuries to a leading scorer, although New Mexico saw sophomore Cullen Neal (ankle) play only three games while UNLV freshman Rashad Vaughn (knee) went down last week. The Lobos also recently lost junior Jordan Goodman (foot) for the season.
But it's more than that. The two teams have been all sorts of unexceptional in specific areas during conference play. New Mexico can't seem to score enough and UNLV hasn't defended well all season. The Lobos have been a solid rebounding team in league and the Rebels an awful one. Both turn the ball over far too often.
New Mexico is 6-8 in conference.
UNLV is 5-8.
Below average all the way around.
But here's a potential difference between the two in coming weeks: New Mexico has some recent history on its side with March success in Las Vegas, having won the last three conference tournaments and the accompanying automatic bids into the NCAAs. UNLV has also won the event three times, but the last one came in 2008.
New Mexico fans treat those few days in Las Vegas as their personal Super Bowl, packing hotel rooms and shattering decibel records at the Thomas & Mack. They make it their home, annually playing a huge part in the outcome of games.
Problem: Should the Lobos, and Rebels for that matter, finish out of the top six, it would mean having to win four games in as many days to secure an NCAA bid.
Four is a much bigger challenge than three.
"It would be a lot easier if you get one of the top six spots, but I still think it's attainable if we have to (win four games)," Neal said. "We just have to start playing better basketball here down the stretch. Our guys know that. With the support we get in Vegas, I don't know if anyone is going to be happy seeing us in the bracket. I have to have that type of confidence.
"We have been really good in the (conference tournament). Hotels become a big sea of red that makes a dynamic change. It's awesome. Many of our fans save up the whole year to go to that thing. Anything is possible there."
I suppose either team could suddenly discover that sense of magic, but we still assumed too much about them this season.
We allowed history and not reality to cloud our judgment.
We didn't notice the obvious: In a conference that might be at its worst in history, neither the Lobos or Rebels are anywhere near special.
There is no maybe about it.
Las Vegas Review-Journal sports columnist Ed Graney can be reached at egraney@reviewjournal.com or 702-383-4618. He can be heard from 11 a.m. to 2 p.m. Monday through Friday on "Gridlock," ESPN 1100 and 100.9 FM. Follow him on Twitter: @edgraney.