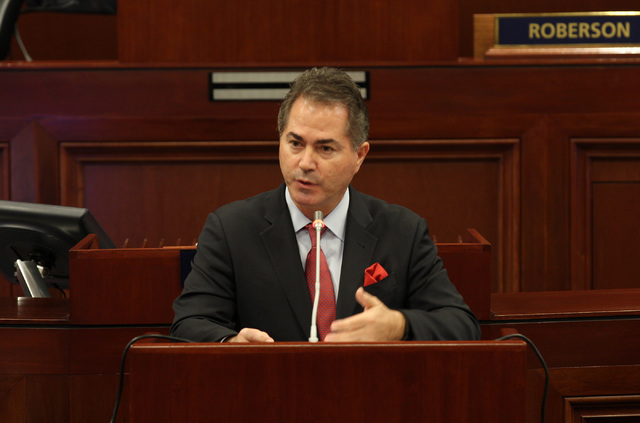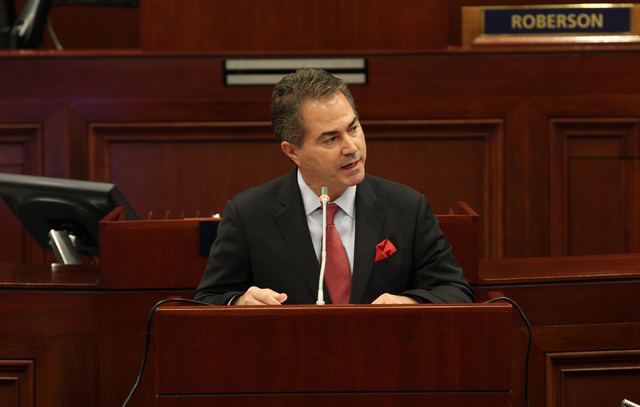 CARSON CITY
Trust, they say, is built and maintained by many small actions over time.
Len Jessup can deal with the time part.
The UNLV president hopes the actions are ultimately favorable toward the Rebels.
A special legislative session to consider public financing for a $1.9 billion domed stadium began Monday, and the majority opinion settled on Thursday afternoon as the earliest a vote might be taken.
The potential relocation of the NFL's Oakland Raiders to Las Vegas resides at the heart of the stadium proposal, but UNLV views the dome as another step toward building a contending football program and, ultimately, joining a Power 5 conference.
Some believe the proposal is a good deal for the university.
Some don't.
At the core of the debate is a familiar theme: Money, and how much UNLV could possibly earn or lose from the new stadium.
Jessup spoke during the session Monday. He previously sat as vice chairman of the Southern Nevada Tourism Infrastructure Committee, which unanimously recommended the stadium proposal to Gov. Brian Sandoval. Jessup and football coach Tony Sanchez have been outspoken proponents of the stadium. They're all in on the deal.
They also don't have much of a choice as the proposal is written.
Here is where the trust part comes in: UNLV has been told it will recoup the $3.5 million it nets each year from operating Sam Boyd Stadium upon moving into the new stadium. That is, even if those payments don't reach the waterfall system and aren't delivered immediately. After things like the stadium's bond reserve is funded — which absolutely should be done first as a way to prevent the taxpayer from assuming debt obligations — that amount would be paid to the university at a later date.
Into this realm comes the issue of stadium rent and how much UNLV would pay per football game while potentially recovering revenue from things like parking and concessions and ticket sales and, perhaps one day, when the team's record is far better than it has been, seat licenses. None of those areas are specifically promised to UNLV in the proposal, but rather implied as part of a "home field advantage."
A rent of $250,000 per game — $1.5 million over a traditional season of six home games — has been floated as a possible number. It's also a price that falls in line nationally with other college programs that play in NFL stadiums.
"We are fine with there being a rent agreement, as long as we can capture a reasonable part of the game-day revenue through the idea of that 'home field advantage,'" Jessup said. "We are fine with the language of the proposal. I think this is a very good deal for the university and is a major part of our broader strategy both athletically and academically. I feel our conversations with the developers and Raiders were in good spirit and I'm trusting in them and taking them at their word at what they say will be provided. I think it will."
UNLV has to trust the process. It's not driving the bus. It's a passenger. It has to believe those named to the governing Stadium Authority Board will in the future look out for the football program's best interest, that UNLV won't be damaged financially and that handshake agreements now become reality later.
"I think some of the people saying it's bad deal for them just wanted this stadium built on campus, and that's not going to happen, no way," said Clark County Commission Chairman Steve Sisolak, also a member of the SNTIC. "I think it's a great deal for UNLV. Between what it would be paying and what they would get out of this, they're definitely coming out on the positive side.
"The Stadium Authority Board will have final say but, in my opinion, if they're not getting the waterfall, they shouldn't have to pay rent to play at the stadium. This thing is not supposed to cost UNLV money. I absolutely don't want that."
Such is a chief concern of senators who questioned both Jessup and SNTIC Chairman Steve Hill on Monday, as it is with some members of the Nevada System of Higher Education Board of Regents. Much of the language concerning significant points about UNLV and its place in the stadium pecking order at this point is hypothetical and unresolved.
How much legislators might push that issue over the next several days, and whether they'll insist on more detailed language by proposing amendments in regard to UNLV, is unknown.
"I think some of us would definitely prefer certain points be in writing," Regent James Dean Leavitt said. "I don't think any of us expect UNLV to be given a free ride in terms of rent, but this is still a profit entity and I'm guessing the Stadium Authority Board will have a fiduciary duty to charge the maximum. That's a concern. We just have to make sure UNLV benefits as much as possible from this deal.
"We recognize this is no longer a UNLV project, but because this a public stadium to be owned by the public and is asking for $750 million in tax, we need to make sure UNLV is protected."
Jessup believes and, perhaps more importantly, trusts it will be.
The Review-Journal is owned by the family of Las Vegas Sands Chairman and CEO Sheldon Adelson, who arepartners in the stadium project.
Ed Graney can be reached at egraney@reviewjournal.com or 702-383-4618. He can be a heard on "Seat and Ed" on Fox Sports 1340 from 2 p.m. to 4 p.m. Monday through Friday. On Twitter: @edgraney
RELATED
Casino chiefs urge Nevada lawmakers to fund proposed Raiders stadium in Las Vegas
Steve Wynn, MGM's Jim Murren believe stadium would spur sports growth