UNLV reeks of arrogance when evaluating its basketball program
Updated March 8, 2018 - 9:01 pm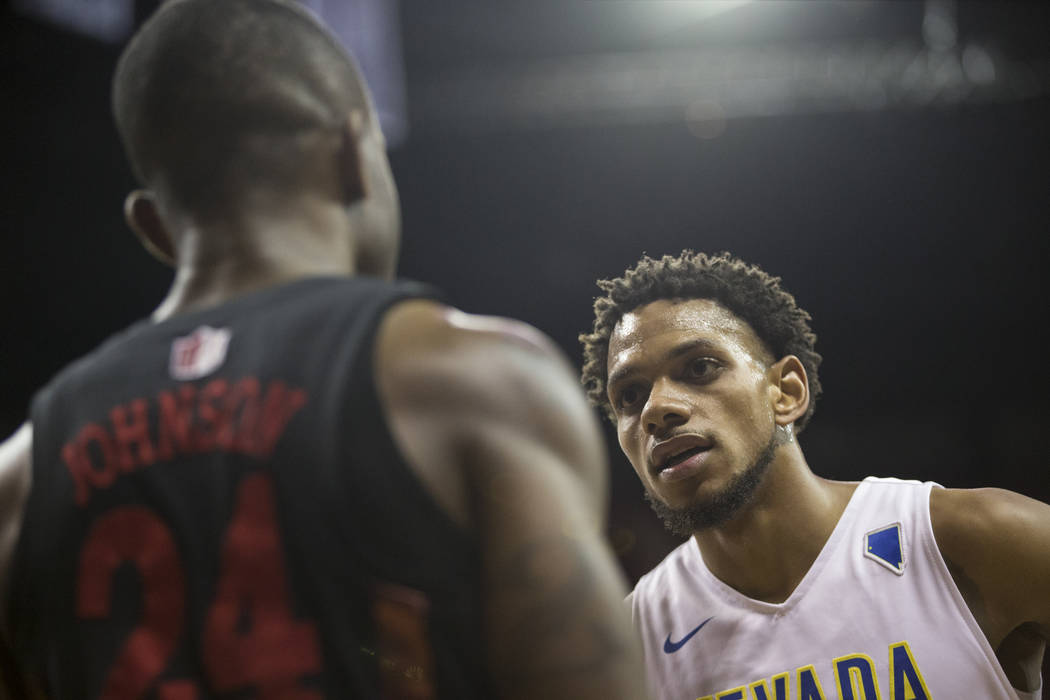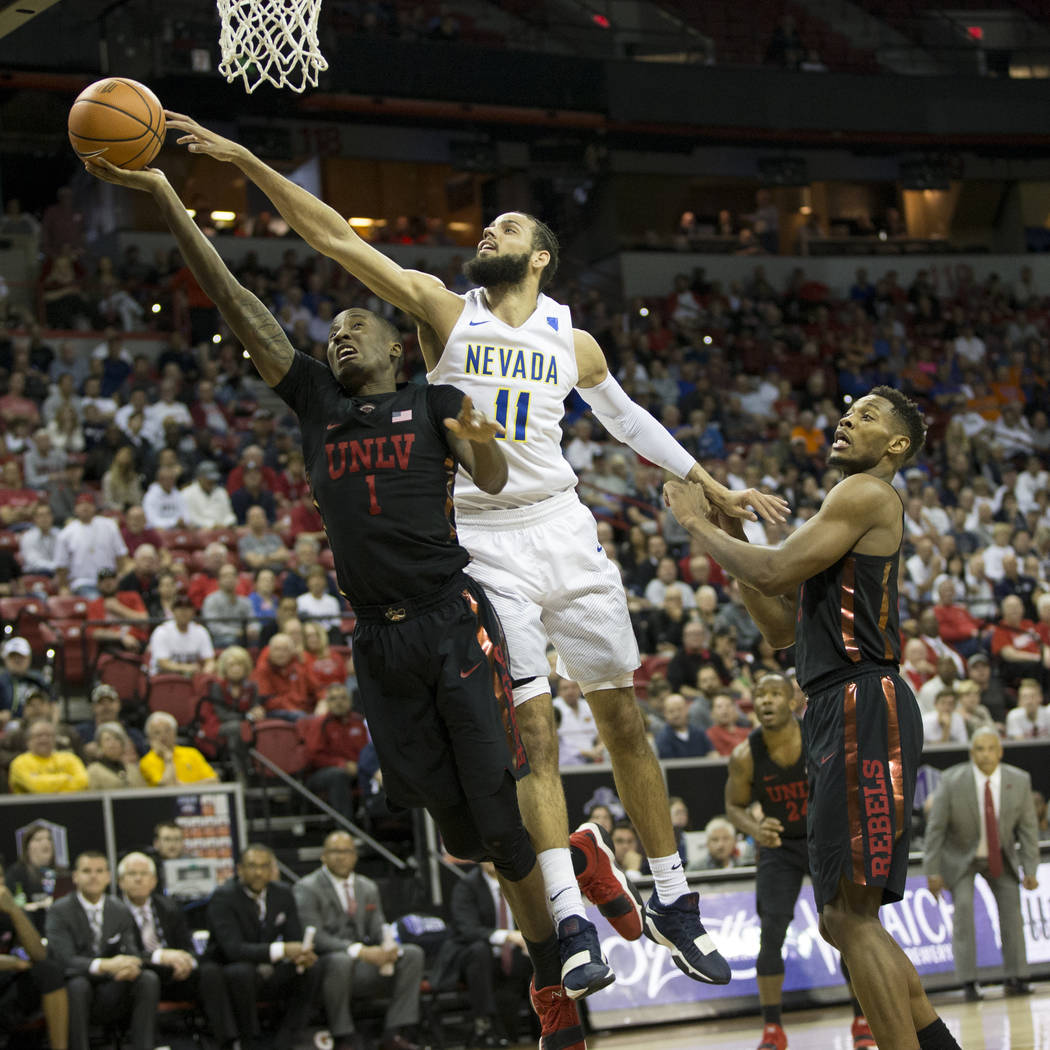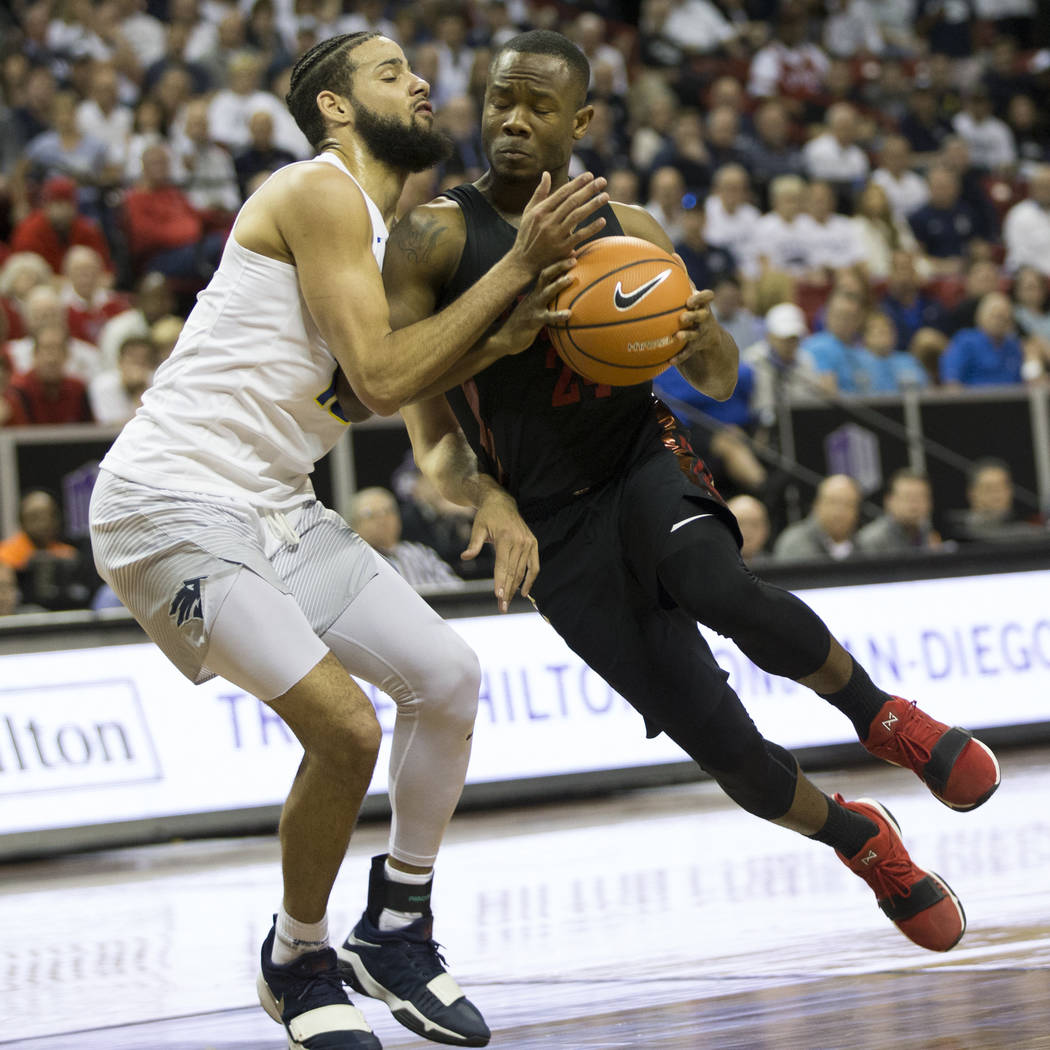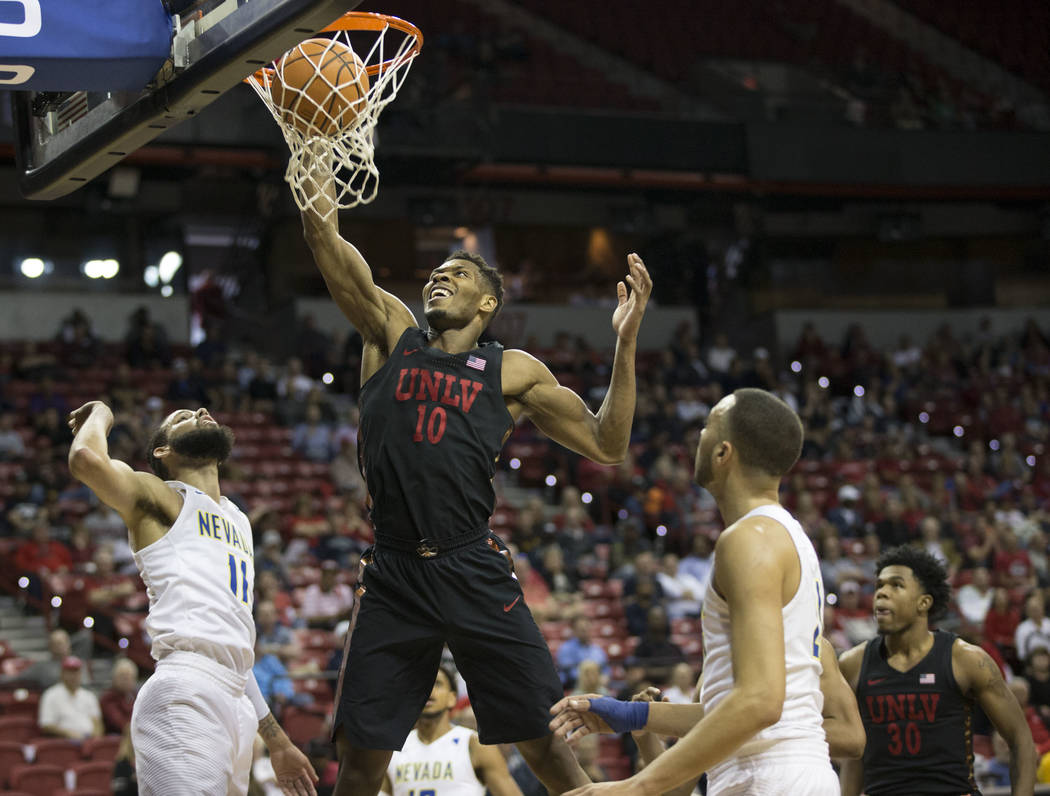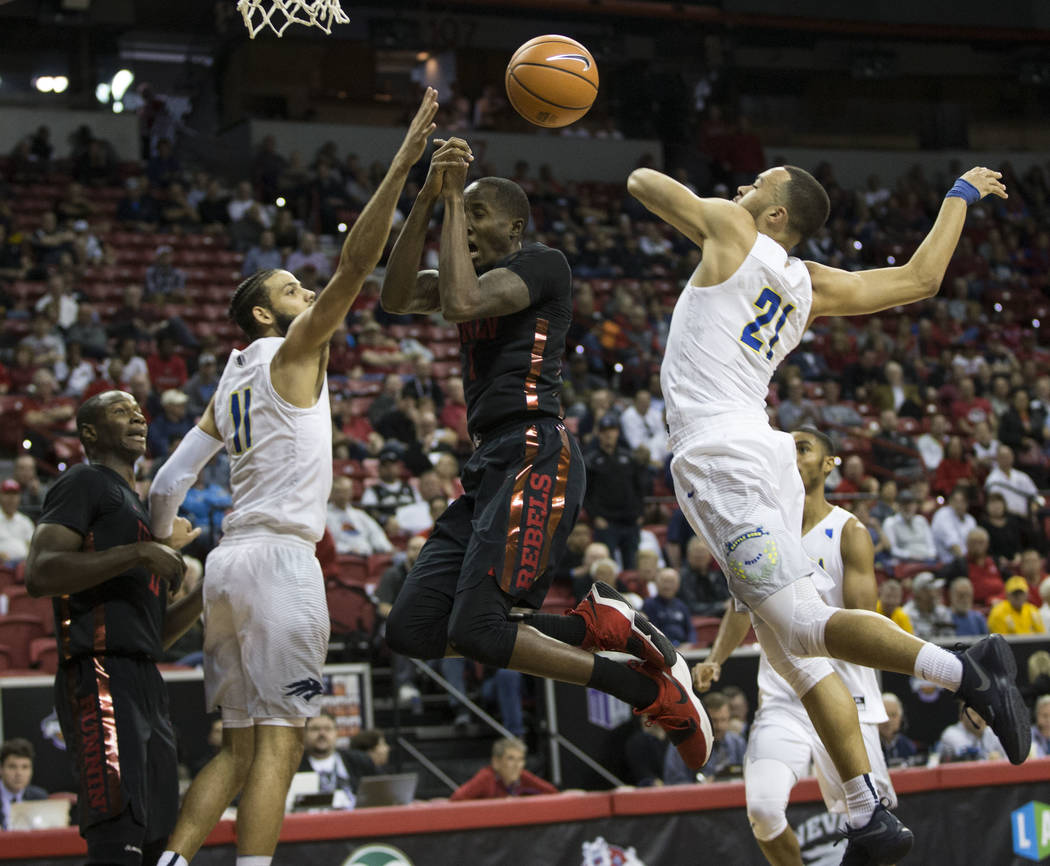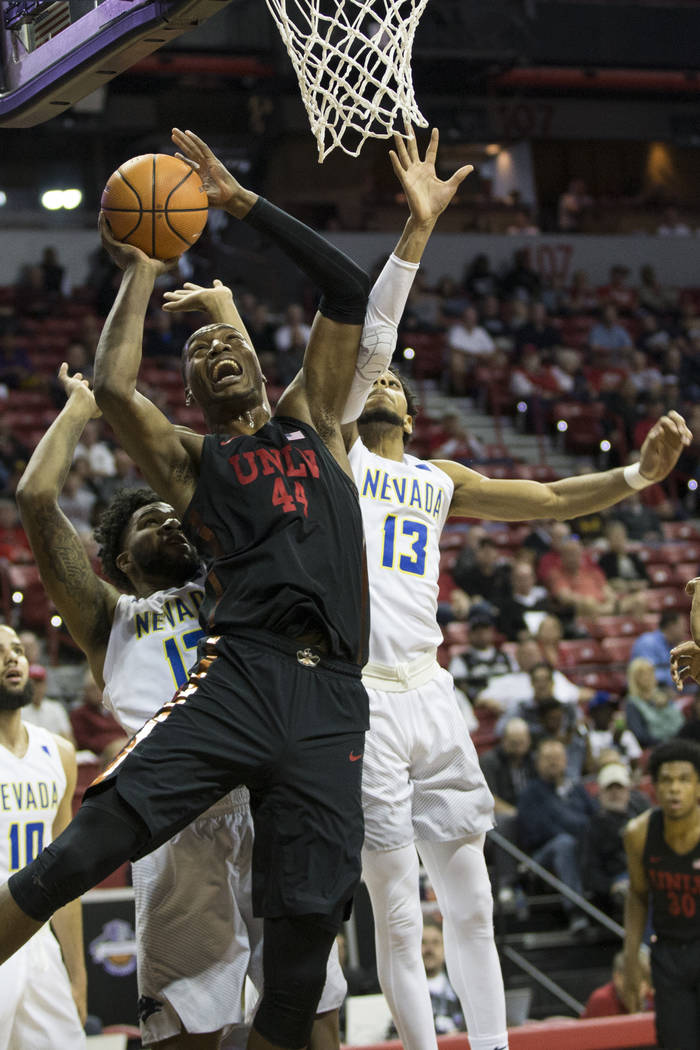 The final horn sounded Thursday and an admirable UNLV effort had been squelched by a better opponent, meaning it was again time to assess another basketball season.
Meaning a certain mindset continues to hold the Rebels back: UNLV believes it's something that it hasn't been in decades.
The Rebels view themselves above certain aspects within college basketball.
They're not above anything right now, and if they truly think so, they're kidding themselves.
The only thing that comes close to the 1990s around here are those banners hanging from the rafters.
UNLV showed up enough to make a game of it, but ultimately fell to UNR 79-74 in a Mountain West tournament quarterfinal at the Thomas &Mack Center, meaning the second season under coach Marvin Menzies ends with a 20-13 record.
It has concluded because the Rebels made clear they aren't open to accepting an invitation to a postseason event such as the College Basketball Invitational, which falls well below the NCAA Tournament and National Invitation Tournament for prestige and yet allows teams to continue to play and, even more important, gain additional practices for those who will return the following season.
The price tag to play in the CBI reportedly hovers around $40,000, and yet athletic director Desiree Reed-Francois said money wasn't the reason for not pursuing a berth.
It couldn't be, because had the administration called the Runnin' Rebels Club, which raises funds specifically for the basketball program and that has offset such financial needs countless times over the years, Menzies would have had a check for the total by halftime of the second quarterfinal game.
But nobody called and nobody asked.
So maybe it's this simple: "Coach Menzies doesn't believe it's the right thing for us right now, and I'm going to support him 100 percent," Reed-Francois said. "He has a plan, and if this was something he believed would advance the program, I would beg, borrow and plead to make it happen. This should be his decision, and he doesn't want to play, so that's how it's going to be."
Um, OK. If you choose not to go because your team is beat up or your players don't have the desire, so be it. Academics really isn't a believable reason, because I'm guessing time for schoolwork would be discovered during an NCAA or NIT trip.
Reed-Francois also said Menzies doesn't believe such an event strengthens UNLV's global brand, and yet I'm guessing the kid in Ghana doesn't care and thinks CBI is a TV show about a team of crime-scene investigators solving murders.
It also can't be a question of arrogance for UNLV, because this is what it is: A program that will miss the postseason for the fifth straight year and that last won an NCAA bracket game in 2007; one that hasn't claimed a regular-season conference title since 1999-2000 — when it was co-champion — and that was 11th place last season and eighth this one.
"It's going to take baby steps," said Jim Bolla, the former UNLV women's coach who had his teams in the 1980s and 1990s ranked as high as second nationally and knows well the glorified men's past so many can't seem to grasp isn't reality now. "You have to first understand who you are in this time."
Begin here: UNLV was terrible defensively this season. Beyond bad.
The Rebels couldn't guard you, and I have no idea who you are.
It's a tough year when your best all-around game occurs Nov. 22 against Utah. Think about that. The Rebels played well in spots — during a weak nonconference schedule, winning at UNR, almost winning at Boise State — but they were never as good as that night against the Utes four months ago.
They also lost six of their final seven games — four by double digits.
Menzies has 31 wins in two seasons, an admirable number given the nightmare he inherited. The nonleague schedule will toughen next year. He is setting a foundation.
This is no easy fix.
This was beginning at Death Valley and staring at a climb up Mount Whitney.
But while most fans will rightly hold a skewed and at times unrealistic judgment of a program's reality — that's why they're fans —an administration and coaching staff shouldn't.
Play in an event like the CBI. Don't play. Whatever. Your decision.
But don't think for a second you're above it, because you're not.
The only way UNLV moves forward is by accepting the reality of what it is.
And then getting to work to become something much better.
Contact columnist Ed Graney at egraney@reviewjournal.com or 702-383-4618. He can be heard on "The Press Box," ESPN Radio 100.9 FM and 1100 AM, from 11 a.m. to 2 p.m. Monday through Friday. Follow @edgraney on Twitter.