UNLV win at Arkansas State would be biggest yet for Tony Sanchez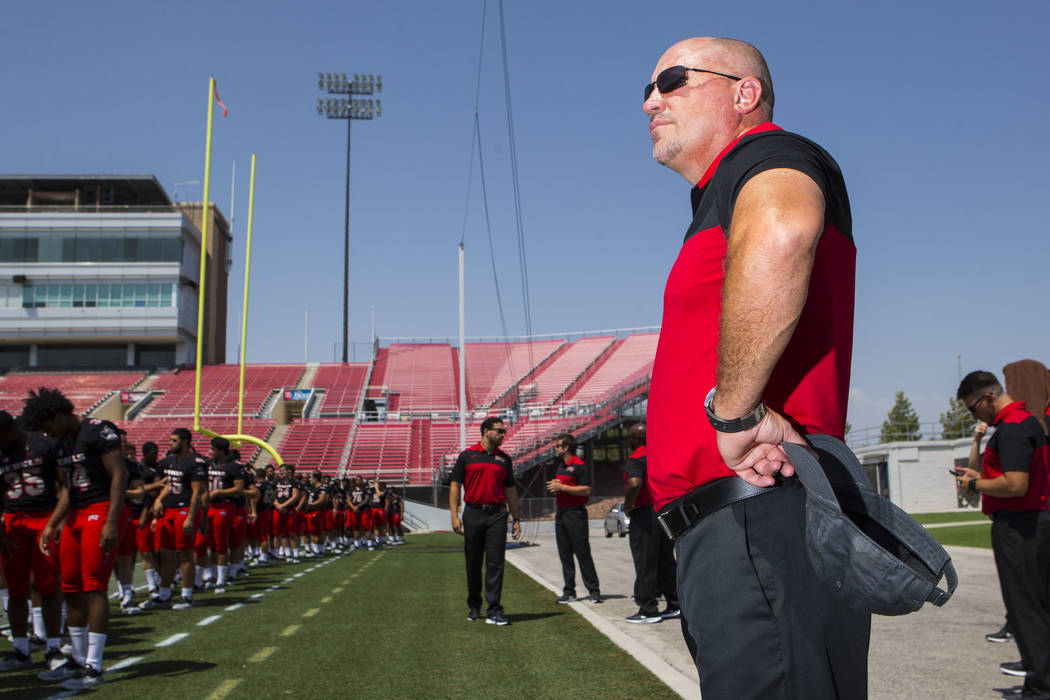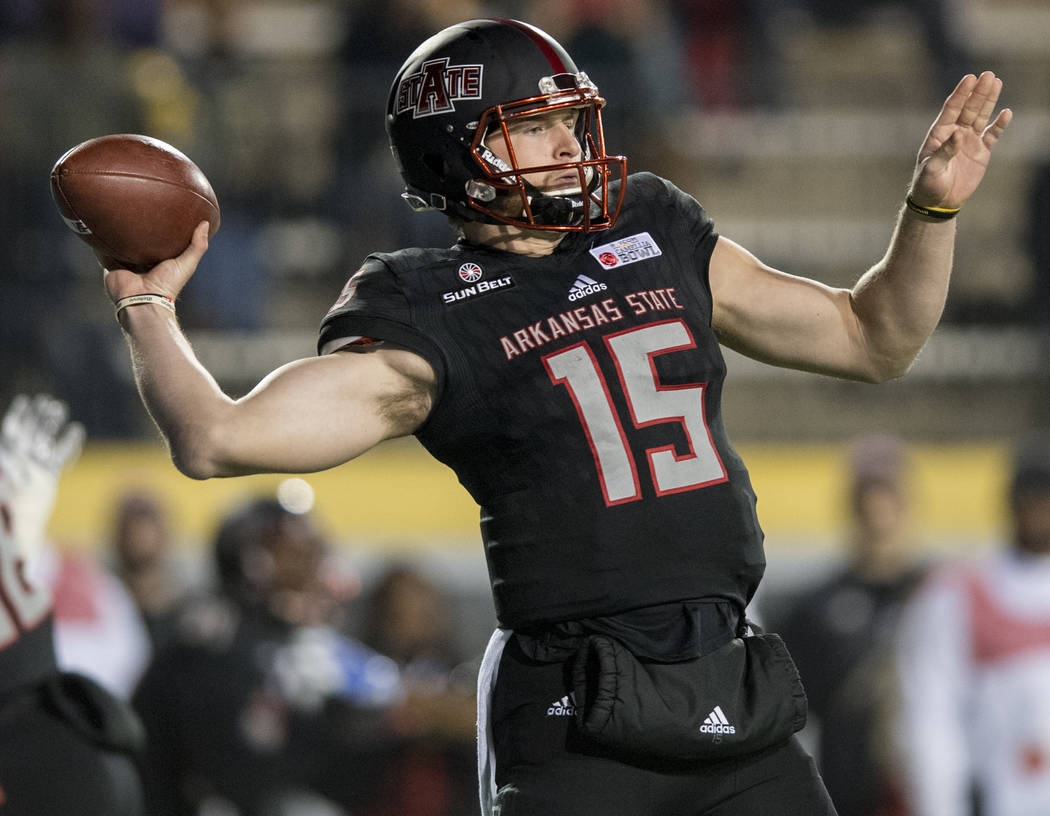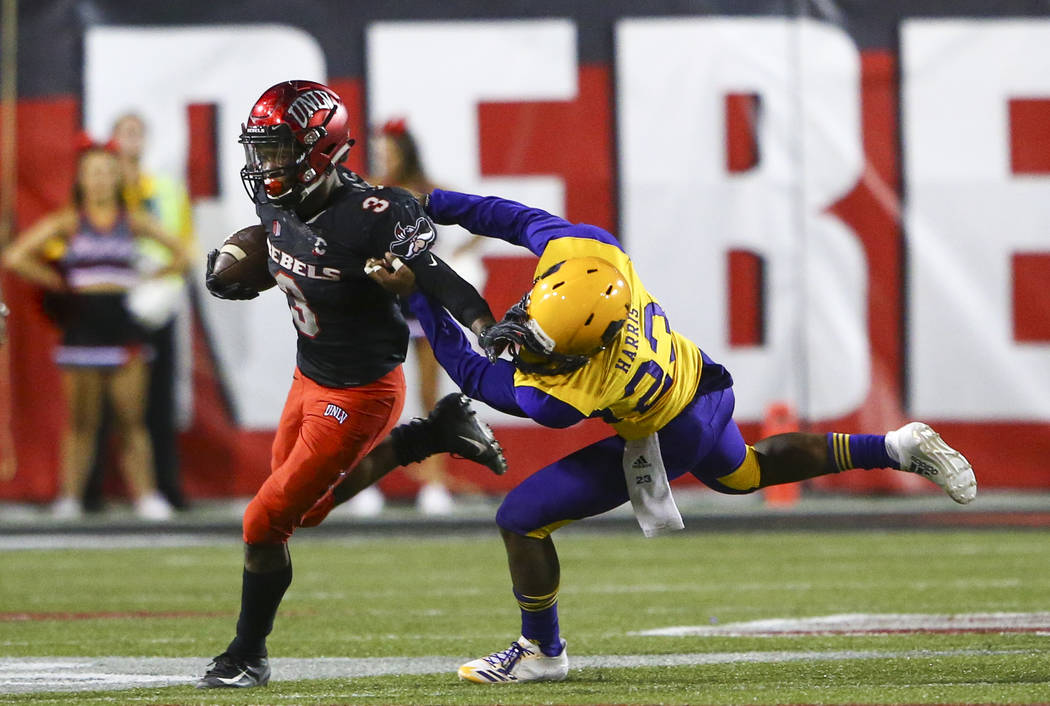 Tony Sanchez is in his fourth season as UNLV football coach and while there hasn't been a surplus of victories — just 14 so far — a few notables stand out.
The Rebels over the last few seasons have beaten teams that went on to win their respective Mountain West division titles and play for the conference championship, first outlasting Wyoming 69-66 in triple overtime in 2016 and then winning at Fresno State last year 26-16.
Both solid wins.
But a better one would come Saturday in the largest city of northeast Arkansas, whatever that does for you, once the site of a Civil War skirmish between Union and Confederate forces. It was there in 1909 that a regional agricultural training school was established that later became Arkansas State.
And Jonesboro is home to a darn good college football program.
If you were to put pen to paper and describe the hopes and dreams of those at UNLV when it comes to building football at a Group of Five institution, it would likely resemble more of the Red Wolves than you might imagine from a place so far away and dissimilar.
Consider: Arkansas State has advanced to seven straight bowl games, a period in which it has averaged over eight wins a season and either shared or won outright the Sun Belt championship five times.
Such credentials for UNLV wouldn't just play in Las Vegas — they would be the cause for parades and various proclamations.
I'll tell you what — if it was assured Sanchez could eventually deliver the sort of successful program Arkansas State has, UNLV would not only will finish that second floor of the Fertitta Football Complex, but likely name it in the head coach's honor.
"(Arkansas State) has made a big commitment to football," Sanchez said. "You can see it from the facilities and their stadium and their (indoor) football complex. They want to play at a high level. It takes time."
It mostly takes money, and Arkansas State since 2012 has committed nearly $80 million toward football upgrades.
These folks have no problem finishing second floors of buildings.
Why play them?
But a question lingers: Why in the world is UNLV playing Arkansas State?
The home-and-home series will bring the Red Wolves to Las Vegas in 2019, and yet there is no sensible reason as to why it was ever agreed upon, which occurred before Sanchez was hired and over the tenures of different athletic directors.
There are no recruiting advantages or regional interest for either school, the travel to each city is long, and there's a good chance many UNLV fans don't understand how good Arkansas State is.
It's a similar series for the Rebels to that of Northern Illinois, which also made no sense for the same reasons and saw UNLV lose games in 2014 and 2015.
Nonconference matchups against fellow Group of Five members can at times be tricky to schedule, but you should at least try and play those where you recruit to certain areas or the fact an opponent will bring a large contingent of fans to Southern Nevada (hello, Brigham Young, in 2024).
The home-and-home series against Texas-El Paso — which began with a 52-24 win for UNLV two weeks ago — is a good one for the Rebels, who recruit Texas well.
Put a call into Southern Methodist or New Mexico State or North Texas (as long as it agrees not to run any fake punts).
Make sense of who and why you play those outside Power Five schools.
For now, this deal is done and the Rebels arrive to the town of that once Civil War skirmish a 7½-point underdog to a program that had five different head coaches between 2010-14, including well-known names in Hugh Freeze and Gus Malzahn and Bryan Harsin.
Blake Anderson is in charge now. This his fifth season, and already owns 33 wins.
"UNLV in running the ball as well as anyone in the country right now," Anderson said. "It's a huge challenge for us. We're just happy to have them at home."
A win would make Sanchez very happy.
It would be his biggest — bigger than UNR in 2015, bigger than Wyoming the following season, bigger than Fresno State the next one — as UNLV coach.
Ask those who know football.
Who know all about Arkansas State.
More Rebels: Follow all of our UNLV coverage online at reviewjournal.com/Rebels and @RJ_Sports on Twitter.
Contact columnist Ed Graney at egraney@reviewjournal.com or 702-383-4618. He can be heard on "The Press Box," ESPN Radio 100.9 FM and 1100 AM, from 11 a.m. to 2 p.m. Monday through Friday. Follow @edgraney on Twitter.