UNLV's journey over in familiar letdown
March 11, 2016 - 12:53 am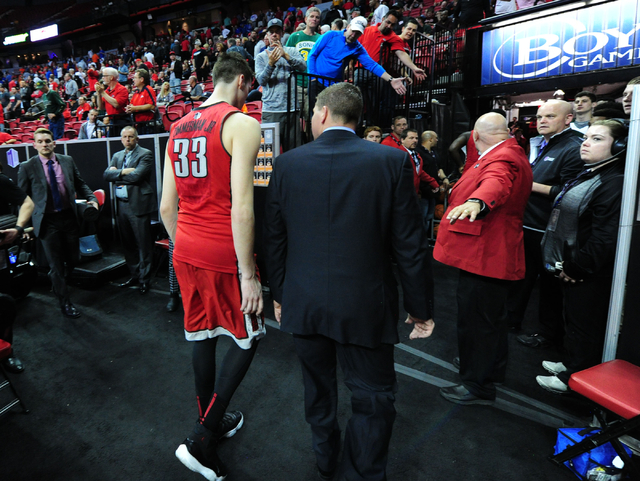 The journey to the wall didn't begin Thursday night. That's just where it concluded.
It took time to reach, time and drama and adversity and injury and chaos and heart and controversy and lots of sweat.
Months of that stuff.
But when UNLV's basketball team finally came crashing into it, all the will and desire having met its match against an older, tougher, better opponent, the end for the Rebels felt no less sudden.
The season whose highlight came in the paradise that is Maui in November and yet eventually endured as many emotional bumps and bruises as physical ones ended with a 95-82 loss to Fresno State in a Mountain West Tournament quarterfinal at the Thomas & Mack Center.
"I guess you could probably sum it up that guys never gave up," senior point guard Jerome Seagears said. "There were many situations where guys could have just put their head down and wrapped it up for the end of the season. Injuries, guys getting ready to go to the next level. Guys never looked at the situation like that. They looked at it like we were going to give it all we had until the fat lady stopped singing."
She belted out some impressive octaves when UNLV trailed by just five at halftime.
She paused to clear her throat with 6:35 remaining and Fresno State up eight.
She became a mute three minutes later and the margin at 11.
So that's that for UNLV.
So it's over.
So it's time to move on.
How many changes will occur in the next few weeks and months when it comes to how different the current structure of coaches and players look is anyone's guess, but there is no debating this: Major moves are needed for a program that will miss the NCAA Tournament for a third straight season and just finished with its second straight with an 18-15 record.
Mountain West basketball was at it lowest point in history this season, but within all those subpar teams were signs some are making progress while UNLV laments its second consecutive seventh-place finish.
UNR is one such team — the Wolf Pack meet top-seed San Diego State in one semifinal tonight — and will be difficult to deal with as long as Eric Musselman remains its coach; Fresno State is finally making the sort of strides most predicted when Rodney Terry was hired to lead the Bulldogs five years ago.
The Rebels, meanwhile, continue to exist within a frustrating vat of uncertainty and mediocrity, no matter how highly regarded each recruiting class tends to be, no matter how large the expectations are placed on their collective shoulders each season.
The wall always seems to come a lot sooner than most predict.
Todd Simon was an interim head coach elevated in a most unprecedented way when UNLV fired Dave Rice three games into a conference schedule, and from there, through mostly the fault of bad luck with injuries, UNLV never discovered any sort of consistent rhythm.
Simon went 9-8 and while nobody knows how the Rebels would have done if Rice was afforded the opportunity he was assured of to finish the season, there is no way those who made the decision to make the move envisioned this conclusion.
This wasn't how certain back-room influence to get a guy a two-month audition for the job thought things would go.
The entire thing proved to be sort of a mess.
Looking back now, what was the point?
What was the ultimate goal of it all?
"To be the head coach at UNLV is a tremendous honor and privilege, whether it was for 17 games or a long time," Simon said. "I mean, to lead a program, whether it's here or anywhere, is something I love to do and aspire to do. But that's never been something that I felt was the right thing to do was go about and be a distraction as the head coach of the program for these guys. I wanted to make sure it was about them from beginning to end."
Faces will change. UNLV started two seniors Thursday in Seagears and Ike Nwamu. It is believed three players — freshmen Stephen Zimmerman Jr. and Derrick Jones and sophomore Patrick McCaw — could all test NBA draft waters with various levels of interest.
As for the next head coach, well, expect the process to really ratchet itself up.
Said one UNLV staffer: "The roller-coaster ride is over, but now the real circus begins."
So that's that.
So it's over.
The journey to the wall this time was different from recent seasons, but the ending no less definitive.
Crashed out early again.
Ed Graney can be reached at egraney@reviewjournal.com or 702-383-4618. He can be a heard on "Seat and Ed" on Fox Sports 1340 from 2 p.m. to 4 p.m. Monday through Friday. On Twitter: @edgraney