Weak schedules hurt Mountain West from top to bottom
December 30, 2014 - 6:20 pm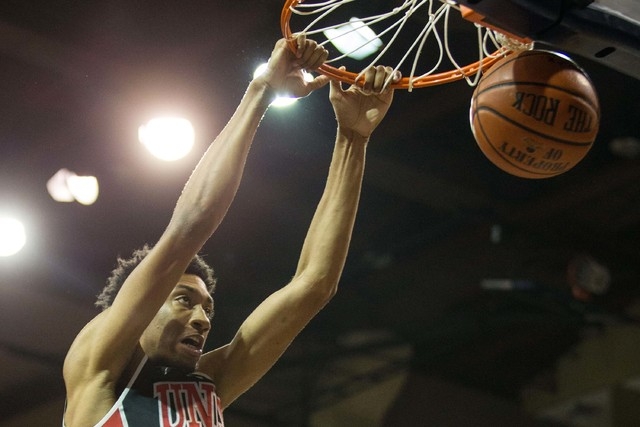 LARAMIE, Wyo.
The Mountain West has sent UNLV's basketball team here, a chilly town of 32,000 located on the Laramie River and west of Cheyenne, to ring in the New Year tonight while opening conference play against Wyoming.
The Rebels will arrive to subzero temperatures, an opponent that is 10-0 at home this season and a few truths colder than the arctic front tightening its grip outside Arena-Auditorium.
1. The league race for contenders is more open than the fenceless plains that unfurl across this state, where thousands of horses still run free.
2. Those contenders would be smart not to lose many (any?) games this season to the worst teams.
It can only hurt those at the top.
Say what you want about those tools used by the NCAA Tournament selection committee when determining at-large berths each March — Ratings Percentage Index, KenPom, Sagarin, Basketball Power Index, eye tests, polls — the opinion about a Mountain West ranked 11th among conferences nationally in RPI today is fairly consistent.
UNLV and San Diego State again challenged themselves in the nonconference portion of the season.
Everyone else didn't.
The Rebels entered this week with a league-best nonconference schedule rating of 32 and have a game at Kansas on Sunday remaining; San Diego State is at 33.
Of the other nine conference teams, two are in the 100s for nonconference scheduling, six are in the 200s and Wyoming is at 342 … out of 351 teams.
UNLV and San Diego State are 3-4 against top 50 RPI teams this season.
The other nine teams have played a total of four games versus the top 50.
"I think we have good teams and good coaches in this league, so we need to start challenging ourselves with nonconference schedules," UNLV coach Dave Rice said. "If you look at the league's recent history, years when we got four and five teams into the NCAAs, it was because we had strong RPIs and strength of schedule ratings. Then, when you get into conference play, it doesn't hurt your ratings as much when you beat each other up.
"As a coach, the only thing I can worry about is the next game, and we have Wyoming. But at UNLV, we are always going to protect ourselves by scheduling very, very tough nonconference games to get us ready for league and make sure we have a strong RPI and strength of schedule. "
A few things: It's easier for UNLV and San Diego State to get marquee games and land home-and-home series with Top 25 programs than any of the other nine schools. The Rebels and Aztecs have no problem getting invited to major neutral site events such as the Maui Invitational or Coaches vs. Cancer.
Duke or Arizona or Kansas or Syracuse or Kentucky or most anyone else with a brand name isn't going to Laramie, and probably not Fort Collins, Colo., or Logan, Utah, or most other Mountain West stops.
So while the conference needs to figure out creative ways to help a team such as Wyoming play better competition, the Cowboys need to stop scheduling opponents such as Florida A&M (338 in RPI), Stetson (330), Northern Colorado (269) and a home-and-home in the same season with Montana State (271). Play people in the mid-to-high 100s.
Colorado State is 13-0 entering league play, but its best nonconference win by RPI is Georgia State, and five victories are against teams with a rating of 198 or worse.
"If I had an opinion, we would play better schedules, period," Mountain West commissioner Craig Thompson said this month. "One of the things we always struggle with and talk about – and not just in men's basketball – is strength of schedule and quality of competition you're playing. You can go overboard, or you can play a very weak nonconference schedule, which then hurts everybody's RPI when you get into conference play. When I was commissioner of the Sun Belt, we actually had legislation and rules that you had to play a certain set amount of teams from the top eight or 10 RPI leagues."
If anyone knows how the scheduling game works, it's him. Thompson is a former chairman of the NCAA selection committee and understands those factors weighed heaviest by those in the room when at-large resumes are plastered across a large screen. His opinions need to be heard by the majority of Mountain West teams not holding up their end of the bargain regarding nonconference scheduling.
Things must play out. There still remains an entire league season of play. But this sort of issue could quickly become a bad pattern — the conference received just two NCAA berths last season when it ranked 10th in RPI — and needs to be addressed by the league office and membership and anyone else concerned about getting the most teams possible into the tournament.
"I hate to have a big brother who looks over our shoulder and tells us, 'This is what you have to do,'" San Diego State coach Steve Fisher told U-T San Diego this week. "That being said, if we're going to be what I hope that we would be – a league that's mentioned in the upper tier in the country – we have to find ways to play better people.
"I don't want to tell everybody how they should schedule, but the better we schedule and the more we win out of that, the better the league is going to be."
Las Vegas Review-Journal sports columnist Ed Graney can be reached at egraney@reviewjournal.com or 702-383-4618. He can be heard from 11 a.m. to 2 p.m. Monday through Friday on "Gridlock," ESPN 1100 and 100.9 FM. Follow him on Twitter: @edgraney.