What type of owner will Bill Foley be? Think late Ed Snider or Mark Cuban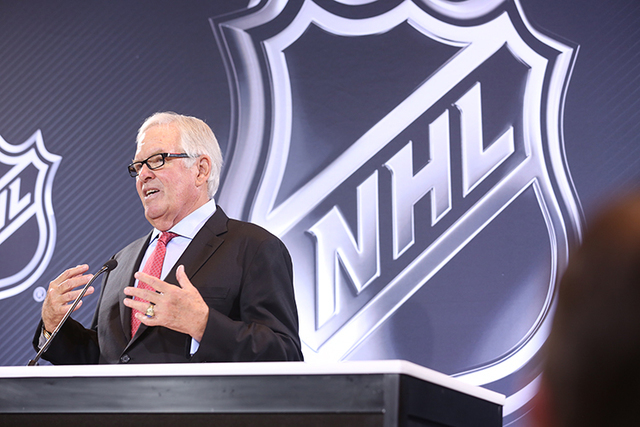 It was about 45 minutes — what took so long? — after the NHL officially awarded Las Vegas an expansion franchise on Wednesday when odds began appearing for what will be the team's first season of play in 2017-18.
To win the Stanley Cup: 100-1.
"Let's see," Bill Foley said when told of the projection, "what they are in Year 3."
The man who paid an expansion fee of $500 million to deliver Las Vegas its first major league professional sports team isn't one to sit back and wait for anything. Patience might be a virtue, but it's hardly a central quality to Foley's personality.
He didn't build a billionaire empire and rise to chairman of Fidelity National Financial by not demanding those who work for him match what is an inexhaustible competitive streak, which also defines the type of owner he will be.
Think a combination of Ed Snider and Mark Cuban.
Snider died in April at age 83, the longtime owner of the Philadelphia Flyers whose franchise became the first expansion team to win a Stanley Cup in 1974 before repeating the following season.
He was loyal and generous with his players and asked only their greatest effort in return. He gave them what they needed to win and then expected them to do so.
Cuban is similar in how he runs the Dallas Mavericks of the NBA, an owner who has no problem showering his players with the biggest and best and most expensive of amenities, who treats them like family.
Who also loves and expects to win.
"I'm the nicest guy in the world," Foley said. "I can be your best buddy. But you better get the job done. I'm demanding about accomplishing goals and staying on target and not getting distracted. We're going to do everything for our players and their families, but I'm going to expect them to win and be involved and supportive in the community and help build youth hockey here. NHL players are great guys when it comes to those things. They're not prima donnas. They're the guys you want to have a beer with. They're fun.
"Ed Snider was very involved with his franchise, and he demanded perfection and they won when he was really active with things. I'm going to be that way. I will be disappointed if we haven't made the playoffs by the third year at the latest. We need to be at that point. I can't be patient. I'm too old. I have to get this done."
Foley is 68 and can't remember how many businesses he has been part of, but believes he can, in many ways, run the NHL team as he did other investments. His toughest go of it before now might have come in the mortgage industry, specifically with title insurance, during the financial crisis. It's an area that has no distinguished product, making it even more critical you hire the right people who can sell and keep customers happy.
You know, like with an NHL expansion team.
Fidelity National Financial operates on this philosophy: Bias For Action.
It means Foley wants those under him to analyze tasks, reach decisions and implement solutions as soon as possible. He wants them to challenge all assumptions and strive continuously for improvement. He wants them accessible, responsible and decisive.
"If you make a mistake," he said, "reverse it and move on."
He will begin this journey holding the titles of owner, president and CEO, meaning he will be even more involved with decisions than already believed. This will be his greatest challenge and yet the one he will have the most fun trying to execute.
Word to the wise for those interested in joining his team in some capacity: Be ready to work.
"I can be intimately involved and then I can back off when I need to," Foley said. "As long as I have the right people, I'm great at delegating. I give people responsibilities and authority, and if they don't do things right, I let them know. If they don't do it right again, I let them know very strongly. If they don't do it right again, they're gone. I can't put up with that. I don't have the time.
"I don't want to blow this. I don't want to hire a bunch of guys who are here for three years and then gone. We are here to build for the future, but the future is now. Those on the hockey side aren't going to have to baby-sit me. I'm a big boy. I'm a good crisis manager. When times are tough, I'm tough to beat. People we hire just need to do their job."
He wants to win as soon as possible and will be an owner whose generosity with those under him is matched only by his demands of them succeeding.
Translation: If those Stanley Cup odds are 100-1 in Year 3, it might be best to avoid the boss for a few days.
Ed Graney can be reached at egraney@reviewjournal.com or 702-383-4618. He can be a heard on "Seat and Ed" on Fox Sports 1340 from 2 p.m. to 4 p.m. Monday through Friday. On Twitter: @edgraney

NHL in Vegas
Complete coverage of hockey in Las Vegas