Whitecloud honors culture in chasing Golden Knights dream
Updated June 30, 2018 - 5:59 pm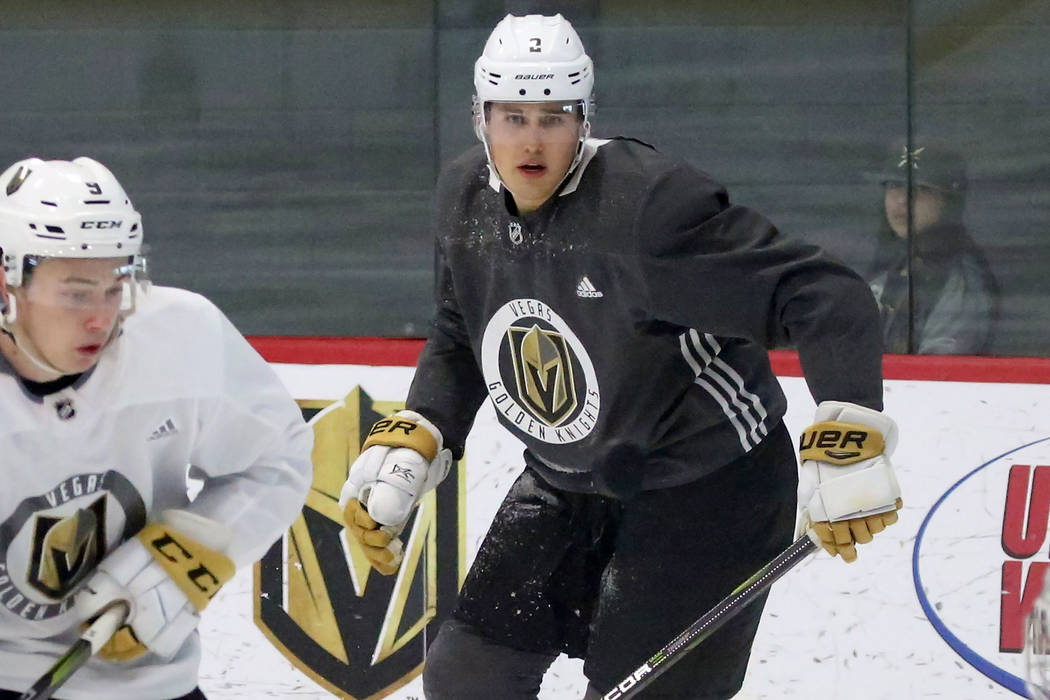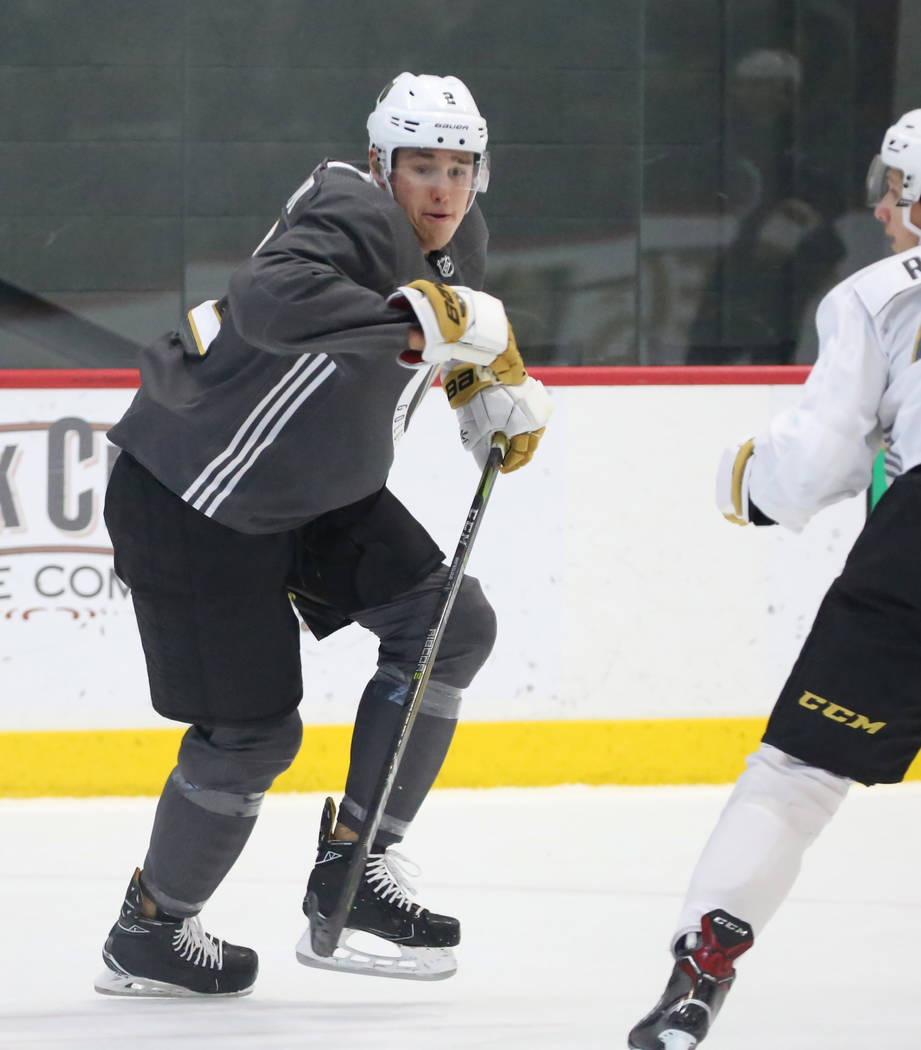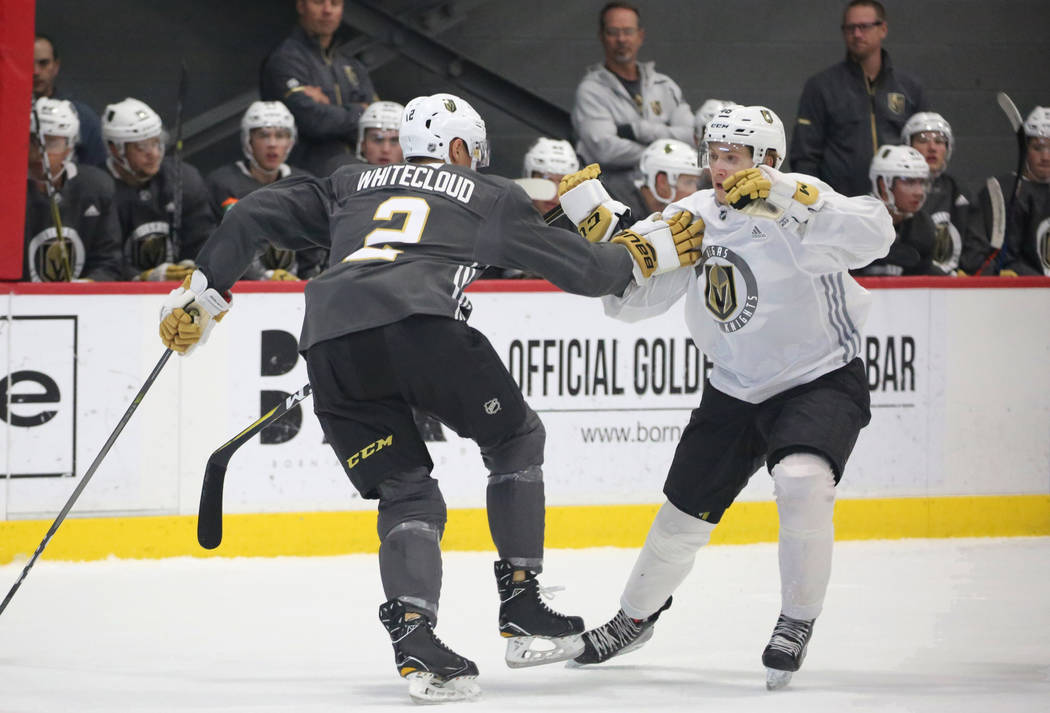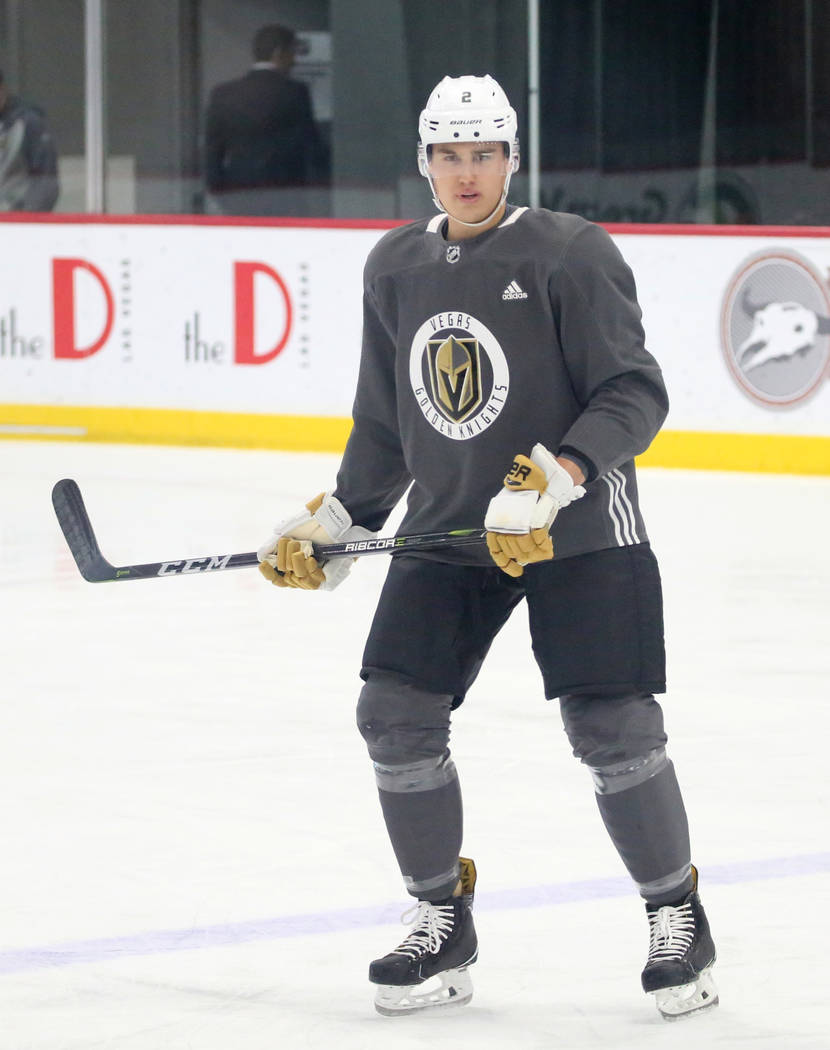 The significance is not lost on Zach Whitecloud, his ethnicity hardly an immense part of NHL history and yet such is a force that drives him up and down a sheet of ice.
"You don't see many First Nation hockey players," he said. "But my parents raised me to believe I can do anything with the right mindset and work ethic.
"I've wanted this for as long as I can remember."
Development camp for the Golden Knights concluded with a final scrimmage Saturday at City National Arena, where an all-star game broke out and Team White beat Team Grey 11-6. Which means goalies coach David Prior probably has more film to watch than he would prefer this time of year.
From here, most of the 42 players who began the week prepare for their next step on the ladder of professional advancement.
It's a long and tough climb. Most never reach the top.
Whitecloud is nearly at it.
More than his dream
He owns the same dream as the rest, that he will ultimately make and stick to the team's 23-man roster, a defenseman who actually played a game for Vegas last season after being signed as a college free agent in March out of Bemidji State in Minnesota.
He would see 16:42 of ice time against Edmonton and then sit and watch the team's improbable run to the Stanley Cup Final, ineligible to compete after not being on the reserve list at the trade deadline.
There is every chance he will get a serious look come training camp, be it for unknown roster moves that could occur in the coming days or just the fact he proves himself worthy.
All the while, he will remember his roots and what his pursuit means to so many.
He was born in Brandon, Manitoba, and raised in the Sioux Valley Dakota Nation. In Canada, those from First Nation are the predominant indigenous peoples south of the Arctic Circle. While hockey has some influence across all of the country's 10 provinces and three territories, it doesn't always present the same advantages.
"It's very important to me to get in touch with my culture because of where things are between Canada and North America in general right now," Whitecloud said. "A lot of our communities are facing tough times. A lot of youth with little hope.
"Kids need a chance. They need help, opportunities. I wasn't given everything, but I also wasn't at the bottom of the food chain. I want to teach them that it's all about how hard you work and view life. If I can instill in them to do something good today, then they will do something good tomorrow. Just live the right way."
Building his body
He has certainly done the right things chasing a roster spot, a 21-year old who arrived from college a gangly 6 feet 2 inches, 189 pounds, but who weighed in at 206 this week.
He has learned about training and nutrition and that the body he had in March wouldn't last very long in the NHL.
"I came in as a kid," he said. "The body is not exactly that of a man just yet, but we're working toward that state."
Whatever happens during the free agency period, whatever potential trades Vegas might make that could include some of its top defensive names, could determine how realistic a chance Whitecloud would own of making the roster out of camp or, more likely, being sent to the American Hockey League affiliate in Chicago.
Or, does it simply come down to him trying to beat out the likes of, say, Brad Hunt for a spot?
Coaches liked what they saw from Whitecloud this week. Called him a sponge. Liked the way in which he put on weight and still kept his speed and mobility. Liked how he saw the ice and passed.
They absolutely love his character.
"I thought he really looked good, but you have to think that 2½ years ago, Zach was playing in the Manitoba Junior Hockey League," said Wil Nichol, director of player development for the Knights. "Then he plays two years at Bemidji, a great program, but he still has quite a bit ways to go up. We're real confident he's going to keep (progressing)."
For now, Whitecloud heads home, intent on taking whatever evaluation coaches offered this week and working to improve, perhaps even finding opportunity to address some of those youth he believes need more of a chance in life.
Then he will return to Las Vegas for training camp, his goal to make it and stick.
"If you're not coming back with that mindset," he said, "then what are you doing here?"
More Golden Knights: Follow Golden Knights coverage at reviewjournal.com/GoldenKnights and @HockeyinVegas on Twitter.
Contact columnist Ed Graney at egraney@reviewjournal.com or 702-383-4618. He can be heard on "The Press Box," ESPN Radio 100.9 FM and 1100 AM, from 11 a.m. to 2 p.m. Monday through Friday. Follow @edgraney on Twitter.