'X' marks clinched playoffs for Golden Knights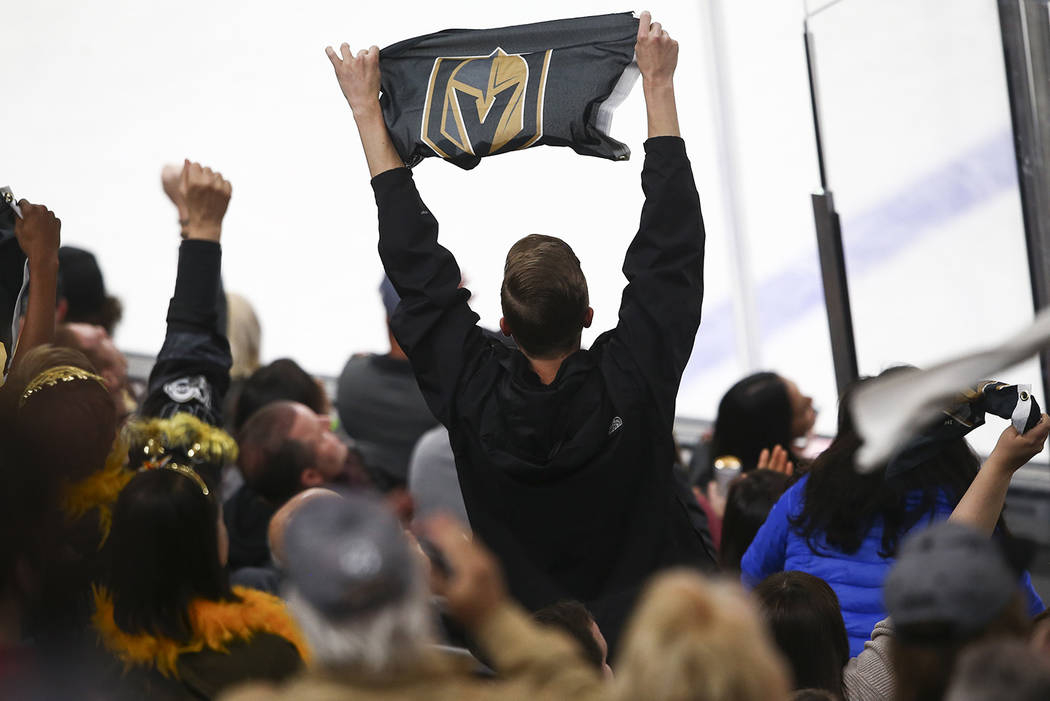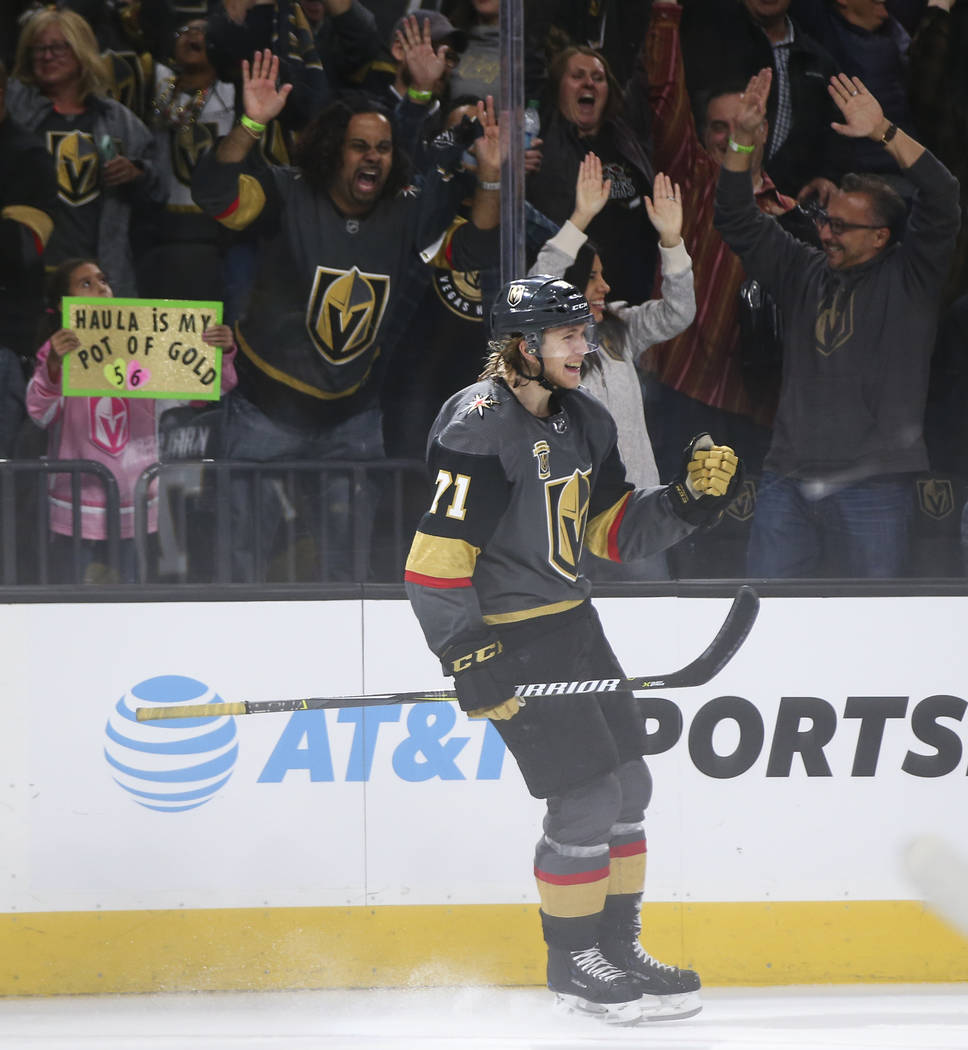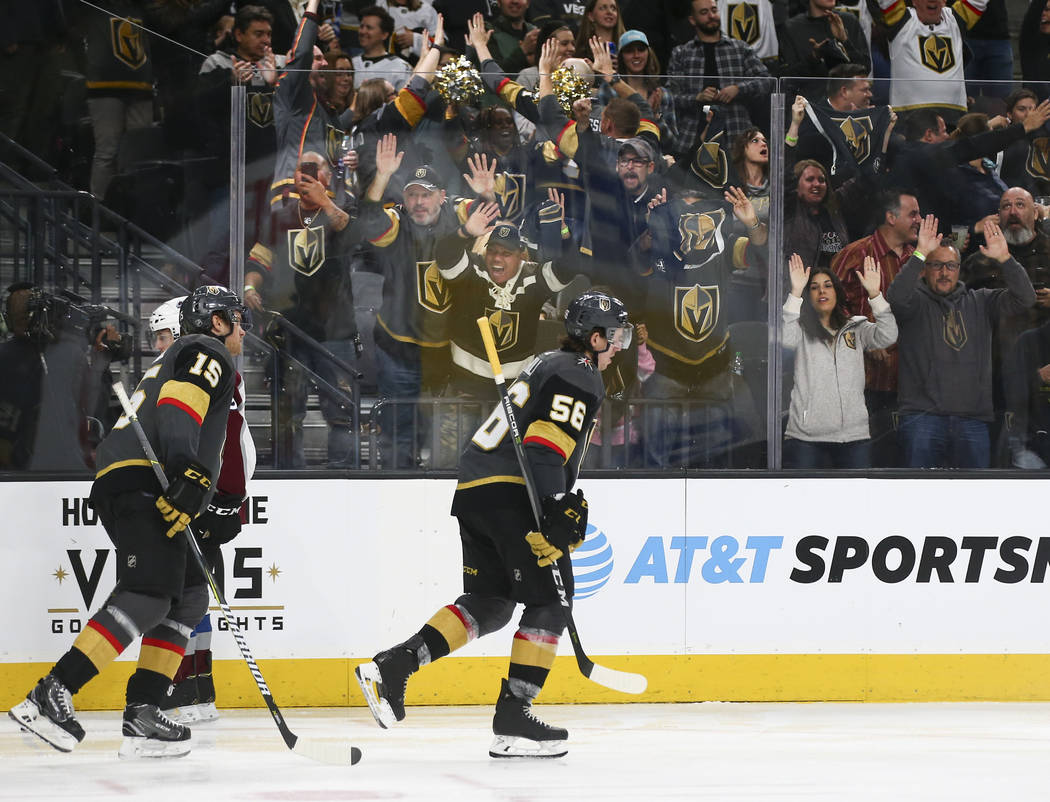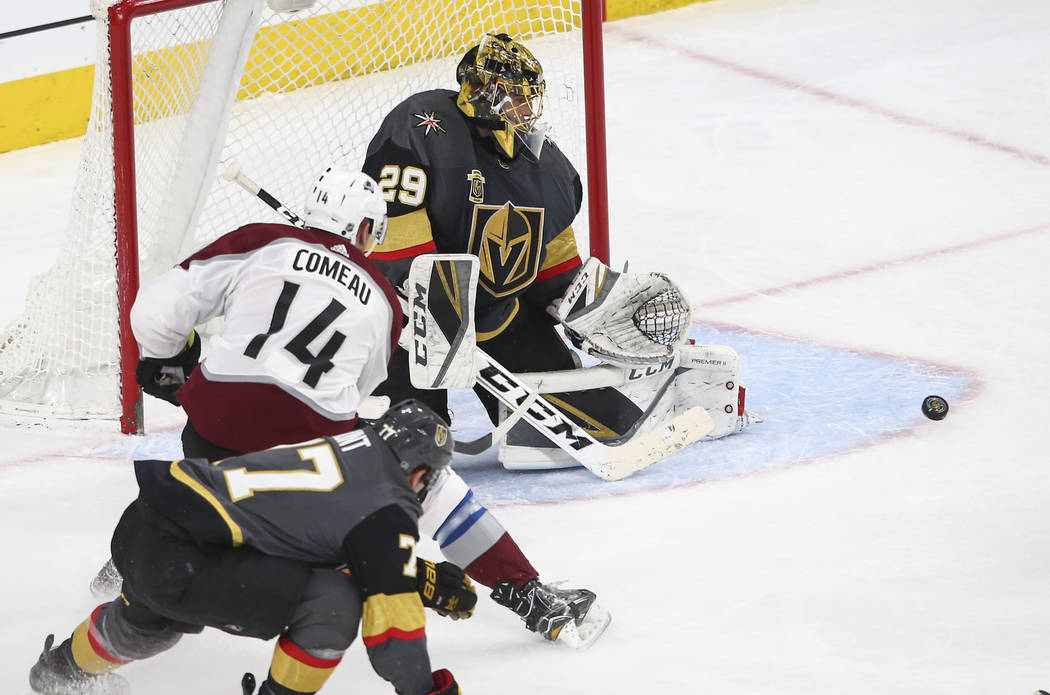 It began on a Friday in October, inside American Airlines Center, against a Dallas Stars side that at the time many believed would challenge for a Stanley Cup this season, a historic evening that ended in dramatic victory.
James Neal would score the game-winner while sliding from his knees with 2:44 remaining, and the Golden Knights were 2-1 winners and off to prove the hockey world wrong over the next five months.
The final piece of evidence was served Monday night.
It's in the form of an X.
You will now find one next to Vegas in the league standings, verification the Knights are indeed playoff-bound, a fact stamped with a 4-1 win against Colorado before an announced gathering of 18,326 at T-Mobile Arena.
"From that first game of the season and winning in Dallas, we believed in ourselves and the team and the guys playing next to each other," Neal said. "When you do that, good things can happen.
"Everyone had a second chance here, and the way our coaching staff is — their ability to let you play and not hound you after mistakes so you grip the stick too tight — I think everyone has been able to play looser and to their strengths. It's a good thing."
None of them point to one specific game, one precise stretch of results, one particular week or month or period of the season that caused them to think things could be far more special than most outside their locker room imagined.
They just always believed it.
It's true the Knights benefited from expansion draft rules that allowed them to select much better players than past first-year clubs, and yet it's also true George McPhee as general manager didn't in every instance take the best available names from certain teams. So the draft helped, and yet not as much as most assume.
More than anything, head coach Gerard Gallant challenged each player to have the best season of his career, to produce at a level he hadn't yet reached.
Some, like center William Karlsson, have gone (way) above and beyond.
"I'm not sure anyone knew he was this good," said Neal of his 40-goal-scoring teammate.
The first hint about what might occur this season came when Vegas went 8-2 over its first 10 games, and by the time mid-January arrived and the Knights were 18-3-1 at home, folks realized this was about more than a supposed flu bug taking down all those visiting players hitting the casinos.
You have been watching the greatest expansion team in sports history, and that includes the Blues team that actually made the Cup final its first year, because back in 1967-68, all of the NHL's six new clubs were put in the same division and the winner advanced to the championship.
Yep. Things are a lot tougher now.
"Even before the season, there was no reason why we wouldn't be competitive," Neal said. "We have great goaltenders, solid, tough defenders and solid forwards throughout the lineup. I said from Day One, there was no reason we shouldn't make the playoffs. I don't think anyone thought we'd be as good as we have been, but everyone came in with an open mind to do good things."
They didn't blink when Marc-Andre Fleury was lost for 25 games with a concussion, the goalie and face of the franchise suddenly taken from his protective butterfly. They have had others step forward when injuries hit different parts of the lineup. They never really changed all that much, no matter which names or lines were on the ice.
They just played, a mantra preached over and over by the man who won his 200th game as a head coach Monday.
"We don't look at the game behind us," Gallant said. "We always look at the one coming forward. From the first day, it wasn't about the playoffs. We never talked about that. Just get to the next game and the next two points and talk about that. Obviously, with the start we had, it was great out of the gate. Nobody expected this, but I think people said this was a good hockey team. We weren't winning lucky.
"For an expansion team to make the playoffs, it's really tough, and I didn't expect to. But it was never about the playoffs."
It is now.
"The X is there," Gallant said.
As amazing as it is historic.
Contact columnist Ed Graney at egraney@reviewjournal.com or 702-383-4618. He can be heard on "The Press Box," ESPN Radio 100.9 FM and 1100 AM, from 11 a.m. to 2 p.m. Monday through Friday. Follow @edgraney on Twitter.