Zags are easy choice for MW, but BYU better bring football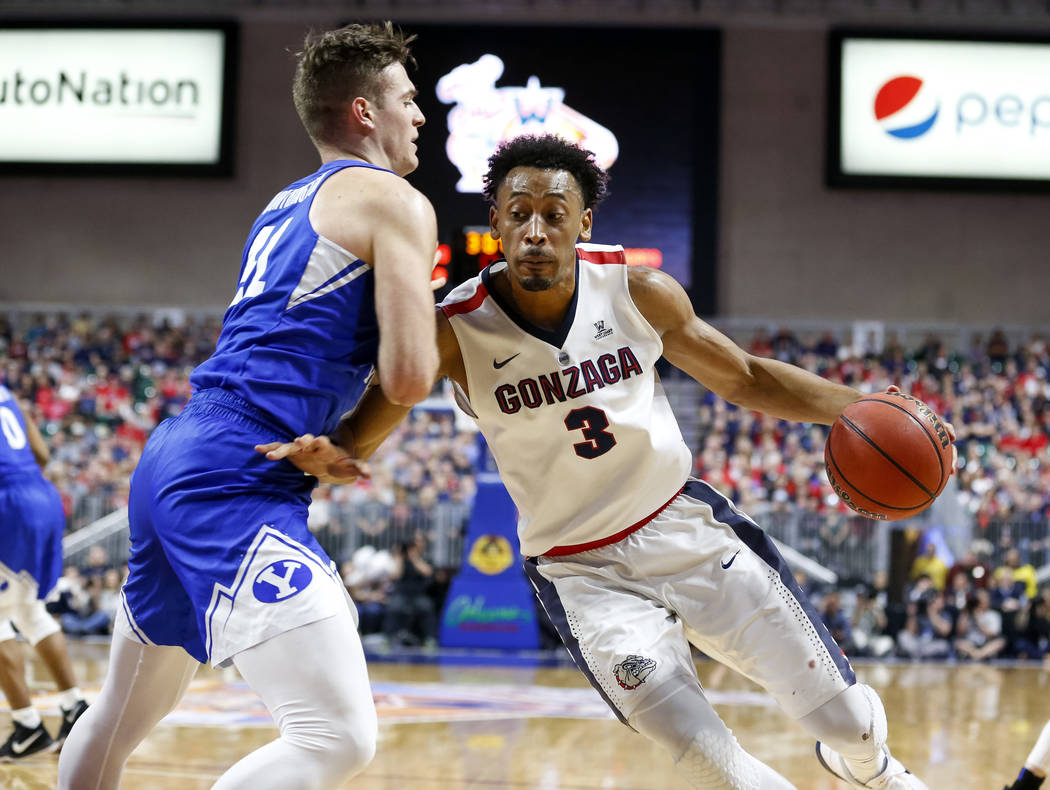 There is 3.7-mile distance between the two venues and yet a vast difference as the pendulum of college basketball swings between the Mountain West and West Coast conferences.
On a court at Orleans Arena on Tuesday evening, Gonzaga and Brigham Young played for a WCC Tournament championship, won for a sixth straight time by the No. 6 Zags in a 74-54 rout before an announced gathering of 8,030.
Over at Thomas &Mack Center, the Mountain West readied for a league's postseason event that begins Wednesday.
UNLV opens against Air Force at 11 a.m.
Great (all?) seats available.
If you believe recent reports, the Rebels home arena might also be where the Zags and Cougars could soon find themselves playing often in the near future.
When it comes to issues of expansion, conference commissioners are usually more tight-lipped than the Golden Knights are about injuries, and yet Mountain West boss Craig Thompson recently confirmed to the San Diego Union-Tribune that he has engaged in discussions with Gonzaga about leaving the WCC for the Mountain West.
It has also become fairly certain that should the perennial Top 25 program from Spokane, Washington, indeed decides it's time for a new home, one with more arenas than gyms in which to dominate, BYU would gladly jump on the Mountain West train and join them.
Save that last thought.
When sitting among the sparse 5,000 or so — too high a guess? — that might venture out for a Mountain West Tournament session this week, Thompson and whichever of his league's presidents are in attendance should consider the Zags and Cougars in much different veins.
Pursuing the Zags is an easier call than Canelo Alvarez now passing on the 12-ounce ribeye at Guadalajara's finest steakhouse. Gonzaga would immediately raise the national presence and perception of what has become a very average overall Mountain West basketball brand. It is an elite program with an elite coach in Mark Few and a fan base that faithfully follows its team in the postseason.
Yes. The Mountain West Tournament might again have real crowds.
The Zags played in a 21st straight conference tournament final Tuesday and will now make a 20th straight NCAA Tournament, having advanced to the national championship game last season. They are big-time in a way other Mountain West teams haven't been in decades.
It's a wash between Gonzaga and the Mountain West in terms of which owns the most leverage, given the Zags are obviously seeking a league where participants care about and pour resources into basketball at or near their level and the Mountain West, despite a recent dip by some of its better programs, knows it's a step up in every way from the WCC.
"We're trying to do what's best for our program," Few said. "We've been a good soldier that has generated a huge number. What we've done with our facilities, with our program, with our travel, every phase. We want everyone (in the WCC) to take that step and move forward. It's complicated. In the end, we'll analyze everything and do what we feel is best for the program."
BYU is a different story and it should begin and end for the Mountain West here: For the Cougars to return, they must bring football.
If not, good luck in a WCC without the Zags.
The Mountain West doesn't need BYU basketball, and the last thing the league should do is allow the Cougars, who left for football independence in 2011, to dictate anything.
Television contracts will soon expire and BYU finally has a football schedule in 2019 that resembles what it strove for when going solo, and yet any agreement between the Mountain West and Cougars that doesn't include football returning at some point would be pathetic on the league's end.
"There is a groundswell of fans that would rather suck it up and return to the (MW)," said Kurt Kragthorpe, longtime sports columnist at the Salt Lake City Tribune. "But as time passes and people say that, the administration has become much more stubborn about playing the independence out.
"It would take a lot of humbling to go back (in football)."
Then the Mountain West needs to bow its neck for once and humble BYU a little.
The Zags are an easy choice. It's the Alvarez kid passing on a center cut in Mexico.
Not so with BYU.
After all, if it can't play along and be part of something instead of wanting to run it, it could always remain in a Gonzaga-less WCC.
Contact columnist Ed Graney at egraney@reviewjournal.com or 702-383-4618. He can be heard on "The Press Box," ESPN Radio 100.9 FM and 1100 AM, from 11 a.m. to 2 p.m. Monday through Friday. Follow @edgraney on Twitter.