Post position is paramount in Pegasus World Cup
January 25, 2018 - 11:06 am
Updated January 25, 2018 - 6:33 pm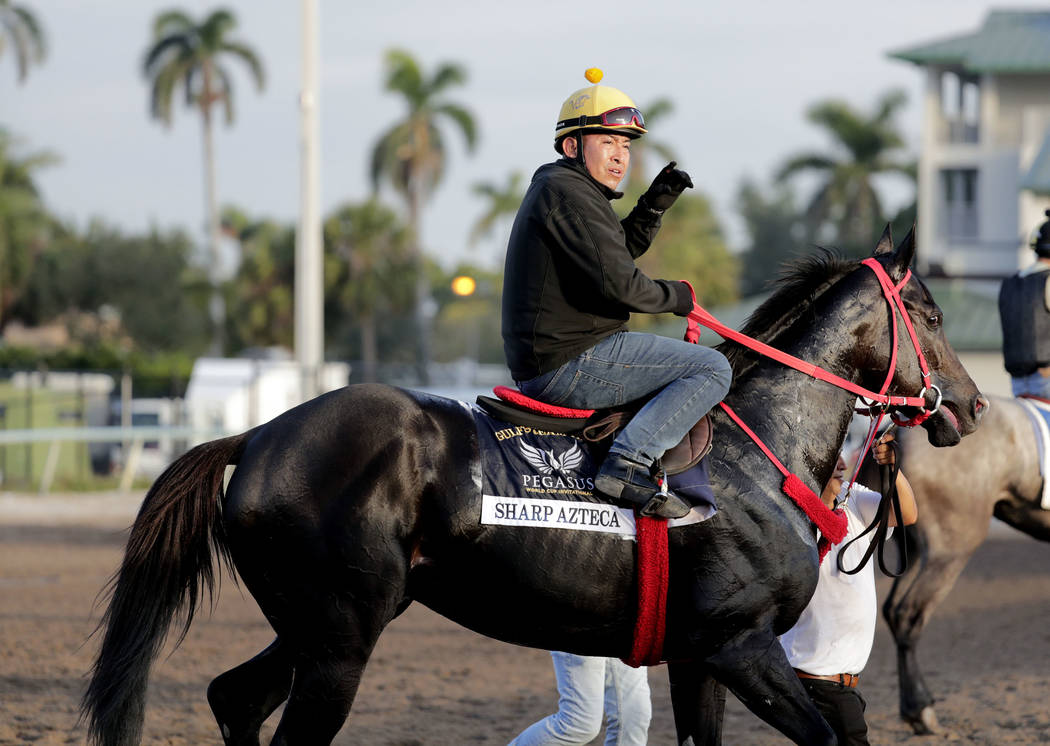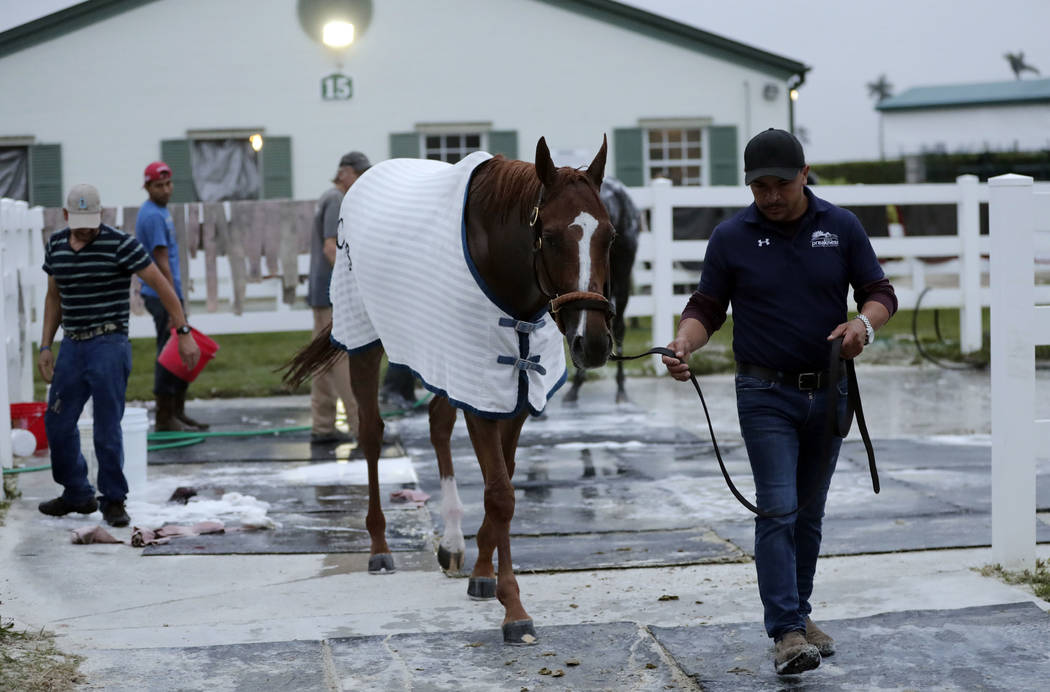 Post position is often something of an afterthought in handicapping, but in Saturday's Pegasus World Cup Invitational — the richest horse race in the world — it could well be the deciding factor.
The reason is that Gun Runner, the 4-5 morning line favorite in the $16.3 million race, drew post position 10. That's a big disadvantage in a 1 1/8-mile race at Gulfstream Park, where the horses enter the first turn almost as soon as they leave the gate.
The outer post in the 12-horse field means that jockey Florent Geroux is going to have to make a critical decision in the initial strides, either gunning his mount to battle for the lead, risking getting caught very wide around the bend, or dropping back to try to move closer to the rail and save ground before trying to mow 'em down late.
The Daily Racing Form's Mike Watchmaker did some research last year after California Chrome drew the even-worse 12 hole in the inaugural running of the Pegasus and found that only one horse — eventual Kentucky Derby winner Big Brown — had won from the 12 post since the rebuilt Gulfstream reopened in 2006.
Gun Runner didn't draw quite that badly, but the numbers aren't much better for the 10 hole, as Watchmaker noted: "There have been 223 horses to break from posts 9 through 14 at the same distance over the same period, and only 10 of them won, roughly one-third of the success rate of posts 1 and 3 over the same time frame. And at the current Gulfstream meet, posts 8 through 14 going two turns on the main track are 0 for 25."
Ed DeRosa, communications director for TwinSpires.com, added to the gloom on Twitter after Wednesday's post position draw, writing, "The last time a horse won from post 10 going 1 1/8 miles on dirt @GulfstreamPark was Feb. 11, 2012, when Hymn Book won the Donn Handicap."
There is no doubt in my mind that the Steve Asmussen-trained Gun Runner is the most talented horse in the race, and he may well win. But given the likely adverse scenarios, I'm seeing this as a situation to either bet against him or simply pass and enjoy the final race of the 5-year-old's illustrious career before he is retired.
Sunset Station is offering a free handicapping seminar at 6 p.m. Friday in the race book featuring noted handicapping author Steve Davidowitz and former Review-Journal racing columnist Richard Eng. Also, all Station Casinos race books will be offering a $20,000 Twin Q on Saturday.
#RJhorseracing featured races
Making the Pegasus one of our weekly #RJhorseracing handicapping challenge races was a no-brainer, but our crew also tackled the $125,00 South Beach Stakes immediately preceding the main event.
In the South Beach, a turf race for fillies and mares contested at about 7½ furlongs, the crowd handicappers sided with Stormy Victoria (7-2 second choice on the morning line) over Ghostly Presence (8-1) and Celestine (5-2).
With a hot pace projected, I like their top pick as well, but I'll take a stab with Always Thinking (15-1), who has run some strong races sprinting on the turf and need only be ready to fire fresh.
In the Pegasus, the gang likes Gun Runner to go out a winner, poor post or no, with West Coast (8-1) and Sharp Azteca (6-1) rounding out the trifecta.
I'll stick to my guns and put a few bucks on West Coast if he stays close to his morning line price, figuring he still has room to improve as a newly turned 4-year-old.
You can get in on the action next week by emailing me or playing along on Twitter (hashtag #RJhorseracing).
Contact Mike Brunker at mbrunker@reviewjournal.com or 702-383-4656. Follow @mike_brunker on Twitter.
Ellis Starr's Pegasus World Cup Analysis
In handicapping a race with the intention of wagering, there can be a significant difference between the "Best Horse," the one most probable to win, and the "Best Bet," the horse representing the wager most likely to help make a profit short term and long term. There is no doubt Gun Runner (10) is the best horse in the Pegasus. Although there may be questions regarding coming back from nearly three months off and what some say may be a disadvantageous post position for the Pegasus owing to the quick run to the first turn, neither of those issues concern me. This is because Gun Runner returned from nearly three months off last February to win easily in his 2017 debut and because the outside post for this 9 furlong trip isn't as bad as some people think it is. According to Stats Race Lens, horses breaking from post positions 9 and up at this distance won four times in the last year. As such, Gun Runner is going to be very difficult to beat in this year's Pegasus.
Now we can talk about the best bet and there are two of them in my opinion, starting with Collected (5), who opens at 8-1. In the Breeders' Cup Classic, Collected ran second from start to finish behind Gun Runner and prior to that he won the Pacific Classic. Those efforts earned 127 and 128 Equibase figures, respectively, which were as good as those earned by Gun Runner in two of his four victories last year. When Collected returned from a short rest on December 26 for the San Antonio Stakes, he ran nothing like he had run in his five previous starts and was a well beaten third as the prohibitive favorite. Since then, trainer Bob Baffert stated "We didn't really super-crank him for it" regarding the San Antonio, adding "We're taking the Pegasus with a different approach" and "He'll be ready." As such ,there is no doubt in my mind Collected can run back to his 2017 efforts at the least, which could lead to a top effort good enough for a second- or third-place finish and perhaps even the upset win.
The other best bet might be Giant Expectations (12), who posted the upset at 13 to 1 in the San Antonio Stakes over Collected. Like Collected, Giant Expectations is a newly turned 5-year-old with 13 races under his belt. He has won four of those races, including the Pat O'Brien Stakes in which he earned a career-best 118 figure. Showing versatility in winning from off the pace as well as winning while in front from start to finish, Giant Expectations has never run this far but his sire (Frost Giant) has produced horses that have, including a full brother, so I have little concern about him being able to handle the distance. With Hall-of-Fame jockey Gary Stevens in the saddle, Giant Expectations can improve in his second start following nearly two months off and if he does could run a lot better than his 30/1 starting odds suggest he can.
Seeking the Soul (11) and Fear the Cowboy (7) are two others that I will consider as contenders, not necessarily to win (although I won't rule their chances out entirely) but definitely to be in the top three. Seeking the Soul won his last two starts of 2017 including the Clark Handicap with a career-best 117 figure and at the distance of the Pegasus. Jockey John Velazquez rode Seeking the Soul for the first time in the Clark and rides back, another sign for the same or better as in that race. Fear the Cowboy has run well over many tracks in his career, with nine victories including four at Gulfstream Park. He won the Harlan's Holiday Stakes last month over the track with a 115 figure effort and last year he won the Skip Away Stakes at the distance of the Pegasus.
Ellis Starr is the national racing analyst for Equibase. Visit the Equibase website for more on the race or to purchase handicapping products.