What does it take to win the National Handicapping Championship?
Updated February 14, 2019 - 5:59 pm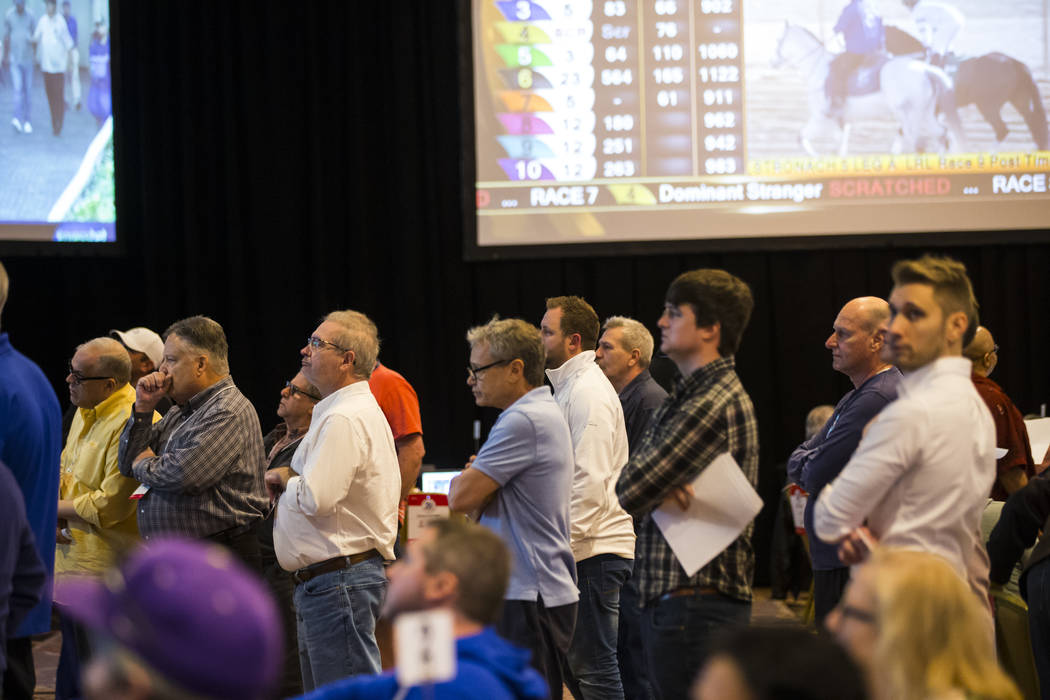 If you're like me, you've probably read about the National Handicapping Championship and daydreamed about what it would be like competing for big money against the best handicappers in North America.
You've also likely wondered what it takes to qualify for the tournament, which played out last weekend at Treasure Island, let alone win the $800,000 grand prize.
For some insight, I turned to Vic Stauffer, a Las Vegas resident when he's not calling races at Oaklawn Park and a fine handicapper. He's also a five-time NHC qualifier.
Here are a few of his thoughts:
"The basic rule of thumb is that over the 36 races, you have to average about $8 a race return, just by the mathematics," he said this week. "… That means if you're going to play a horse in the 5-2, 7-2 range, you have to hit over 50 percent."
That means most players concentrate on finding playable long shots in the mandatory and optional races during the three-day event. Stauffer says he sets a minimum of 8-1 before he'll consider using one of his valuable optional picks.
Being organized also is crucial.
"Once the races start, they come fast and furious," said Stauffer, who finished midpack this year. "If you're not prepared with a list of horses that are potential plays, then you can not only lose a possible optional (wager), you can have a mandatory race come up and you don't know Then you could really have to make three decisions at the same time."
The handicappers who regularly win on the NHC Tour also tend to be avid users of technology. That includes this year's tournament winner, 34-year-old Scott Coles, a futures trader who told the Paulick Report this week that he uses TimeformUS to look at pace, the Daily Racing Form and STATS Race Lens to examine specific angles.
Stauffer said the ability of the computer jockeys to find the races most likely to produce long-shot winners gives them a big advantage.
"When I was going into my 50th hour of prep, I knew that I was desperately behind the eight ball," he said. "I don't know what they're doing, how they're eliminating races and horses, but those guys have such an edge over those of us who don't know how to do that."
I mentioned that Stauffer is an excellent handicapper. I know that because I've been following his recently launched "Vic's Picks" report each weekend at Santa Anita. I'm not one to recommend "winner-picking" services, but I'm making an exception because the information is good, the report is educational and it's entertaining. The cost is $20 per card, or $30 for both weekend cards. You can learn more at vicstauffer.com.
#RJhorseracing featured races
The #RJhorseracing handicappers are zeroed in on the most interesting Triple Crown prep so far this year: the $400,000 Risen Star Stakes at the Fair Grounds, as well as the $200,000 Rachel Alexandra Stakes for 3-year-old fillies.
In the latter, a Grade 2, 1 1/16th-mile event on the main track, the crowd 'cappers are narrowly backing Positive Spirit, 5-1 on the morning line, over Needs Supervision (5-1) and Bell's the One (8-1).
"I like her running style where jockey Manuel Franco can lay off the pace and draw away late," wrote Michael Kaczer of the crew's pick. "Franco is one of the nation's hottest riders right now. In addition, I like Positive Spirit's works at Payson Park in Florida."
We won't get anywhere near those odds with Bob Baffert's 5-2 morning line favorite, Chasing Yesterday, almost certain to scratch, but that doesn't mean there won't be value to be found. I'll take a shot with Oxy Lady (6-1), a Calumet Farm homebred and graded stakes winner, over Positive Spirit and Serengeti Express (6-1).
In the Risen Star, the crew strongly backs War of Will, the 5-2 morning line favorite, despite the LeComte Stakes winner starting far out in the 14-horse field. They like Hog Creek Hustle (8-1) and Owendale (6-1) to fill out the trifecta.
Crowd 'capper Howie Reed sees the risk, but likes the Mark Casse-trained colt nonetheless: "Outside post (14) could be a problem if 'early' speed doesn't get him clear. But this one loves the track."
As good as War of Will looked last out, I think that short run into the first turn will cost him lots of ground. I'll use Plus Que Parfait (10-1), Mr. Money (12-1) and Henley's Joy (10-1) in that order and tip my hat to the favorite if he wins.
Mike Brunker's horse racing column appears Friday. He can be reached at mbrunker@reviewjournal.com or 702-383-4656. Follow @mike_brunker on Twitter.
Ellis Starr's Risen Star Stakes analysis
Owendale has a lot of characteristics to help him succeed in this year's Risen Star Stakes. He has the most experience in two-turn dirt races, having run in four of them while winning two and missing by a neck in another. Owendale has a pattern of improving Equibase Speed Figures, having earned a 93 in his comeback from two months off on Dec. 22, before improving to a 95 effort in an easy win last month. Owendale also has shown maturity and tactical speed, rallying from eighth in one of his wins and from third in another. With other horses drawn outside needing to be on or near the lead from the start to save ground, Owendale can tuck into a great stalking trip. With logical improvement in his third start off the layoff, he could post the upset win in this race.
Hog Creek Hustle stretched out to two-turns for the first time last month in the LeComte, running the best race of his career to earn a 100 figure. Starting out eighth in the 12 horse field, Hog Creek Hustle continued to pass horses and although winner War of Will was well clear the entire length of the stretch, Hog Creek Hustle was himself clear of the third horse by two lengths at the finish. If he can repeat the effort or improve upon it, Hog Creek Hustle could add his name to the short list of contenders for the Louisiana Derby later at the Fair Grounds meeting.
Country House will likely go to post disregarded by some bettors as he only has a maiden win to his credit from three starts. However, the win came in his first two-turn race and it came after seven weeks off. In that race on Jan. 17, Country House broke slowly but made an impressive move on the far turn to go from sixth, four lengths behind the leader, to a length in front with an eighth of a mile to go. The 92 figure would need improving to compete with more seasoned opponents in the Risen Star, but as a lightly raced 3-year-old that type of improvement is not out of the question. Jockey Luis Saez, who rode Country House to victory last month, follows the colt from Florida and trainer Bill Mott is not one to rush horses into top races so this sign of confidence must be noted.
War of Will was very impressive winning the LeComte and earning a field high 107 figure. He drew the seven post in that 12 horse field but the outside post in this field may be another matter. According to STATS Race Lens, 26 horses have broken from posts 11 through 14 at this distance in the last five years at Fair Grounds, and their 2-3-2 record shows it takes a special horse to overcome the outside draw. War of Will could be that kind of horse, but is likely to go to post as the favorite and may not offer good value for the risk given that question.
Ellis Starr is the national racing analyst for Equibase. Visit the Equibase website for more on the race or to purchase handicapping products.