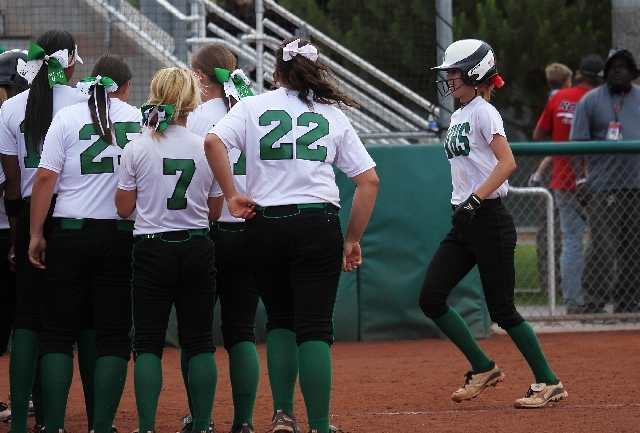 Palo Verde appeared to be one swing from having its state tournament hopes take a severe blow Thursday.
Thanks to Kelsea Sweeney, that swing didn't come.
And then her batterymate delivered one mighty shot.
After Palo Verde wiggled out of a tough spot in the bottom of the fifth inning, catcher Brooke Stover belted a tiebreaking home run leading off the sixth, lifting the Panthers to a 4-2 win over Green Valley in the opening round of the Division I state tournament at UNLV's Eller Media Stadium.
"Brooke's swing was a momentum shift for us," Palo Verde coach Kelly Glass said. "Our bats turned around, and we needed that."
Palo Verde (28-7) will meet archrival Centennial (34-6) in the winners' bracket final at 3:45 p.m. today at UNLV. Green Valley (23-10) faces Reed (26-6-3) in an elimination game at 1:30 p.m.
After Palo Verde tied the game on Melissa Lacro's two-out RBI double in the top of the fifth, Green Valley's Anysa Calderon ripped a double to left to lead off the bottom of the inning. Maggie Manwarren's sacrifice moved Calderon to third and gave the Gators two shots to plate the go-ahead run against a Panthers team struggling to find its offensive stride.
Sweeney got Palo Verde out of the inning by inducing a soft line drive to second base and a grounder to third.
"It was all her," Stover said of Sweeney. "She knew she was going to get out of that, and she just game up clutch."
On the fifth pitch of the sixth inning, Stover belted the day's only homer to left field, putting the Panthers ahead for good.
"I just wanted to really be the example for my team," Stover said. "I went up and swung my hardest, and it went over."
Breanna Beatty and Rachael Turner added back-to-back doubles in the inning to tack on an insurance run, and Sweeney allowed just one hit and got six groundouts in the final two innings.
Green Valley's Fenixx Henderson effectively changed speeds to keep the Panthers at bay for the first two trips through the order.
Lacro's double, Stover's homer and the consecutive doubles in the sixth came in a five-batter span to start the third time through the order.
Stover went 2-for-4 for Palo Verde, which lost starters Rachel Williams and McKenzie McBride to season-ending injuries.
"The girls are playing for them now," Glass said. "It's a little bit more heart, a little more passion."
Henderson was 2-for-2 with two doubles for Green Valley.
■u2007Centennial 5, Reed 4 — Heather Bowen's one-out double in the bottom of the fifth scored pinch runner Sonja Lawrence with the eventual winning run as the Bulldogs overcame four errors to nip the Raiders.
"We survived," Centennial coach Mike Livreri said. "We settled down, and we got a timely hit by one of our biggest players."
After giving up a run in the top of the first, Centennial took advantage of three errors to score four in the bottom half, two on Savannah Horvath's double.
Reed stormed back, tying the game by leading off the third inning with four straight hits.
"Reed is a tough team, and they're not going to go away," Livreri said.
Reed pitcher Jackie Sertic retired nine of 10 Centennial hitters before Maddie Henzlik singled to lead off the fifth. Henzlik moved to second on a wild pitch before being lifted for Lawrence, who scored when Bowen doubled to right-center.
Contact reporter Bartt Davis at bdavis@reviewjournal.com or (702) 387-5230.