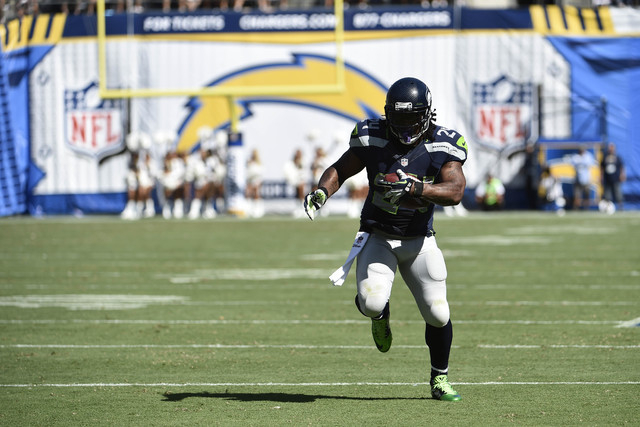 Good news. The weather forecast in Las Vegas calls for at least a couple of clouds over the next few days, so we won't have to feel guilty about spending most of our weekend inside watching football.
Perusing the vast array of options on the buffet of televised sports this weekend, the unquestioned main course is Sunday's Super Bowl rematch between the reigning world champion Seattle Seahawks and the Denver Broncos.
For a side dish, we recommend Saturday's college football showdown between No. 1 Florida State and No. 22 Clemson, with today's opener of a pivotal three-game series between the Detroit Tigers and Kansas City Royals serving as an appealing appetizer.
We don't know about you, but we're getting hungry.
■ TIGERS AT ROYALS, 5 p.m. today, ESPN2 (31) — Kansas City, which hasn't been to the playoffs since 1985, trails Detroit by one-half game in the American League Central entering the series at Kauffman Stadium.
The Royals, who lead the Oakland Athletics by one-half game in the wild-card standings, have lost 11 of 16 meetings with the Tigers this season, including six of seven in Kansas City.
Triple Crown winner Miguel Cabrera has regained his form for Detroit in September, batting a league-leading .469 with six homers and 12 RBIs.
■ CLEMSON AT FLORIDA STATE, 5 p.m. Saturday, ABC (13) — In the only Saturday matchup of top-25 teams, No. 1 Florida State's Heisman Trophy-winning quarterback, Jameis Winston, will be suspended for the first half after standing on a table on campus Tuesday and shouting lewd comments.
No. 22 Clemson — a 14½-point underdog after the line opened at 22 — will try to capitalize on the crass act's absence as it attempts to avenge last season's embarrassing 51-14 home loss to the Seminoles, who rode the romp to the national title.
Florida State has won 10 of 11 over the Tigers in Tallahassee by an average score of 39-15.
■ BRONCOS AT SEAHAWKS, 1:25 p.m. Sunday, CBS (8) — Less than eight months after Seattle destroyed Denver 43-8 in the most lopsided Super Bowl in 21 years, the teams meet again at CenturyLink Field, where the Seahawks enjoy the NFL's best home-field advantage.
Seattle quarterback Russell Wilson is 18-1 as a starter, including the playoffs, at The Clink — an appropriate nickname for the NFL these days — and opponents are averaging just 13.3 points in those games, with the Seahawks allowing more than 20 only twice.
Denver, one of only seven unbeaten teams after two weeks, is averaging 343 yards of total offense after compiling 457.3 yards per game last season. Peyton Manning (6 TDs, 0 INTs) and the Broncos should get a boost from the return of wideout Wes Welker, who was reinstated Wednesday after the NFL agreed to a new drug policy that cut in half his four-game suspension for offseason amphetamine use.
Then again, making his season debut at Seattle against a determined defense coming off a 30-21 loss at San Diego, Welker might end up wishing he was still at home curled up on the couch with Molly.
■ If you have room for dessert — and if you're like us, you always do — Saturday's menu also offers enticing matchups in Alabama-Florida (12:30 p.m., CBS (8)), Brigham Young-Virginia (12:30 p.m., ESPN (30)) and Oklahoma-West Virginia (4:30 p.m., Fox (5)), while Sunday showcases Packers-Lions (10 a.m., Fox (5)) and Chargers-Bills (10 a.m., CBS (8)).
For those craving something really sweet, the "Dallas Cowboys Cheerleaders: Making The Team" marathon starts at 2 p.m today on CMT (57).
Contact reporter Todd Dewey at tdewey@reviewjournal.com or 702-383-0354. Follow him on Twitter: @tdewey33.