Taylor's future riding on fight
February 15, 2008 - 10:00 pm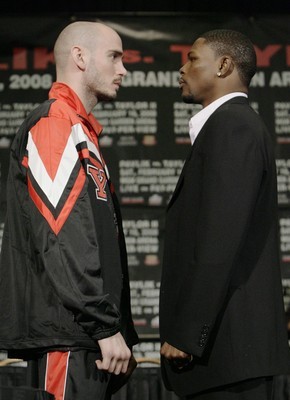 Jermain Taylor insists he's ready to avenge his Sept. 29 loss to Kelly Pavlik.
Taylor says he has had an unbelievable training camp, particularly the past six weeks at Johnny Tocco's Gym.
He promises to be at his best Saturday when he climbs through the ropes at the MGM Grand Garden.
He talks about being a "Ghostbuster," mocking Pavlik's nickname.
But Taylor said the same things in September in Atlantic City, before he found himself flat on his back in a stunning seventh-round knockout loss to Pavlik.
Taylor says things will be different this time.
Believe him or not, this much is certain: Taylor's career is at a critical point.
"This is a make-or-break fight for me," Taylor said. "If I lose this fight, who knows what's going to happen?
"This fight is the biggest fight of my career. It's all about the comeback now."
The 29-year-old Taylor (27-1-1, 17 knockouts) is a plus-165 underdog to the 25-year-old Pavlik (32-0, 29 KOs) in the rematch, which will be fought at a catch weight of 166 pounds.
Taylor acknowledged he had a hard time making 160 pounds when the two fought for his WBC, WBO and Ring middleweight championship belts in September. Taylor said he thinks the 6-pound difference this time will be to his advantage.
"I'm at 168, 167," Taylor said. "I'll be coming into the ring around 173. I feel great. I feel strong. I'm in the best shape of my life."
Taylor said he won't underestimate Pavlik this time.
He has watched the tapes of the first fight. Taylor saw how tenacious Pavlik was, how he got off the canvas after Taylor tagged him with a right hand in the second round but failed to finish him.
He also saw Pavlik hit him with a seventh-round bomb that ended the fight in dramatic fashion — but he probably didn't need that reminder.
"I think about it all the time," Taylor said. "It's not something I like looking at.
"What comes into my head is how I could have trained harder or I should have finished him off in the second round. All the should-haves and could-haves in the world is not going to change anything."
Taylor admitted he was a spent fighter after the second round. He was unable to summon the energy to finish Pavlik. He was vulnerable.
"If I get in that position again, I'm going to finish him," Taylor said. "That's what I'm training for.
"I just feel like I wasted a lot of energy. I threw a lot of stupid punches, and I should have put them together, gone to the body, uppercuts. I could have done a lot of things I didn't do. My mind-set wasn't right."
Taylor changed trainers for this fight, from Emanuel Steward to Ozell Nelson, and said it has been a positive move. He said he's back in his comfort zone with Nelson as lead trainer.
"I know Coach, and he knows me," Taylor said. "He's seen me in this position before, and we've been able to bounce back."
Nelson said he never has seen Taylor look better in preparing for a fight.
"He decided to work harder," Nelson said. "The last fight, he'd go run at 6 in the morning, but he wouldn't show up until 6:30. He cut corners, and he got whupped. I'd say, 'Jermain, you got to do this,' and he'd say, 'Yeah Coach, I know' and not do it. It took losing to Pavlik for him to realize it."
Taylor said he is prepared to avenge the loss.
Of course, he said before that fight he was prepared to remain middleweight champion of the world. It didn't work out that way.
Contact reporter Steve Carp at scarp@reviewjournal.com or (702) 387-2913.