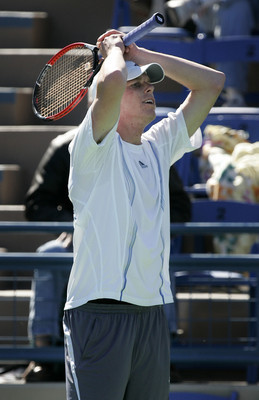 Sam Querrey wasn't sure what bothered him more: not being able to defend his Tennis Channel Open title or missing the chance to go to City Hall and get a bobblehead doll from Mayor Oscar Goodman.
Querrey has become a piece of local sports trivia as the champion of the last pro tennis tournament played in town.
The Tennis Channel sold its Las Vegas event to the ATP Tour in April. The tournament was awarded to South African Airways and moved to Johannesburg, leaving Southern Nevada without pro tennis again.
"I'm definitely bummed. I think a lot of guys are bummed. It was a great place to visit and have a tournament. A lot of guys enjoyed themselves in Vegas," said Querrey, who beat Kevin Anderson in three sets for his first ATP Tour title March 9 at the Darling Tennis Center.
The impact is clearly evident at the Darling Center. Instead of a small army of carpenters, electricians, television personnel, landscapers and vendors setting up for a tournament this week, things were quite serene. Group tennis lessons were being given. A women's league was playing its weekly matches. The stadium court, which gave the facility worldwide exposure through the Tennis Channel's TV coverage, was empty.
"I was disappointed it didn't come back," said Marsha Lorenz, who was waiting to play her women's league match on one of the side courts. "I was an usher for two years, and I enjoyed having the pros here."
But the reality was the Tennis Channel Open faced long odds in Las Vegas with a lack of corporate sponsors, high ticket prices and bad weather that plagued the tournament all three years.
The city was a partner in the endeavor but certainly couldn't justify continuing to pay six figures annually to help the tournament stick around, particularly in a sagging economy.
"I thought the Tennis Channel Open was a great tournament," Goodman said. "It brought a lot of positive exposure to our community and attracted a lot of visitors who spent money. But it was a very costly thing for the city."
Las Vegas spent about $2.6 million on the Tennis Channel Open during its three-year run at the Darling Center. Much of that was for infrastructure, but money also was spent entertaining players and officials. The city committed about $600,000 to the tournament last year, and Goodman acknowledged it would have been difficult justifying a similar expenditure in 2009.
"You always hope you make a decision that's financially sound," he said. "But cities are supposed to look out for the public's welfare.
"That said, I'd love to have a pro tennis tournament back here at some point if it made sense financially. It's the kind of special event we do so well at hosting."
Goodman also said that the loss of the Tennis Channel Open has not negatively affected the Darling Center.
"It's a marvelous facility, and it's going to be fine," Goodman said.
Querrey said if the ATP Tour returns to town perhaps it could play on the Strip outdoors in April rather than late February or early March in Summerlin.
"It's tough to have it out at the Darling Center, where it was a 25-minute cab ride for people who were staying on the Strip," said Querrey, who lived in Las Vegas for three years. "If you had it at a hotel, people could just walk over to watch.
"If you had to play in February, maybe you could go indoors at the MGM or even the Thomas & Mack (Center). That way, you take the cold weather out of the equation."
If Querrey gets back to Las Vegas, he said he'd like to meet Goodman and snag one of the mayor's tennis bobbleheads.
"That would be pretty cool," Querrey said.
Contact reporter Steve Carp at scarp@reviewjournal.com or 702-387-2913.