Texas gets short end of stick
December 6, 2008 - 10:00 pm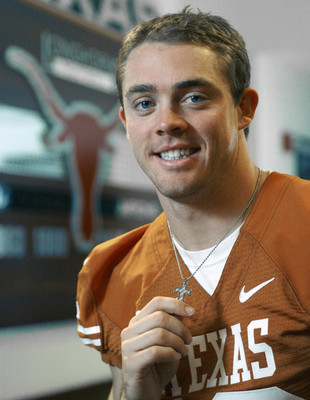 For a football fan, college or pro, weekends don't get better than this one.
It's so good that today's version of Leftovers is about nothing but football.
There is today's Southeastern Conference championship between No. 1 Alabama and No. 2 Florida for a spot in the national title game, unless a Gators victory causes the computers to do something goofy.
The other likely national championship contender, Oklahoma, goes against Missouri for the Big 12 title.
Then there are the traditional rivalries — Southern California-UCLA and Arizona State-Arizona.
The Bowl Championship Series selection show is on an NFL Sunday that includes rivalry games between the Cowboys and Steelers and the Eagles and Giants.
Is there any reason to leave home or the sports book?
The only thing that would make it better would be if Texas was playing for the Big 12 championship rather than Oklahoma. You know, the team the Longhorns beat. On a neutral field. Convincingly.
• SAY WHAT? — Isn't it enough the Big 12 has screwed up its own title game? Now the conference has messed up its awards.
Texas quarterback Colt McCoy was league Offensive Player of the Year. Oklahoma quarterback Sam Bradford was first team.
Try to make sense of that.
Now the interesting part will be to see who wins the Heisman Trophy. Both are favorites, though the votes could be split, and Florida quarterback Tim Tebow could sneak in for a repeat.
But Jenni Carlson, columnist for The Oklahoman, wrote McCoy might pull a Heisman upset because voters believe his Longhorns should be in the Big 12 title game.
"Bradford is leading every major straw poll, but McCoy is right behind," Carlson wrote. "He is only a few points behind Bradford in a couple polls, and in the ESPN.com poll, he has just as many first-place votes as Bradford.
"If McCoy gets a few sympathy votes, it could make the difference in the final outcome."
This Heisman voter's ballot read Bradford, McCoy, Tebow. Bradford shouldn't have to pay for the wrongs committed against Texas.
• NOT AS DEEP — The Big 12 surpassed the SEC as the nation's best conference this season, and now there is doubt the SEC soon will return to consistently being the country's deepest.
SI.com writer Stewart Mandel made the case today's Alabama-Florida game will become a familiar matchup in SEC championship games while other league teams try to find their way.
Alabama's Nick Saban and Florida's Urban Meyer are two of college football's top coaches, and rivals Tommy Tuberville at Auburn and Phillip Fulmer at Tennessee are out.
Alabama and Florida also take the field loaded with young players and should continue to improve.
"One could easily argue that Saban and Meyer are two of the three most prolific recruiters in the sport, along with (USC's Pete) Carroll," Mandel wrote. "It may be that the only thing stopping them from starting their own, USC-like juggernauts … is the fact they have to face each other."
COMPILED BY MARK ANDERSON LAS VEGAS REVIEW-JOURNAL