'This isn't my first picnic'
November 20, 2008 - 10:00 pm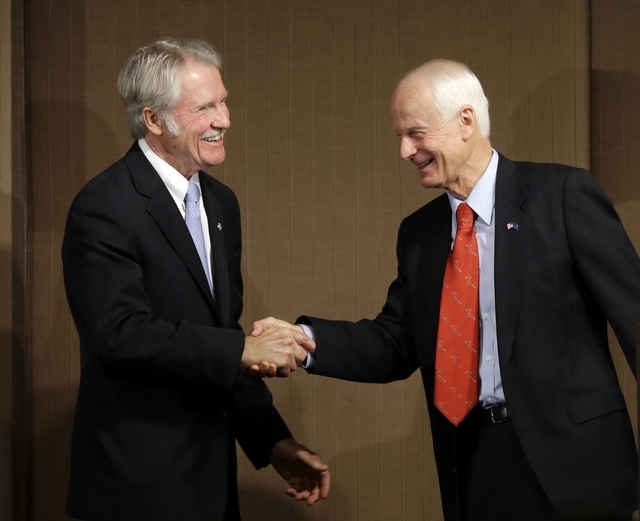 This might be Paulie Malignaggi's first time fighting in Las Vegas, but he insists he won't be intimidated Saturday when he meets Ricky Hatton at the MGM Grand Garden.
The way Malignaggi figures, he's already fought in the grandest of Gardens, that being New York's Madison Square Garden, when he faced Miguel Cotto in 2006.
"Hey, this isn't my first picnic," Malignaggi said at Wednesday's final news conference for Saturday's scheduled 12-round junior welterweight bout. "I'm not going to see or hear anything I haven't seen or heard before."
That fight with Cotto, which went the full 12 rounds and resulted in a unanimous-decision loss, is Malignaggi's lone blemish on his 25-1 record.
"I think it helps me having fought someone on that level," he said of Cotto. "That fight was hell for me. It was physical. But it didn't break me."
But Malignaggi admitted that being a headline act on the Strip is a new challenge. The closest Malignaggi has gotten to Las Vegas was in 2004 when he fought Ramiro Cano in Laughlin. But the Brooklyn, N.Y., native has been in town since Oct. 3, so now he says he feels like a Nevadan.
"It's been great," he said of his Vegas training camp. "I had great sparring partners. I didn't have any of the distractions I would normally have if I trained at home. I feel great. I couldn't ask for anything more."
His trainer, Buddy McGirt, thinks differently.
"I wish the fight was last week," he said. "I hate this place. I can't wait to get the hell out of Vegas."
Malignaggi might like Las Vegas, but he won't be the favorite of the fans when he enters the ring Saturday. Hatton (44-1, 31 knockouts), who as of Wednesday was a minus-260 betting favorite, said he expects 8,000 of his mates from the United Kingdom to be inside the Grand Garden. And the target of their derision will be Malignaggi.
"I'm used to being the villain," Malignaggi said. "I kinda like it."
What Malignaggi won't like, and what Hatton is hoping won't happen, is that Hatton's fans boo "The Star-Spangled Banner" before the opening bell. When Hatton fought Floyd Mayweather Jr. at the Grand Garden in December, his fans nearly drowned out the anthem singer.
Hatton didn't realize it at the time — he was in the dressing room preparing to enter the arena. But when he watched the tape and heard the booing, he was troubled.
"It sent a chill down my spine and not in a good way," he said. "I hope this time the fans will respect both anthems when they're played."
Malignaggi agreed.
"I would hope they would be respectful of our anthem," he said.
Contact reporter Steve Carp at scarp@ reviewjournal.com or 702-387-2913.