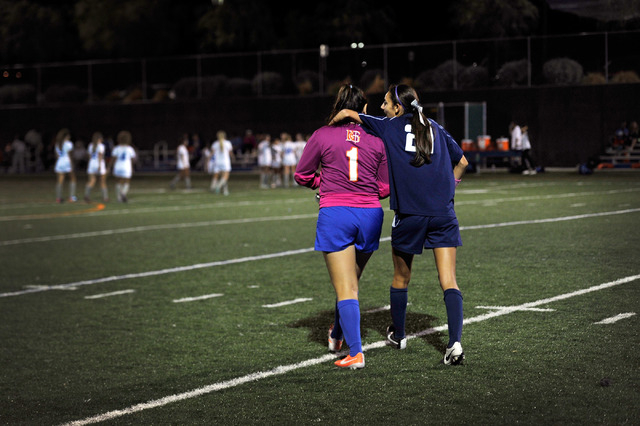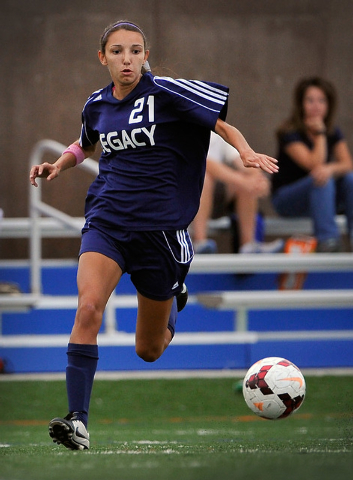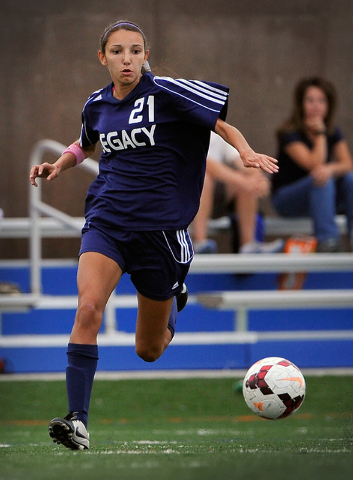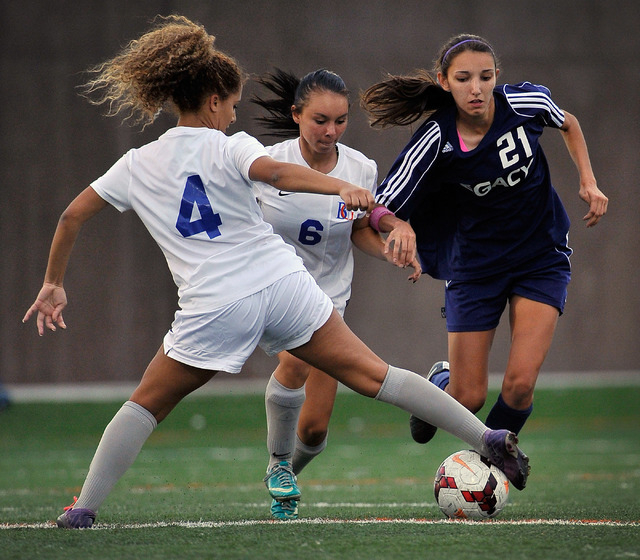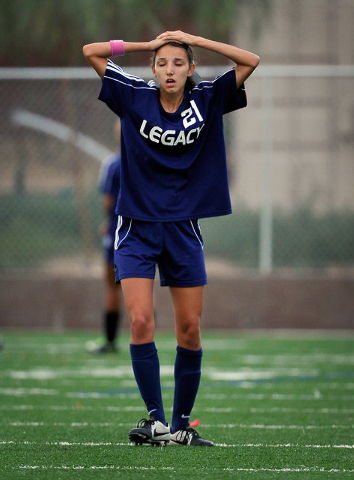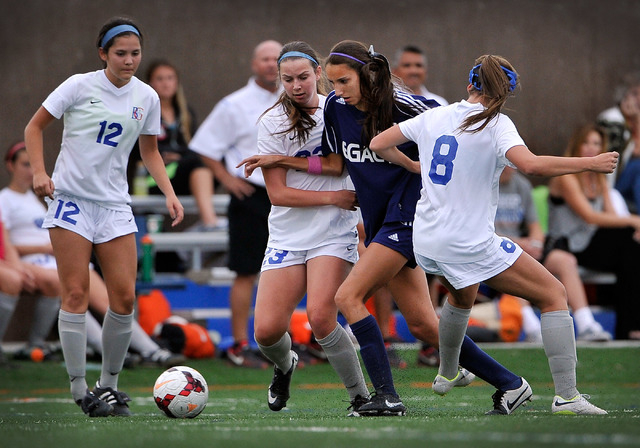 Nadia Hernandez rattled off a few reasons for returning to the Legacy girls soccer team after a two-year hiatus.
Not only was the senior forward hoping to finish her high school career on a high note personally, Hernandez wanted to have a hand in turning around the Longhorns' struggling program.
Oh, and teammate Avianna Urquidez's constant nagging had a little to do with it, too.
"She kept pushing me and pushing me and pushing me," Hernandez said with her tongue firmly planted in cheek. " 'C'mon, you have to play. The new coach. It's different. New program.' So, finally I was like, 'You know what? I'm going to take the chance and do it.'"
Thanks in large part to Hernandez's goal-scoring prowess, Legacy is enjoying its best season in school history and is in line to reach the Division I Sunset Region playoffs for the first time.
Hernandez has an area-best 30 goals for the Longhorns (8-5-2, 1-2 Southwest League), who managed five victories in the previous four seasons combined.
"The girls really feed off her," first-year Legacy coach Dan Casel said. "There's a lot of different things that she helps us with. She distributes the ball. She makes everybody just play better. With her on the field, we know we can score from anywhere. And she makes us competitive against pretty much everybody."
Hernandez, who attends Northwest Career and Technical Academy, played for the Longhorns as a freshman but said she was discouraged by her club soccer team from playing for Legacy as a sophomore and junior. This summer, Urquidez informed her friend of the changes in the program — namely the new coaching staff — and Hernandez decided to rejoin the team.
Hernandez had hat tricks against Spring Valley and Cimarron-Memorial, and she scored five times against Chaparral on Sept. 6, matching Legacy's goal total from all of last season. The Cal Baptist commit had her five-game goal-scoring streak halted Tuesday in a 7-0 loss to nationally ranked Bishop Gorman.
"There was kind of pressure, big shoes to fill, because now I'm a senior so I'm expected to make a change in the game, which I feel like I have," Hernandez said. "But I also feel like I couldn't make that change without the team that I have now. I feel like the team as a whole is just a lot stronger than when I was a freshman on varsity."
Casel, who doubles as the school's softball coach, deflected much of the credit for the program's turnaround to assistant coach Ashley Stichauf. The former Legacy and Waldorf (Iowa) College player is being groomed to take over as coach, according to Casel, and Hernandez said Stichauf's presence also is part of the reason she returned.
"I feel like the biggest part was before there wasn't a lot of team bonding," Hernandez said. "I feel like Ashley has made our team feel like a team, and we all respect each other, and we know each player's job on the field. And we know how to work off each other."
The Longhorns were 1-23-1 the past two seasons and lost 21 straight league games before a 9-1 victory over Durango on Oct. 1. Legacy, which hosts Palo Verde on Monday, is currently fourth in the rugged Southwest League with five games remaining.
"It feels great just knowing that we have a chance to make it to playoffs and be the first girls from Legacy to give us a name for being good at soccer," Hernandez said. "I think we're going to look back at our high school careers and be like, 'That was us. We changed the whole program around, and we were the start.' … As a personal effort, I feel like I've helped contribute to that, and our team has just grown."
Contact reporter David Schoen at dschoen@reviewjournal.com or 702-387-5203. Follow him on Twitter: @DavidSchoenLVRJ.