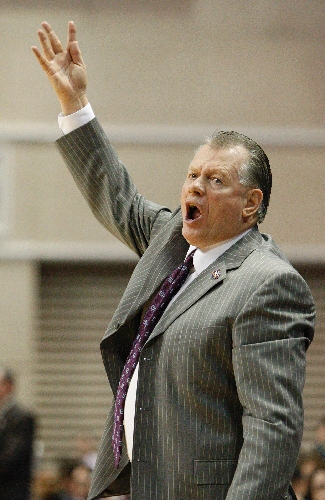 Max Good sat in the interview room at the Orleans Arena last March and vowed his Loyola Marymount basketball team would not be one-and-done in the next West Coast Conference Tournament.
That promise came due Friday, and the former UNLV coach proved true to his word.
With a few anxious moments, the fifth-seeded Lions held off eighth-seeded Pepperdine 87-84 to advance to today's WCC quarterfinals.
"I hope we grew up a lot," Good said. "I almost looked like the biggest fool in North America."
The victory was further evidence of a revival for a once-proud program that was one of the nation's worst last season when Loyola Marymount finished 3-28. This season, with no seniors, the Lions are 17-14 and will play fourth-seeded San Francisco at 6 p.m. today. The winner advances to Sunday's semifinals against the top seed, No. 18 Gonzaga.
Good gives all the credit to his players for the 14-win improvement (and counting).
"This goes back to last spring," Good said. "These kids bought into everything we told them. They worked on their game during the summer. It's all about them."
Good believed he could turn around the program — which once produced stars such as Hank Gathers and Bo Kimble — when he replaced Bill Bayno in the middle of last season.
It was the second time Good had been Bayno's successor. The first was at UNLV in December 2000 when Bayno was fired in the aftermath of NCAA sanctions against the Rebels. Last season, Bayno took medical leave and never returned.
Good didn't have much manpower to work with, and the Lions' record reflected that.
"The key was getting better players," he said. "We had recruited some good kids and got a couple to transfer (in). But when we finished last season, we had only three scholarship players. I knew we were going to be better. How much better, I wasn't sure. But we told them if they worked hard and believed in us and in themselves, we could turn things around."
When the Lions pulled off an 87-85 victory at Notre Dame on Dec. 12, Good said the players actually began to believe.
"We had gone through hell last year," he said. "That win at Notre Dame made them realize they could be good."
Beating then-No. 13 Gonzaga 74-68 on Feb. 18 really nailed the point home.
"We've become a more complete team," said sophomore Drew Viney, a first-team all-WCC selection. "We have better players and more ways to score. Nobody wanted to go through what we went through last season again."
Perhaps no one has worked harder than Vernon Teel. The junior guard was sensational Friday, scoring 27 points, one off his career high, to help Loyola Marymount advance.
In last year's WCC tournament, Teel had one of the worst games, shooting 1-for-7 from the field and 1-for-9 at the free-throw line during a 62-56 first-round loss to San Diego.
When the team got back to Los Angeles, Good called Teel into his office. In typical Good fashion, he didn't mince words.
"He told me he didn't respect me as a basketball player and he didn't respect any part of my game," Teel said, recalling the one-sided conversation. "I came here with goals to help change the program and I worked hard every day — blood, sweat and tears to earn Coach Good's respect."
Teel proved himself worthy Friday, making 8 of 10 free throws. Freshman forward Ashley Hamilton had 23 points as the Lions kept their season alive at least one more day.
Loyola Marymount squandered an 11-point second-half lead and struggled to get a stop in the final three minutes. Pepperdine (7-23), led by Keion Bell's 25 points, had a chance to tie in the final seconds, but Mychel Thompson missed an open 3-pointer with a second left.
■ San Diego 61, Santa Clara 59 — Brandon Johnson's free throw with 18 seconds left sent the sixth-seeded Toreros (11-20) into today's 8:30 p.m. quarterfinal against No. 3 Portland.
Santa Clara (11-21) nearly tied the game with four-tenths of a second remaining, but Robert Smith's tip-in attempt was unsuccessful.
Roberto Mafra led USD with 14 points. Santa Clara, the No. 7 seed, was led by Smith's 16.
Contact reporter Steve Carp at scarp@reviewjournal.com or 702-387-2913.
GOLDENBERGER LIFTS SANTA CLARA WOMEN
Maggie Goldenberger's 16-foot jump shot with four seconds remaining handed eighth-seeded Santa Clara (4-26) a 68-67 upset victory over fifth-seeded San Diego (15-14) on Friday in the West Coast Conference women's basketball tournament at the Orleans Arena.
Loyola Marymount 61, San Francisco 54 — Alex Cowling scored 19 points, and the sixth-seeded Lions (13-16) closed the game with a 10-2 run to beat the seventh-seeded Dons (5-27).
LAS VEGAS REVIEW-JOURNAL