Unearned runs cost 51s in 11-inning loss to Fresno
August 4, 2016 - 12:25 am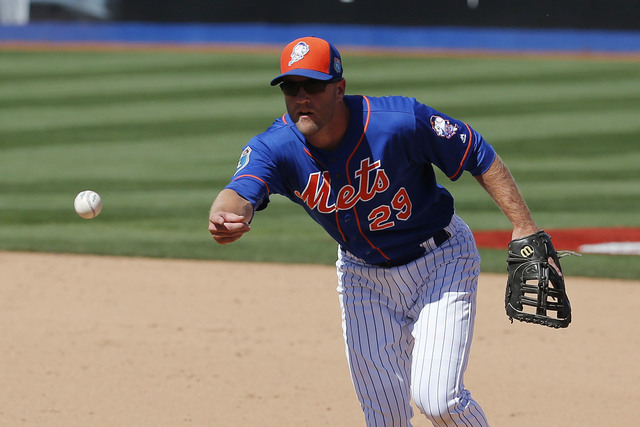 A day before a doubleheader, just about the last thing Fresno and Las Vegas wanted was extra innings.
But knotted 3-3 after nine innings, that's exactly what they got.
Twice trailing, the 51s rallied back before falling in the 11th inning 5-3 to the Grizzlies on Thursday night at Cashman Field.
"It is what it is," first baseman Eric Campbell said. "I mean you don't really think about the next day. You just think about trying to win that game."
Las Vegas (55-56) had more than enough chances to do that before eventually falling after Josh Smoker surrendered a bases loaded, two-out single in the 11th to Jon Kemmer.
The two runs were unearned after Campbell's third error of the game allowed Tony Kemp to reach base on what would have been the second out of the inning.
Smoker, too, had some problems on the play. After Campbell booted it, the ball went to Smoker.
"Smoker was out in front of the runner, and his momentum was coming toward first base. He went to tag the guy Kemp, and Kemp stopped and Smoker could never recover," 51s manager Wally Backman said. "The play was after Soup dropped the ball or whatever, just catch the ball when he got the ball, and he's just supposed to run to first and tag the base. The game sped up. "
After Smoker struck out Danny Worth, the next batter, Kemmer delivered the final blow for Fresno (61-49).
"He pitched very well to get himself back into the inning and made a bad pitch 0-2 … and that's what lost the game for us," Backman said.
An inning earlier, the 51s had an opportunity to score, but Campbell was thrown out at home trying to score from first on a T.J. Rivera double.
"It was going to take a perfect throw, which it did," Backman said. "(Andrew Aplin) made a perfect throw."
Before that, in the eighth inning, the 51s had runners on first and second with no outs when Kevin Plawecki's attempt at a sacrifice bunt turned into a double play.
"We made way too many mistakes tonight in the game," Backman said. "We had opportunities to win the game. We couldn't get the bunt down."
Las Vegas also had a chance for another run in the fifth inning with two outs, trailing 3-2. Kyle Johnson singled and got to third on a throwing error, and third-base coach Jack Voigt opted to stop him.
"Johnson would have scored. I said it right here to (pitching coach Frank Viola), I said, 'That's going to cost us the game," Backman said.
It didn't. The 51s tied the game an inning later on Campbell's solo home run.
The scored remained that way until the 11th.
"If we were fundamentally sound tonight, that game's over, we win," Backman said. "That's the bottom line."
Betsy Helfand can be reached at bhelfand@reviewjournal.com. Follow on Twitter: @BetsyHelfand