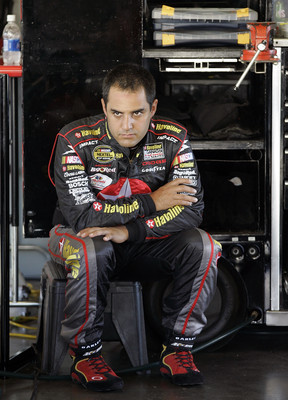 A veteran and champion of open-wheel racing is the reigning rookie of the year in the NASCAR Cup series.
Juan Pablo Montoya won ultimate championship trophies in IndyCar and Formula One racing before he added the Cup rookie award.
Another championship IndyCar driver probably will win the award this year.
Dario Franchitti and Sam Hornish Jr., each former IndyCar season and Indianapolis 500 champions, now are full-time stock-car drivers. Another open-wheel vet, Patrick Carpentier, joins them in the battle for Cup rookie supremacy.
The only member of that trio who can impact the Chase for the championship is Hornish, but it won't be by what he does on the track.
He has been given a gift that should not have been allowed — and one that could be costly to Kurt Busch's championship hopes.
Hornish has shifted from Penske Racing's Indy Racing League team to its NASCAR stable.
To ensure he makes the field for the first five races, Penske received permission from NASCAR to transfer team owner points from what Busch earned driving Penske's No. 2 Dodge to Hornish's No. 77 Dodge.
Seeding any driver into one of the 35 guaranteed starting spots in the 43-car fields is wrong, but giving charity to a rookie is a farce.
The top 35 in owners points from last year receive spots in the year's first five races, including the March 2 UAW- Dodge 400 at Las Vegas Motor Speedway.
Hornish's No. 77 jumps to seventh in owners standings based on what Busch and his crew did last season.
Because Busch won the 2004 Cup title, however, he receives a provisional spot in up to six races should he fail to qualify on speed.
But lost are some other perks that go with being in the elite 35.
Teams are allowed to park their haulers, go through technical inspection and receive garage stalls based on owners' standings.
That will leave Busch's team standing by and watching as teams it beat like eggs last year get preferred treatment early this season.
Las Vegas has 52 garage stalls, so Busch and his team will not be relegated to the garage parking lot.
But that's not the case at Atlanta Motor Speedway, where it can be chilly a week after the race at Las Vegas.
Once qualifying is completed, a spot in the garage will be available, but that leaves almost two days of roughing it.
"My poor guys, the crew guys, really will have to go through a lot," Busch said in a news conference Saturday at Daytona International Speedway. "We'll be pitting in the parking lot, more or less.
"That will be an adjustment, especially when it's 30 degrees out at Atlanta."
The transfer of points was a decision Penske left to Busch and his crew chief, Pat Tryson. They took one for the company but probably had little impact on the final call.
"Having three teams will definitely help our program grow," Busch said. "… Steps have to be made, and one of those is to get Sam in the races."
Hornish, a three-time Indy Racing League season champion, failed to qualify for his first six Cup races last season but made it into the last two with finishes of 30th and 37th.
He should have to qualify, and Busch's championship hope should not be put at risk.
Penske must be hoping rain doesn't prevent qualifying for any of the first five races, after which this year's points kick in.
If qualifying is rained out, Busch will start, but it will be from the 43rd spot. At some tracks, that could make a run for the checkered flag unlikely, if not impossible.
NASCAR should not allow a multicar owner to redistribute points.
It's a gamble Busch, for one, hopes Penske wins.
Jeff Wolf's motor sports column is published Friday. He can be reached at jwolf@reviewjournal.com or (702) 383-0247.