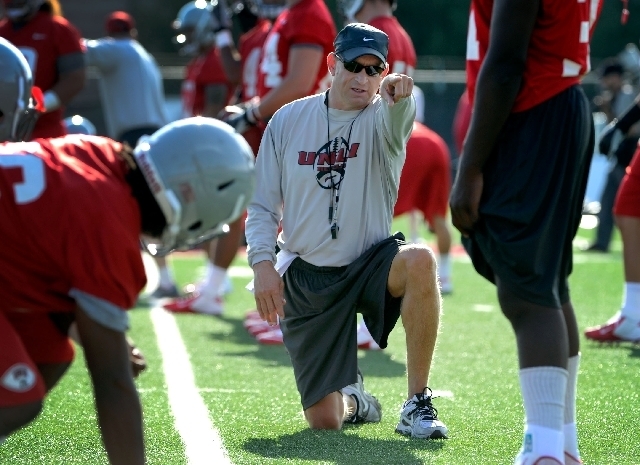 Resiliency and aggressiveness are two hallmarks of this season's UNLV football team.
The Rebels have repeatedly rallied to win, and they have taken chances to do so. Many of those chances have paid off, a reason they are rolling heading into today's 1 p.m. game against San Jose State at Sam Boyd Stadium.
UNLV (5-3, 3-1 Mountain West) probably can't play it too safe against the Spartans (4-3, 3-1) and their high-powered attack. San Jose State is a 4½-point favorite, and the total is listed at 66 points.
A victory would make UNLV, which has won five of its past six games, bowl eligible for the first time since 2000. The Rebels already had one big celebration Monday when they paraded the Fremont Cannon through campus after breaking an eight-game losing streak to UNR last weekend.
"This is the best I've felt playing football in college," running back Tim Cornett said. "But (today) if we can pull out a win and be bowl eligible, I'd feel a lot better. If we end up losing out and there's no bowl, I didn't achieve all the goals I had for my senior season."
The Rebels face a San Jose State offense that has scored more than 30 points in each of its past three games. Quarterback David Fales is making a serious bid for conference Offensive Player of the Year, having strung together five straight 300-yard games. He went over 400 yards in three of those outings.
UNLV's offense probably will need to keep up in what could become a shootout. The Rebels average 30.1 points per game with a balanced offense that averages 185 yards rushing and 247.6 yards passing.
But should the Rebels fall behind during any portion of the game, don't expect them to panic.
They have rallied to win four games after trailing at some point, including three times while behind at halftime. The last time UNLV recorded that many comeback victories was in 2003.
"Years before, we would give in," wide receiver Devante Davis said. "We have a different mentality, and we want to win no matter what the score is, and we believe in ourselves. That comes with Coach (Bobby) Hauck believing in us and instilling in us that we can do it, no matter the circumstances."
UNLV also has been willing to take risks.
Hauck's brother, Tim, isn't hesitant to call up a timely blitz as the Rebels' first-year defensive coordinator. But Tim Hauck tries to be unpredictable in how he attacks opposing offenses, changing strategies from week to week.
Offensively, the Rebels also often eschew playing it safe with the hope of a larger reward.
That happened toward the end of last Saturday's 27-22 victory at UNR when the Rebels had first down at the Wolf Pack's 11-yard line with about six minutes left. Holding a 21-16 lead, the Rebels could've gone with three running plays and taken time off the clock or forced UNR to use its timeouts while settling for a field goal.
UNLV instead went for the end zone, and found it on Caleb Herring's touchdown pass to Davis to make it a two-possession game.
"We wanted to be aggressive in that game," Bobby Hauck said. "Even at the end of the first half, we went after it and we used a timeout with 29 seconds left because we wanted to try to get a kickoff return and maybe get ourselves a field goal at the end of the half. We want to be aggressive and do our thing.
"As you get a feel for what a team's about and what the personality is — it usually takes till October to figure all that out — I think our guys are better when we're operating and not trying to do something where we've got discomfort, something we don't normally do. That's who we are."
Contact reporter Mark Anderson at manderson@reviewjournal.com or 702-387-2914. Follow him on Twitter: @markanderson65.
SAN JOSE STATE AT UNLV
■ WHEN: 1 p.m. today
■ WHERE: Sam Boyd Stadium
■ TV/RADIO: KWWN (1100 AM, 98.9 FM)
■ LINE: San Jose State -4½; total 66