UNLV hockey club upgrades roster as varsity quest continues
September 16, 2016 - 12:26 am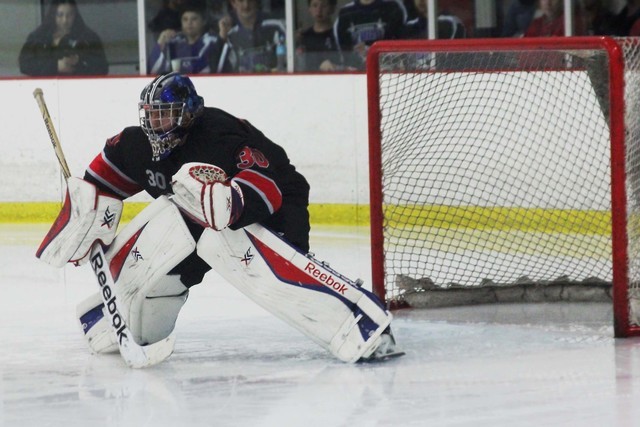 As he stood on the edge of his goal crease during practice Wednesday at the Las Vegas Ice Center, UNLV senior goaltender Terry Martin noticed two things.
One, the puck gets to him a lot quicker than it did in the past. Two, the play headed in the other direction a lot faster than it used to.
"There's a lot more speed than last year, that's for sure," Martin said. "It's definitely different."
Because of a significant recruiting effort that has yielded faster skaters and better shooters, UNLV opens its American Collegiate Hockey Association season at 8 p.m. Friday and 4 p.m. Saturday against San Diego State at the LVIC with a different culture from previous seasons.
The club's attempt to go varsity within the next three to four years has enticed some talented junior players as well as some college transfers to join the program, which is beginning its 11th season. More than half of last year's roster did not make the team.
"Last year, we had a theme, 'Be the Legacy,'" team general manager Zee Khan said. "The group we brought in will be part of that culture, but also help to take us that next step and be part of something bigger."
The club spent most of last spring and all summer advancing its agenda to go varsity, meeting with school officials and potential financial backers. Now, the focus is on the ice. UNLV went 24-7-2 last year and lost in the regional finals. The goal this year is to be nationally ranked and go to the ACHA nationals in March in Columbus, Ohio.
"We've brought in some high-level talent, and when you compare it to last year, it's like night and day," coach Anthony Vignieri-Greener said. "We've got guys from Canada, from Sweden, from Minnesota and California, and nine guys from Vegas. It's a really good mix, and it's great that we have four lines we can roll at any time and three goalies who can win any night."
Vignieri-Greener said UNLV has more of a junior team feel than a college team. But it will get a taste of the big time Oct. 9 when it plays Arizona State's club team at T-Mobile Arena. Officials are hoping for a crowd of 4,000 to 5,000.
Khan said he will continue to work to build support toward the move to varsity hockey. He needs to raise an estimated $15 million to make the move to NCAA Division I, along with adding a women's lacrosse team to be compliant with Title IX laws.
"The best way to get people interested in your cause is to win, and we have a team this year we feel is built to win," Khan said.
Contact Steve Carp at scarp@reviewjournal.com or 702-387-2913. Follow on Twitter: @stevecarprj
IF YOU GO
What: UNLV hockey vs. San Diego State
When: 8 p.m. Friday and 4 p.m. Saturday
Where: Las Vegas Ice Center, 9295 W. Flamingo Road
Tickets: $10 adults, $5 students, children 9 and under free